The first series against the Athletics in 2016 got off to a much more peaceful start than last year's matchup. No fireworks between the dugouts, and really, not many fireworks on the diamond. After scoring a pair of runs in the first inning, the Royals were unable to do much more offensively the rest of the night. However, the pitching and defense kept the A's at bay, and Eric Hosmer unleashed an absolute rocket of a home run in the ninth inning, giving Wade Davis an unnecessary insurance run en route to the series-opening 4-2 victory for Kansas City.
Edinson Volquez battled his command through six innings of two-run ball, and the Royals bullpen did Royals Bullpen Things. All in all, just another very, very late night at the office.
WPA Play of the Game
Lorenzo Cain came to the plate in the top of the first inning, with Alcides Escobar and Omar Infante on base. Those two were at the top of the order, so of course they reached base, because that's how Ned Yost planned it. You cannot question NedYo.
Oakland starter Rich Hill was struggling with his own command, particularly with his fastball, which led him to rely on his curveball. Cain had seen two curves in the at-bat before Hill allowed his 1-2 hook to hang a bit too much, and Cain shot it into right field, scoring Escobar and pushing Infante to third. Infante scored immediately after that, on a productive out(s) from Hosmer.
That Cain single added just under 13 percentage points to the Royals' win expectancy, and despite a few stressful moments in the second and fourth innings, they were able to make the lead hold up.
Men on Base, Left on Base
The Royals collected 12 hits, drew 5 walks (1 each from Escobar and Salvador Perez), and had another batter reach base on an error. Among all of those baserunners, they were somehow only able to score four runs. They had plenty of opportunities to do more damage, but couldn't seem to break through for that big inning, like we saw in Houston Thursday night. Three double plays eliminated some of those runners, and a few others were stranded due to some horrific plate appearances, one of which came with Hosmer in the batter's box.
Hosmer didn't appear to be seeing the ball very well tonight, until the ninth inning, when he saw the ball extremely well.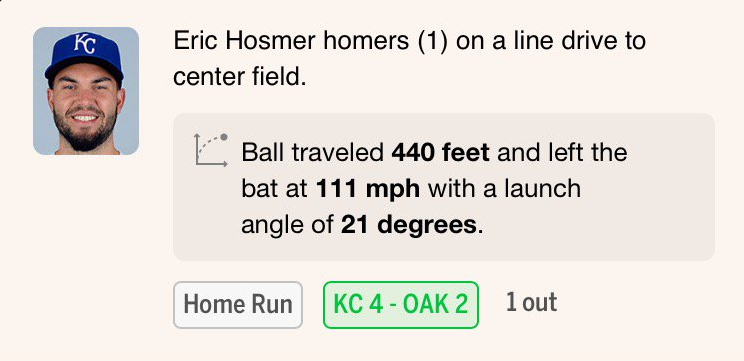 We hadn't seen much power from Hosmer yet this season, so apparently he wanted to make up for lost time.
Effective Enough, Eddie
Volquez definitely wasn't as sharp as he looked in his first two starts, issuing four walks in six innings of work, while only striking out two. But he limited hard contact to battle his way through the evening. The A's aren't as strikeout-prone as the Royals' previous opponents, so it's not that surprising to see a low strikeout total, although the five swinging strikes was still lower than I expected. He didn't seem to have a good feel for his changeup, but his curveball did have some bite, and it was enough to get the job done.
Once he handed the ball to the back of the bullpen, the Royals were well on their way to a promising start in Oakland.
Up Next
Tomorrow's 3:05 pm game will feature a fun pitching matchup with the 5'10" Sonny Gray toeing the rubber for the A's, while all 6'10" of Chris Young takes the mound for the Royals.