A 2-1 day thanks to a walkoff win in Wilmington.
HR Roll Call Chase Vallot (7)
BP KC Hitter of the Day – Chase Vallot 2-4 HR, 2b(9), 2 RBI
BP KC Pitcher of the Day – Zach Lovvorn 6 IP 6 H 1 R 0 ER 0 BB 7 K 5-3 GO-FO 92p/61k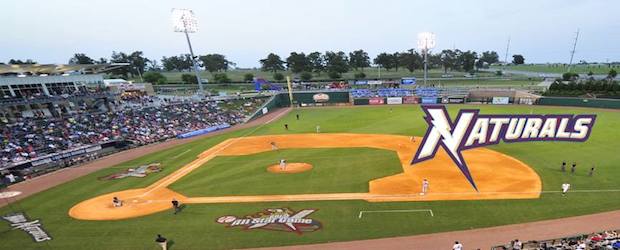 Arkansas Travelers 2 NW Arkansas Naturals 1
The Naturals bats have gone silent the past two days in dropping their second consecutive game to the Travelers and their sixth in eight tries overall. The lone run for the good guys came via an RBI single by Mike Moustakas in his first game of this rehab stint. The Royals third bagger went 2-4 with a pair of singles. The lack of offense dealt starter Matt Strahm with a loss despite six and two-thirds innings of a decent start that exhibited some erratic control. The lefty, who is normally sharp, walked three while getting behind in the count with regularity early on in the game. He righted the ship in the middle of his start getting into a grove that allowed him to pitch into the 7th inning. A throwing error in the 3rd by Carlos Garcia gave Arkansas one run and 1st to 3rd base running on a pair of singles in the 5th put them into position to score their second run of the game. It was a enough for the Travelers to secure the win with the Naturals offense scuffling. The Naturals hitter that is struggling the most is center fielder Bubba Starling. His 0-4 day pushed him to 3 for his last 37 and just .198 on the season as he continues to try to pull every pitch he sees.
Matt Strahm 6.2 IP 5 H 2 R 1 ER 3 BB 4 K 5-6 GO-FO 95p/59k
Ramon Torres 2-4 2b, R
Mauricio Ramos 2-4
Wilmington Blue Rocks 3 Frederick Keys 2
After going winless versus Frederick in their last seven games, the Blue Rocks knocked the monkey off their back with a walkoff win on Wednesday. Prior to the comeback, the Rocks got a an excellent start from opening day starter Zach Lovvorn. The 2012 6th round selection gave Wilmington 6 quality innings, giving up just an unearned run on six hits over that time. The unearned run came via Corey Toups sixth error of the season, a fielding error that allowed a runners to get into scoring position prior to a groundout that brought one home. The Rocks offense was punchless as usual getting just four singles and nary a run through 8 innings, but then suddenly it came alive versus Keys reliever Jimmy Yacabonis. A one out single from Elier Hernandez got things started and a big run scoring double from Robert Pehl awoke the Rocks bench. With the tying run in scoring position, a nine pitch battle with catcher Luis Villegas went the Rocks way when he tripled to left field to tie the game up. After a Josh Banuelos strikeout, Alfredo Escalera lined a single into right to drive in Villegas and start the gatorade splashdown at second base. Getting the win versus Frederick was nice but the Rocks still own a seven game losing streak to fellow division rival Potomac.
Alfredo Escalera 2-4 RBI, BB
Corey Toups 0-3 BB
Brandon Downes 1-3 BB
Lexington Legends 4 Hickory Crawdads 2
The Legends received seven quality inning from starter Corey Ray and some big knocks from the middle of the order to salvage the finale of their series with Hickory. Ray, a Texas A&M alum, gave Lexington his fourth consecutive start allowing two earn runs or less while using eight ground balls to avoid damage and getting in a groove from the 3rd through 7th innings that allowed him to retire twelve of thirteen hitters faced. The one hitter that did reach was on a solo home run in the 4th to draw Hickory within 3-1. Those three runs from the Legends came via a two run single from Amalani Fukofuka in the first inning and a run scoring double by Chase Vallot in the 3rd. After Hickory drew near at 3-2 in the 7th, a Vallot home run in the bottom of the 8th gave the Legends enough insurance for righty Yunior Marte to close the door. The two hits for Fukofuka gave him a ten game hitting streak, his numbers have increased as the weather has warmed in May.
Amalani Fukofuka 2-3 2 RBI 2SB(11)
Cody Jones 1-3 2R, BB
Yunior Marte 2 IP 1 H 0 R 0 BB 3 K