The Royals are going to be making a roster move soon, and the most likely move will involve activating Mike Moustakas from the disabled list and optioning Cheslor Cuthbert to Omaha. Since Moose went to the DL, Cuthbert has performed adequately, for the most part. Prior to an 0-4 game on Wednesday night, Cuthbert had a .714 OPS, while also providing some sparkling defense at the hot corner. Once Moustakas returns from his rehab assignment, however, Cuthbert's services at third will no longer be required, so he will probably head north up I-29 until he's called upon once more.
While Cuthbert was in Kansas City, Hunter Dozier was promoted to Triple-A, and since it seems unlikely that the Storm Chasers will employ two third basemen at the same time, some kind of adjustment will need to be made. Dozier has made a few starts in the outfield this season, but the most likely scenario involves Cuthbert getting more reps at second base.
First of all, we should probably ask the question: Can Cuthbert be a good defender at second base? The answer: probably not. He is at least an average third baseman because of good hands and a strong throwing arm, but his range may be lacking, and I'd be concerned about his footwork at second, particularly with double plays. I don't think he'd be a complete disaster, but it seems safe to say he wouldn't look like Frank White over there.
But, he has been working with Mike Jirschele a bit more, and it seems like the Royals want to give Cuthbert a real chance to add this kind of versatility to his skillset. Even if Cuthbert doesn't develop into an average defender at second, he may still provide some value.
If the organization really believes in his bat, Cuthbert may provide enough offense to offset any runs given away with his glove. Whether his bat is actually going to be that impactful is probably still up for debate, but for simplicity's sake, let's say it'll be enough. The Royals just promoted Whit Merrifield, and they don't seem willing to cut bait with Omar Infante just yet, but at some point, they will probably need reinforcements at that position. They're likely hoping Cuthbert can contribute. How can the Royals maximize his offensive impact, without exposing him too much defensively?
Here's one random blogger's suggestion: How about a creative platoon?
If Cuthbert shows just a bit of potential at second (again, not a guarantee, but stick with me), they could platoon him with Merrifield. Now you're surely thinking, "Hunter, both of those guys bat right-handed, you doofus. How can two righties make up a platoon?" It is true that those two bat from the same side of the plate, however, this proposed platoon would not be based on the characteristics of the players mentioned, but instead based on the characteristics of the Royals starting pitcher.
Currently, the Royals rotation is comprised of Edinson Volquez, Ian Kennedy, Yordano Ventura, Dillon Gee, and Danny Duffy. Here are each of those pitchers' groundball rates for this season:
| | |
| --- | --- |
| Pitcher | 2016 GB rate |
| Volquez | 53.1 |
| Kennedy | 37.4 |
| Ventura | 49.2 |
| Gee | 45.5 |
| Duffy | 41.5 |
These numbers generally line up with each pitcher's career results. Volquez and Ventura tend to get quite a few grounders, Duffy and Kennedy are more prone to induce flyballs, and Gee is usually right around the middle, although he does rely on a sinker more than a four-seam fastball. Last year, Gee had a groundball rate of 53.4 percent, so I'm comfortable referring to him as a groundball pitcher with Volquez and Ventura.
As you might expect, when groundball pitchers are on the mound, the infield tends to see more batted balls. It doesn't necessarily hold true in every start, but over time, that is the trend you should see. For instance, Kennedy has allowed 13 grounders to second this season, while Ventura has allowed 12, but last year, Ventura allowed 57 such grounders – 10 more than Kennedy. If those numbers don't paint a clear enough picture for you, perhaps looking at a few spray charts can help. Volquez, Ventura, and Kennedy have been in the rotation all year, so let's just look at all the batted balls they've allowed.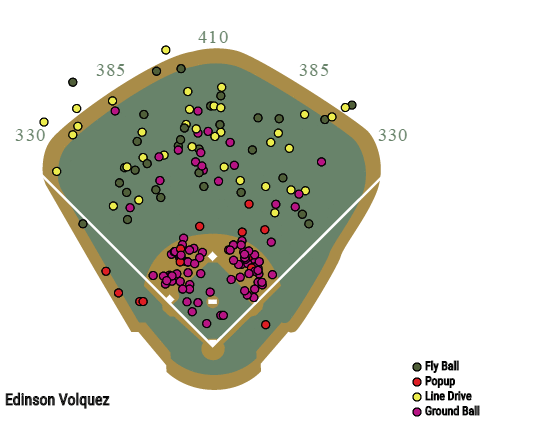 You'll notice many more grounders on the infield for Ventura and Volquez. Even though Kennedy has allowed several grounders to second, it's more likely an infielder sees more batted balls when those other guys are on the mound. And more batted balls on the infield can mean more double play opportunities, even if the ball isn't hit to the second baseman.
Which brings us back to Cuthbert. As I mentioned, his footwork is the thing I'm most worried about transitioning well to second base. He's had more time at first base than at second, and his footwork around the bag when a throw is coming doesn't inspire much confidence. I would assume trying to turn a double play with a runner coming into the bag would be an even more difficult adjustment.
If Ventura, Volquez, and Gee (who may or may not be a starter when Cuthbert comes back to the bigs) are getting those potential double play balls, there are more opportunities for Cuthbert's shortcomings to be brought to light.
If, on the other hand, Cuthbert only plays second when Kennedy and Duffy are on the mound, there would be fewer groundballs and fewer double play chances, which means fewer chances for Cuthbert to look like a third baseman playing second base.
When the groundballers get the start, Merrifield can more than capably hold down the position with his superior defense. And even on days when Kennedy or Duffy start, Merrifield could enter as a defensive replacement in the late innings, to maximize the team's defensive ability.
I fully realize the odds of this suggestion coming to fruition are approximately two percent, if that, but as a proud member of the #Bert Fan Club, I'd love to see the Royals come up with a way to keep him in the major leagues. Cuthbert is an easy guy to root for, and with more time to hone his skills at second, he has a chance to become quite a valuable big-leaguer. With a creative strategy for employing him in that position, the Royals could have a more versatile bench, with more weapons at Ned Yost's disposal.