0-3 day for the affiliates with a rainout in Wilmington.
HR Roll Call None
BP KC Hitter of the Day – Christian Colon 3-6 2b
BP KC Pitcher of the Day – Clayton Mortenson 3.1 IP 1 H 0 R 1 BB 4 K 3-2 GO-FO 47p/28k
Transactions
Benino Pruneda promoted to Omaha from NW Arkansas Naturals
Cody Jones promoted to Wilmington Blue Rocks from Lexington Legends
Roman Collins assigned to Lexington from Wilmington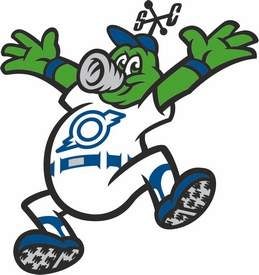 Alburquerque Isotopes 4 Omaha Storm Chasers 2 F/12 
For the second consecutive day, the Chasers starting pitcher worked his club into the 8th inning as Luke Farrell gave the Chasers seven and two-thirds innings of quality work. Unfortunately, the start wasn't enough due the offense's inability to cash in with runners in scoring position. Outfielder Brett Eibner knocked in a run in the 1st and Reymond Fuentes had a sac fly that scored a run in the 5th, but those were the only successful efforts, going 2 for 12 on the night. The game would head to extra innings where Malcom Culver would allow a pair of runs to cross in the 12th inning and the eventual loss.
Reymond Fuentes doing his best Alex Gordon impersonation.

Christian Colon 3-6 2b
Reymond Fuentes 1-3 2b, R, RBI, BB
Hunter Dozier 1-6 – 12 game hitting streak
Tulsa Drillers 4 NW Arkansas Naturals 2
The Naturals had a ton of trouble elevating the baseball versus Tulsa starter Trevor Oaks which led to their second defeat in as many days. The right-handed Dodgers prospect helped create 17 groundball outs while allowing just five hits in his seven innings of the mound. While Oaks was doing that from the hill, his second baseman, Willie Calhoun, was doing plenty of damage at the plate going 4 for 4 with a pair of doubles and a home run. Calhoun spread out the damage as he connected on an extra base hit versus all three pitchers who worked including starter Matt Strahm. It was one of Strahm's weaker starts of the season with the lefty going just four innings while allowing six hits and giving up three runs (2 ER) with a pair of walks allowed as he struggled with the zone. Cam Gallagher continued his excellent defensive play with two more caught stealing in three chances to up his total to 16 in 23 attempts this season.
Cam Gallagher 2-4 2b SB (1) 2/3 CS/Att
Orlando Calixte 2-4 R, RBI, SB (14)
Matt Strahm 4 IP 6 H 3 R 2 ER 2 BB 4 K 1-5 GO-FO 81p/49k
Kanapolis Intimtadors 7 Lexington Legends 2
Gerson Garabito's season got off to a rocky start Monday when the Intimidators did just that to the Latin right-hander. Five hits, two for extra bases including a two run home run started the night in the first inning for Kanapolis against Garabito. From there, the starter settled a little bit giving up two more hits and a run in the 4th which he created himself with a wild pitch that pushed a runner to third. The offense couldn't make up for the early deficit scoring just a run in the 3rd and 9th innings.
Yunior Marte 5 IP 4 H 2 ER 0 BB 7 K 3-3 GO-FO 58p/44k
Gerson Garabito 4 IP 7 H 5 ER 0 BB 2 K 6-2 GO-FO 71p/48k
Ben Johnson 1-2 2b, R, BB CS (3)