If you watched any of the Royals' games over the past five days, you probably need to see something positive. So here you go: No team in the American League has gotten more production from the catcher position than the Royals this year.
Salvador Perez has provided most of the value, but Drew Butera filled in admirably, and handsomely, last week. They lead the league in OPS, and they've been stellar behind the plate as well. As a team, the Royals have caught 17 runners attempting to steal, which is the fifth-most in the majors. However, they've only allowed 17 stolen bases all year, which is the lowest total in the league. That 50 percent caught stealing rate is easily the best in the game.
Butera has been fine in this role, throwing out a pair of runners in seven attempts. But it's the Gold Glover who's been nothing short of incredible this season. Perez has thrown out 15 runners, and allowed just 12 stolen bases. That's a caught stealing rate of 55.6 percent, which is the best in the bigs. Only two other catchers (Buster Posey and James McCann) have caught 50 percent of runners this year.
Simply put, running on Salvy this season has been a terrible, terrible idea.
Here's a good example of how Perez has been so successful at throwing at runners this season. Ender Inciarte picked a decent pitch to go on – an 85 mph slider – but Perez nabbed him anyway.
There are a few things that have led to such a high caught stealing rate. First of all: his footwork and body control. Notice how he positions himself to receive the ball and get into a throwing position as soon as he sees the runner going. Even with a pitch inside to a lefty, Perez is preparing to make a quick throw, by leaning his backside away from the batter.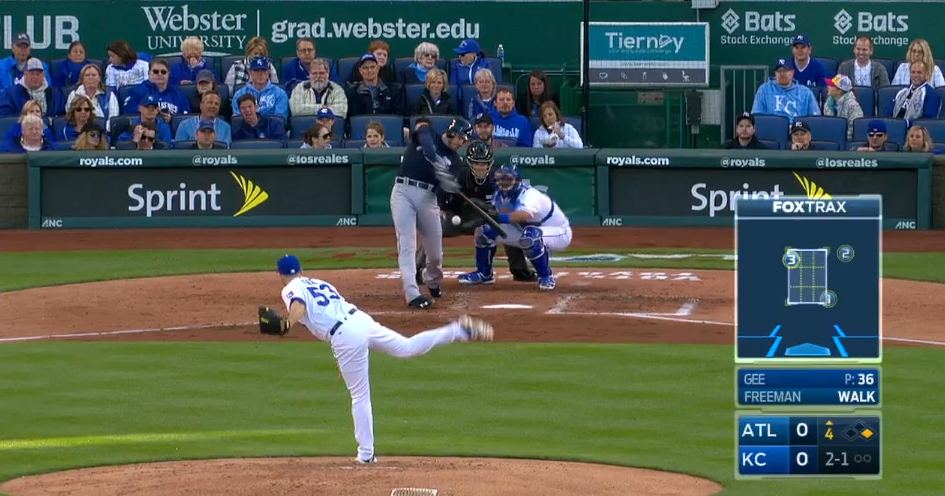 He's sacrificing some framing potential if the pitch is taken, of course, but when an out is available, it's worth more than a potential strike. By moving his body in to the open, Perez has a clear window, and with his body and feet aligned, his throw is more likely to be accurate.
Along with quick feet, Perez has very quick hands, and obviously, the strong throwing arm we've all enjoyed watching. Statcast was so kind as to display the quickness and arm strength, in numerical form:
Statcast doesn't have publicly available leaderboards for these things, but I'd be willing to wager a portion of my blogger fortune that Perez would be near the top in both of those statistics shown in the video.
Add it all up, and you can see how so many runners have been forced to head back to the dugout after foolishly attempting to steal a base against Sheriff Sal.
However, there have been 12 successful steals while Perez has been behind the plate. Perhaps those brave souls can teach us something about what it takes to accomplish such a rare feat. Below, you'll find each stolen base Perez has allowed, along with video, when available.
April 5, David Wright, 2nd Base (twice), Chris Young pitching
The first steal is shown at the beginning of the video, while the second steal is shown at the 27-second mark. Wright isn't as fast as he used to be, but he was still able to swipe two bases thanks to Young's length, and probably Salvy's worst throws of the year.
April 8, Brian Dozier, 2nd Base, Wade Davis
Dozier doesn't look like much of a stolen base threat, but along with swiping this bag against Sal, he also stole one a couple of years ago with Yordano Ventura on the mound, which is even more impressive.
April 10, Eduardo Nunez, 2nd base, Edinson Volquez
Volquez spiked this curveball, so Perez wasn't able to make the throw to get Nunez. Not this time.
April 11, Jose Altuve, 2nd base, 3rd base, Chris Young
The first steal is around the 13 second mark in the video, while the second steal is not shown. Young's slider went in the dirt on the first one, so Perez couldn't even attempt a throw.
April 22, Pedro Alvarez, 2nd base, Chris Young
Alvarez has stolen 15 bases in his seven-year career, and he's only been caught three times. Even with Young on the mound, that ratio likely would be 14-to-4, were it not for a slider in the dirt that Perez couldn't get a handle on.
May 2, Michael Taylor, 3rd base, Edinson Volquez
Nationals fans may be surprised to learn that Taylor has seven steals this season. It's not that they don't know he's fast, but they may be surprised that he's been on base seven times so far.
May 7, Rajai Davis, 2nd base, Ian Kennedy
Davis has stolen 334 bases in his career, at a 79 percent success rate. Sometimes you just have to tip your cap/catcher's mask.
May 8, Francisco Lindor, 2nd base, Edinson Volquez
Volquez didn't do Perez any favors, with a 1.4 time going home, but a high throw also allowed Lindor to slide in safely.
May 18, Josh Rutledge, 2nd base, Edinson Volquez
This was basically a perfect throw from Salvy, easily beating Rutledge to the bag, which is why the umpire initially ruled him out. But because Escobar missed the tag, the call was overturned after replay.
May 23, Danny Santana, 2nd base, Ian Kennedy
Santana hasn't always been an effective base-stealer, but he has stolen 38 bases in his young career. According to the play-by-play data, this was a hit-and-run attempt, but Joe Mauer whiffed on the 86-mph breaking ball.
Now that we have looked at the evidence, here's a few tips for stealing a base against Salvador Perez:
Tip #1 – Don't try.
Seriously. It's probably going to end poorly. Just enjoy your time at first base and wait for a batted ball or a walk. If you absolutely, positively, must try and steal a base, because I don't know, maybe the first baseman is wearing a cologne you're allergic to or something, then you'll need some other conditions to be present.
Tip #2 – Make sure Chris Young is pitching. 
Young is roughly twelve feet tall, so it takes a while for him to unwind his body and get the ball home. He also throws the ball in the mid-80s with the wind at his back, so if you're going to swipe a bag, that's probably your ideal set of circumstances.
Tip #3 – Hope for a breaking ball in the dirt.
Royals pitchers haven't had the best control this year, so maybe one of them buries a slider! At least three of the successful stolen bases above were partially due to pitches Perez couldn't dig out and grip in time. It might happen again! Or you might get thrown out. It's basically a coin flip! Baseball is exciting!
Tip #4 – For real though, don't try.
Remember Eduardo Nunez, from above? Remember how he stole a base in the fifth inning? Imagine how good that felt. He had stolen a base with the great Sal Perez behind the plate. Nunez was flying high. He was on a roll. He was unstoppable. Until he wasn't.
This happened later in the same game. Even with a low pitch, Perez made a perfect throw.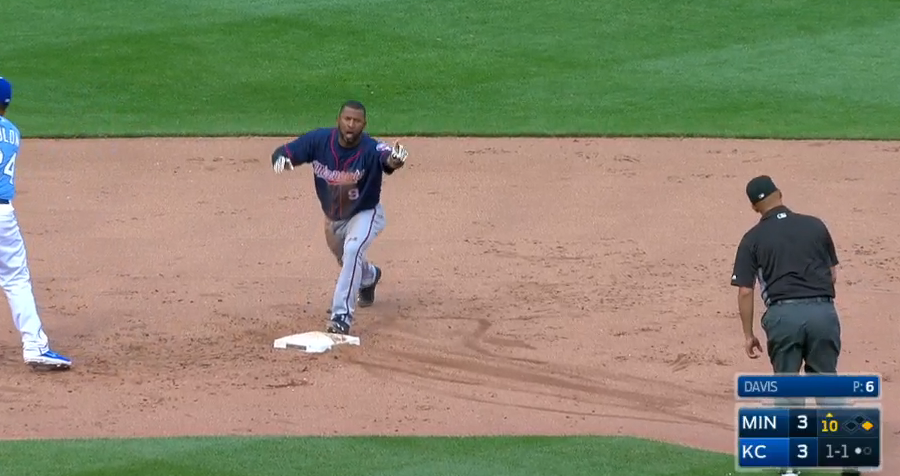 This is the look of incredulity. This is the look of a man who had such high hopes. He had dreams. His sights were set another 180 feet away. And in an instant, that was taken from him. "It's not fair," Nunez exclaims as he shakes his finger. He's a man who was wronged. Wronged by the umpire, by Perez, by the world itself. Then, he realizes something.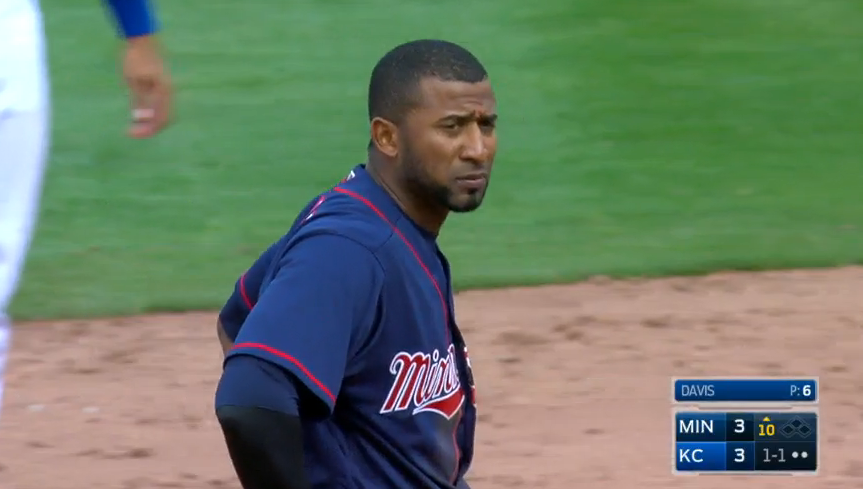 This is the look of a man filled with regret. A man filled with disappointment, and a sense of longing for the way things were. He was on first base, and he was comfortable. He was enjoying himself. But he got greedy. He wanted more. He would not obtain it.
Nunez could have settled for his single stolen base, but not unlike Icarus, his hubris got the best of him. Nunez flew too close to the sun, and that photo is the look of a man slowly falling down to the sea.
Let this be a lesson to you. The next time you consider attempting to steal a base against the Royals Gold Glover, remember Nunez. Remember that face. Don't repeat his mistakes. Don't test fate. More importantly, don't test the arm of Salvador Perez.