A 1-3 day with a win in the Dominican for the affiliates.
HR Roll Call: Tony Cruz (4), Ryan O'Hearn (13), Alex Gordon, Jose Caraballo (2)
BP KC Hitter of the Day Ryan O'Hearn 3-3, 2R, 2b, HR, BB
BP KC Pitcher of the Day Eric Stout 2.2 IP, 0 H, 0 R, 0 BB, 4 K
Single-A Lexington Legends and High-A Wilmington Blue Rocks won't play games due to their All Star breaks until Thursday.
Colorado Sky Sox 4 Omaha Storm Chasers 2 F/5
The Chasers fell victim to some early runs – and weather – to drop the rain-shortened series finale. Starter Christian Binford was dinged for a pair of two-run home runs in his four innings to drop to 1-5 since joining the Triple-A rotation. The Chasers had their own two-run home run via Tony Cruz, but could muster just two additional singles during their five frames of the shortened game.
Tony Cruz 1-2, HR, 2 RBI
Hunter Dozier 0-0, R, 2 BB
Jorge Bonifacio 0-1, BB
Arkansas Travelers 5 NW Arkansas Naturals 3
The Naturals received a good night from one Royals player on a rehab assignment and a not-so-good of an effort from another. Outfielder Alex Gordon went 2 for 3 with a home run and a walk, completing the full game in the outfield, while pitcher Kris Medlen struggled. Medlen, on an abbreviated pitch count, struggled with the strikezone, tossing 35 strikes in 56 pitches. He surrendered four runs on six hits in just three innings. In addition to Gordon's nice day at the plate, Royals prospect Ryan O'Hearn connected on his 13th home run of the season and his 21st double while completing a perfect 3 for 3 night at the dish. NW Arkansas was able to connect on just one other hit besides what O'Hearn and Gordon provided in dropping their fifth consecutive game.
Alex Gordon 2-3, HR, BB
Mauricio Ramos 1-4, 2b, RBI
Bubba Starling 0-4, 2K – consecutive sub. 200 BA months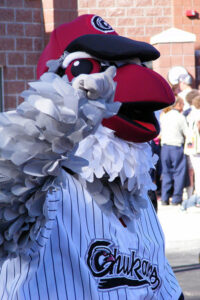 Orem Owlz 8 Idaho Falls Chukars 5
Chukars starting pitching got knocked around early and a comeback effort fell short Monday night. Starter Andres Machado gave up four first inning runs and then single runs in each of the next three innings to help put Idaho Falls in a 8-2 hole. The Chukars got an RBI triple from Ricky Aracena to plate speedster Nick Heath in the seventh. An inning later, Meibrys Viloria doubled in a run and scored to trim the deficit to three, but the Chukars were unable to continue the rally to drop their first game of the season.
Meibrys Viloria 3-4, R, 2-2b, RBI
Ricky Aracena 3-5, R, 3b, RBI
Yeison Melo 1-5
DSL Royals 8 DSL Red Sox1 6 
A four run eighth, combined with two runs in extra innings, gave the DSL Royals a come from behind win.
Raymond Lopez 2-4, 2R, 3b, 3RBI, 2BB
Angel Medina 1-4, 2b, RBI
Cristian Perez 2-4, 2R, RBI, BB