Thanks to the Indians recent stretch of baseball, the Royals find themselves eight games back in the Central. They aren't out of it, of course, but it's been tough to keep pace with a club that won approximately 24 of its last 17 games. Despite the division standings, the Royals are right in the thick of the Wild Card race, jockeying for position along with six other teams within three games of each other.
This, despite a rash of injuries and ineffectiveness from several key contributors. The Royals have been able to stay afloat due to a handful of surprising performances from players no one should have expected to excel. Whit Merrifield, Brett Eibner, Paulo Orlando, and Drew Butera have all stepped in and done extremely well at different times this season.
You'll notice one name missing from that list above. You'll also notice it's the same name from the title of this article.
Cheslor Cuthbert has been perfectly adequate at third base this season, playing solid defense, and posting a .758 OPS and a slightly below-average .252 TAv. It's taken a little time to get up to that level, but based on his past, it shouldn't be surprising that the former top 100 prospect is figuring things out. I'll explain.
In 2013, Cuthbert started the season at High-A Wilmington, after struggling there in the 2012 campaign. Repeating the level turned out to be a success, as he posted a .772 in that pitcher-friendly environment in 254 plate appearances before being promoted to Double-A Northwest Arkansas.
His first month and a half as a Natural did not go well. Cuthbert hit just .207, with a .586 OPS in his first 154 plate appearances there, striking out 34 times, while walking eight times. But on August 1, he went 2-4 with a double, and from that point through the end of the season, he had a closer-to-respectable OPS of .710. Perhaps more importantly, Cuthbert drew 12 walks in those final 110 plate appearances, while striking out 17 times.
Cuthbert then spent most of 2014 back in Springdale, where he put up a .757 OPS before getting bumped up to Triple-A Omaha. He wasn't immediately overwhelmed by the pitching of the Pacific Coast League, with 10 hits in his first five games, although he then went through a bit of an adjustment period for 59 plate appearances, hitting just .148/.220/.241 toward the end of that season.
Last year didn't quite follow the pattern, as Cuthbert got off to a great start prior to scuffling through May and June. His July was spent driving up and down I-29, but once he got settled back in Omaha, he had an .846 OPS for his last 88 plate appearances there. At that point, Cuthbert was added to the September roster, and he went 4-21 with three walks.
That brings us to 2016. Cuthbert absolutely destroyed Triple-A pitching for 107 plate appearances, hitting .333/.402/.624, with 11 walks and only 14 strikeouts. With Mike Moustakas hitting the disabled list in early May, Cuthbert had an opportunity to grab some playing time. Unfortunately, his stint as the starter resulted in an OPS of .642, with 11 strikeouts and a single walk in those 52 plate appearances.
Through 102 career plate appearances at the big-league level, Cuthbert was hitting .237/.275/.371. The Royals' starting third baseman hit the DL once more, so they needed their new third baseman to start hitting. And wouldn't you know it, their new third baseman started hitting.
Since Moose's knee injury, Cuthbert has hit .290/.329/.471 over 147 plate appearances, with seven dingers and four doubles. Now, he still isn't walking very frequently (5.4 percent walk rate), but his strikeout rate isn't unreasonable (20.4 percent), and when he's putting the ball in play, he's making solid contact.
This appears to be a trend. It isn't unusual for a player to take some time to adjust to a new level, especially for a player who's always been several years younger than the average player in his league. While it can be difficult to track changes in the minors due to a lack of data, we can dig into a few things to see what adjustment Cuthbert's made recently.
First, here's a heat map showing his slugging percentages in various parts of the zone prior to May 24, and since May 24.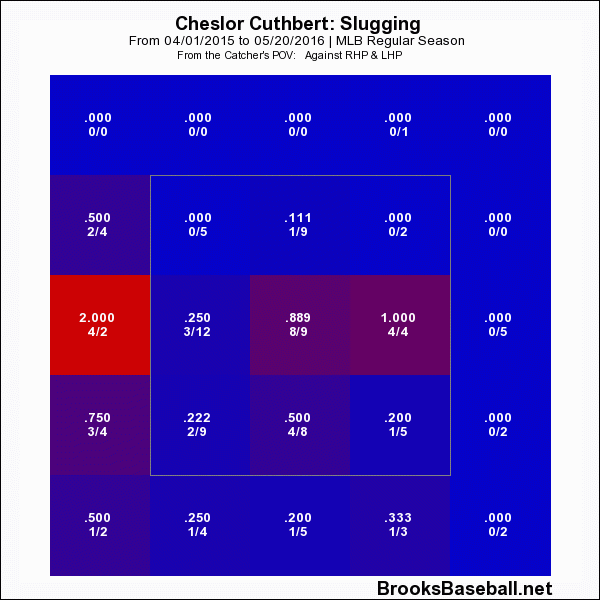 Last year, and earlier this season, Cuthbert was able to get his hands in on stuff in off the plate, and on a few pitches out over the middle, but he wasn't doing much with other pitches. Since taking over for Moose, he's doing much better on pitches in the lower part of the zone, as well as those below the zone.
Watching Cuthbert swing, it's not difficult to see he's going to be a low-ball hitter. Against non-fly ball pitchers (using Baseball Reference's definitions), Cuthbert is hitting .294 with a .529 slugging percentage this season. That'll play.
Oddly enough, pitchers have not really noticed this, as they've recently been challenging him more in the strike zone, particularly down.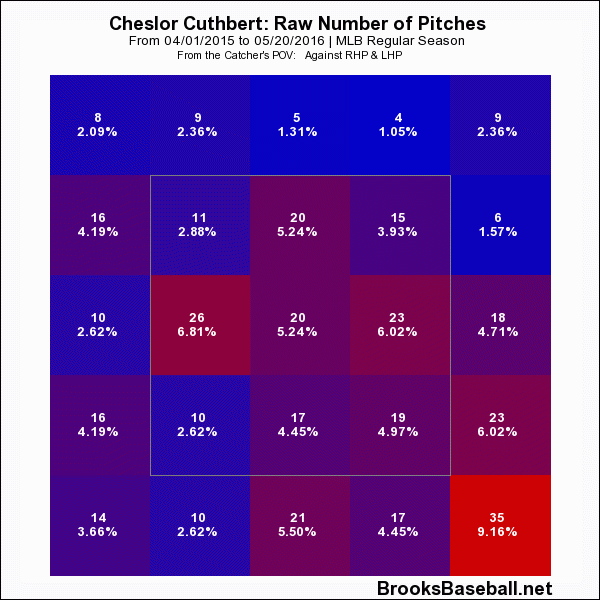 Perhaps pitchers simply haven't been worrying about giving Cuthbert pitches to hit. Perhaps they should start worrying.
But Cuthbert isn't succeeding solely due to opposing pitchers' approaches. He's been more aggressive overall, but you can see he's taking more hacks at those pitches below the zone, where he's done some damage.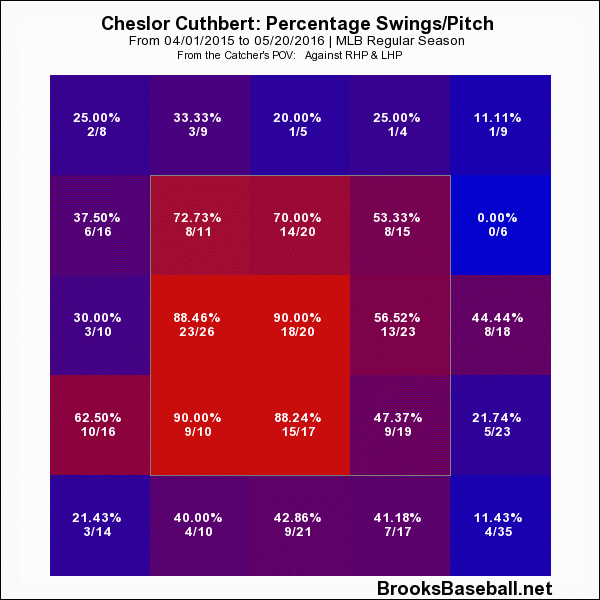 Cuthbert could even be more aggressive in the zone when pitchers go after him, but he is taking advantage of what he's been seeing. And while he's probably chasing some pitches below the zone, it seems like he realizes that area can be a power zone for him. If a pitcher wants to try and steal a strike below the knees, Cuthbert is capable of picking on that pitch.
A man with Cuthbert's, ahem, speed, probably should elevate the ball a bit more frequently than he's been doing, but when he does get the ball in the air, he's hitting it with more authority. That's especially the case on pitches in the lower inside half of the zone, as well as pitches just off the plate around that edge.
Prior to late May, Cuthbert's line drives and fly balls on pitches in those locations averaged 90.5 mph off his bat. In the last month and a half, they're coming off the bat at 93 mph. It's a small sample, of course, but it matches the eye test, and considering his swing path, it's not terribly surprising.
With the All-Star Break just a few days away, there is still quite a bit of baseball to be played. Cuthbert could certainly cool off from his last month and a half of production, and the Royals could have fewer options to consider this winter. However, this isn't just some random 29-year old out of an independent league. Cuthbert was a big-name international prospect for a reason, and he's still young. He's been adjusting to each new level for quite some time. The Royals are thankful he's been able to continue that trend this season.