A couple of times this season I have written how the Royals farm system is down a bit talent wise. That isn't really shocking, I mean, after all, they traded three stud left-handed pitchers last season and a couple other arms that were decent depth pieces. Combine that trade with the fact that they have been drafting in the back of the 1st round due to better records, graduated a few players and you get a farm that will likely rank in the bottom-third of most publications prior to next season.
Even with those factors counting against them, Royals scouts have stocked the lower levels with a group of young prospects who are talented and are either starting to shine through or could be players to watch in the future. Below is a list of some of the best players who will play this entire season at 20 years old or younger.
Top Ten
1. Chase Vallot 8/21/96 – The Royals catcher has continued to show plenty of power this season, hitting 10 home runs in 50 games between Lexington and Arizona. That unprecedented power in the organization should allow him to move to DH/first base if ever needed as his size and lack of quickness leads to some movement struggles at times behind the plate. A move may hurt his prospect status but it won't hurt the power profile which shows the bat speed and strength to be a future 30 home run hitter in the major leagues. The arm is plus behind the dish though, so there is a building block for Vallot in hopes he can stick back there. Vallot has a patient approach.
2. Samir Duenez 6/11/96 – In the prospect community, a Latin player can have a roller coaster type of a ride as many enter when they were 16 and can start off as big name prospects and dip in their younger years before finding their footing. Fans and prospect writers may lose interest and not give them their due as we have seen with Cheslor Cuthbert this season with Kansas City. This is the also case with Duenez, who gained plenty of hype by myself and others when he headed to Lexington in 2014 at just 17 years old after a strong Arizona spring. For two seasons there, Duenez proved he could make contact easily versus older pitchers (52 K in 142 games) but couldn't do much damage with that contact (.330 SLG). After altering some things with Royals hitting instructors during instructs this past fall, Duenez is starting to unlock the power this season, hitting 12 home runs in 94 games, six since a promotion to Wilmington, after just two prior to this year. A smart player, Duenez has above average bat speed, a strong frame and the ability to cover both sides of the plate. He looks to have added more muscle in the upper body than in previous years, and continued added strength could leave this player as a possible .270-.300 hitter with the ability to hit 20+ home runs. Statistical Note – Duenez has stolen 20 bases already this season.
3. Meibrys Viloria 2/15/97 –  HE is showing his skill with the bat this season once again after a year with injuries that limited him at times in Burlington last season. The 19-year old catcher has an explosive swing and advanced approach that shows power to all fields. The backstop has a strong arm that has proved inaccurate this year during games but should profile as plus as he ages and refines his footwork. I prefer his movement to Vallot's behind the plate and it is said that the Royals are high on his leadership skills and energy. There is a real chance Viloria could become a top Royals prospect in the future with his strength, skill with the bat and the fact that he can play a premium position.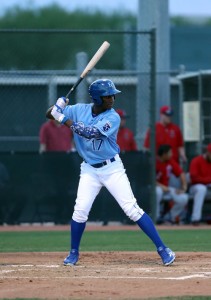 4. Seuly Matias 9/4/98 – Big time power for this 17-year old who was the jewel of last year's international class for the Royals. Matias has already shown big power in Arizona, hitting five home runs including a pair to the opposite field in his 19 games there. On top of the power at the plate, Matias has a plus plus arm which maybe the strongest in the minor leagues for the Royals. At 6'3 and over 200 pounds already he could grow into the most prolific power hitter the organization has ever seen. Contact will need to be a chief concern of his as he climbs the ladder but with an explosive swing and size could make him a future #1 Royals prospect.
5. Scott Blewett 4/10/96 – It has been an up and down season for Blewett, but the righty has regained most of the velocity, worked on his craft and has been much better as of late. That control wavered through his first eleven starts (4.74/9) but has been quite a bit better in his last seven (2.54/9).  Currently working the fastball in the 90-92 range while maxing out at 94 Blewett had worked as high as 96 in his first season. The height and slot helps create plenty of groundball outs as does the combination of his 11-5 curveball that dives late towards the bottom of the zone or out of it. The change up has improved from last years version presenting some arm side fade as has his comfortability to use it slightly more. At 6'6 and 210 lbs or more Blewett has the body of a workhorse future starter that likely profiles towards the back of a rotation.
6. Khalil Lee 6/26/98 – The Royals 3rd round pick this year has plenty of tools to build from in center or at a corner going forward showing some pop, athleticism and a big time arm. Lee was developing his skills on the mound in high school and was thought to be a better pitching prospect than a hitter by some with his 93 mph fastball and developing secondary stuff. The Royals will go the other route with Lee letting him refine his hitting approach, speed and pop at the plate.
7. Marten Gasaprini 5/24/97 – It's been a difficult season by the numbers for Gasparini, but he's exhibited the tools that show why the Royals were high on him when they signed him out of Italy. Gasparini has flashed the power and speed combination for Lexington while struggling with making contact from the left side of the plate. He needs to cut down on the errors in the field but with any European player, changes will take time and being patient is something the Royals have shown with other prospects and most of this could be improved with the more repetition that he gets. The speed and arm strength show the ability to stick at the position, improvements in plate approach and contact could make Marten a dynamic player going forward.
8. Jeison Guzman 10/8/98 – The Royals pushed Guzman to Arizona, and the 17-year old who was said to have more ability with the glove than the bat has responded with handling the level with the bat also. An intelligent player overall Guzman's profile reminds me of Humberto Arteaga defensively but with much more ability at the dish than Arteaga had at the same age. An advanced feel for the game, Guzman should be able to stay at shortstop where he could be a plus bat with that profiles as a top of the order hitter despite a lack of plus speed.
9. Garrett Davila 1/17/97 – Davila cracks the list over a couple fellow draftees due to a lack of failure for him thus far. Throwing his fastball in the upper 80s to low 90s, Davila has solid control and a good feel for both his curveball and change up. The command needs to be refined and it is too early to jump fully on board for a pitcher who doesn't have elite command or a true game changing pitch, but Davila has shown he can excel in a short time against players much older than he. A year in full season ball next year is likely for the lefty who could find himself as one of the few pitching prospects in the Royals Top 10 rankings of other publications.
10. Ricky Aracena 10/2/97 – The Royals version of Jose Altuve or Rafael Furcal as a speedy and short but strong middle infielder with good instincts and feel for the bat. Still light years away from what those players abilities turned into, Aracena in small samples has flashed a little pop and speed for Idaho Falls this season but has showed little patience at the plate. A quick infielder he may need to move over to second like Altuve had to.
The Others
Esteury Ruiz 2/15/99 – Just 150 lbs., Ruiz has shown good game hitting ability in the DSL with some solid power despite the lean frame. The additions of Ruiz, Guzman and Aracena combined with others at the upper levels shows solid depth up the middle in the Royals organization.
Ashe Russell 8/28/96 – This is pretty low for a former 1st round pick, but the velocity dip in Arizona is a concern and for a pitcher whose game was built on explosive velo at the time of the draft, it is a bit concerning.
Nolan Watson 1/25/97 – The control I saw last year wasn't what was described in the draft and that has carried over this year. 14 HR allowed speak to the lack of control and stuff.
Sebastian Rivero 11/16/98 – Pushing Rivero stateside at just 17-years old isn't something the Royals do regularly with their catchers, but Rivero is said to be a plus future defender.
Cover Photo – Khalil Lee in Arizona provided by Bill Mitchell.