During last night's broadcast, Rex Hudler was discussing Eric Hosmer's struggles, and he said something that made me stop and contemplate it. Granted, Hudler says something that makes me stop and contemplate on basically a nightly basis, but this one was exclusively baseball-related.
He was talking about Hosmer's two-strike approach, and how he was using a high leg kick too often, rather than going for a toe tap. Hudler thought Hosmer should be using a simple timing mechanism to keep his swing more quiet, which should lead to more success. The broadcast even showed his home run against the Indians in the middle of May, which came on a swing with a toe tap, instead of the leg kick.
I found the discussion interesting, because Hosmer's swing has always been fascinating to watch, with various iterations over the years. I wanted to see if Hudler's observation was correct, so I went through some videos of Hosmer in two-strike counts this season. I don't want to give away the conclusion (you still have hundreds of words to read!) but I will say the evidence I discovered isn't in line with what was discussed.
This is a sampling of Hosmer's front leg position in various two-strike counts in the first two months of the year.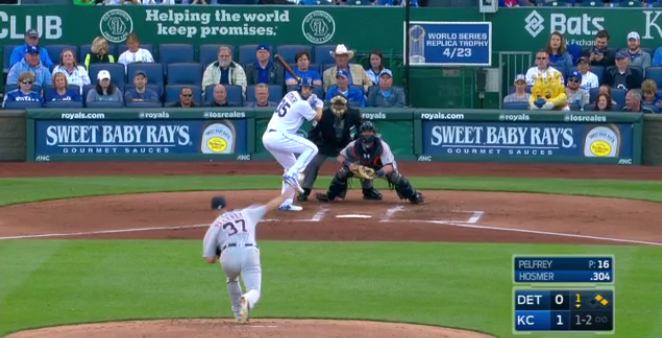 Hosmer lined into a tough-luck double play.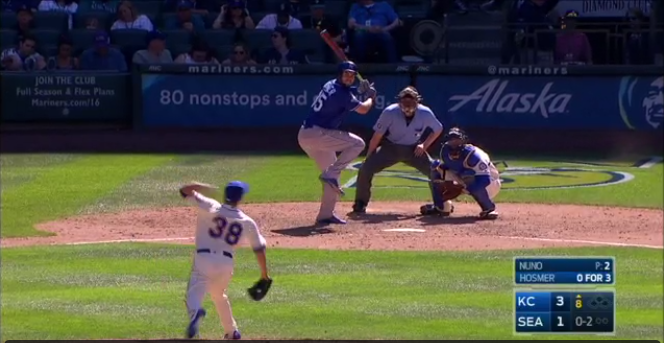 This turned into a dinger.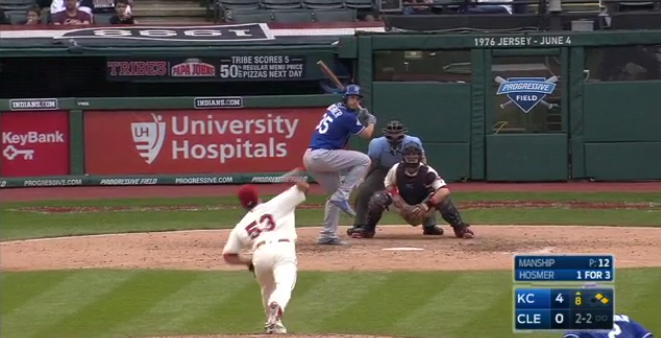 This was a ground-rule double.
This sample isn't completely random, but it is representative of Hosmer's swing early on this season, when he had two strikes against him. Even in those situations, he still used the high leg kick as his timing mechanism, and to involve his athleticism in his swing.
There were times Hosmer used nothing more than the toe tap in those counts, and he had some success with it, but for the most part, he opted for the leg kick. You can peruse the videos hosted at Baseball Savant to check my work, if you'd like.
Sometime around late May or the middle of June, Hosmer started using the toe tap more frequently. Again, the link in the preceding paragraph will provide some evidence, along with the following screenshots.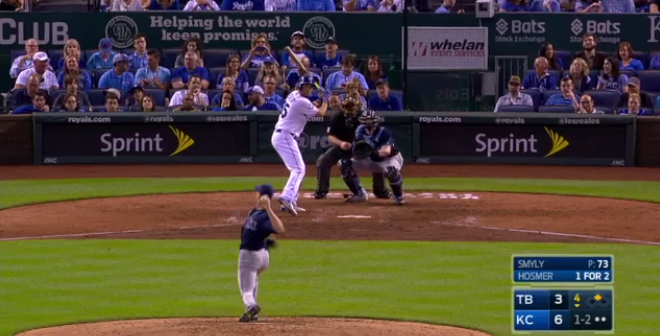 This was a double.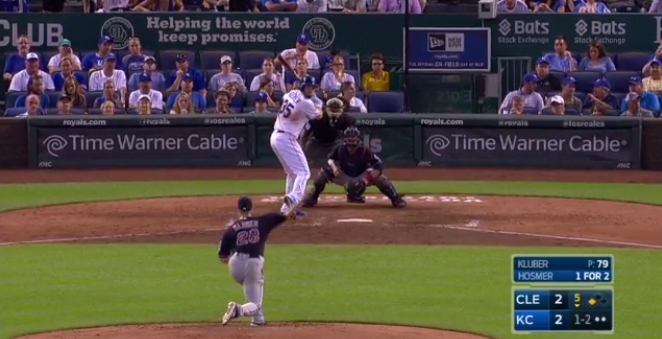 Hosmer singled on this pitch.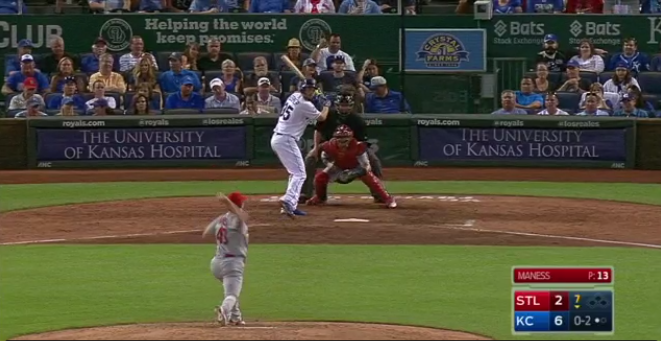 That's a strikeout.
Again, Hosmer hasn't exclusively used the toe tap, and it isn't as if the leg kick has led to success every time. Here's a couple of shots of a leg kick being used just before a strikeout: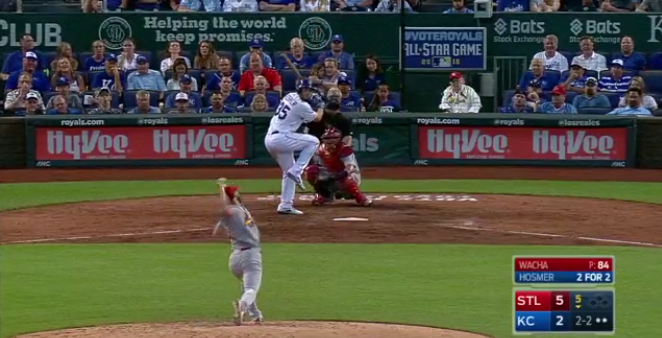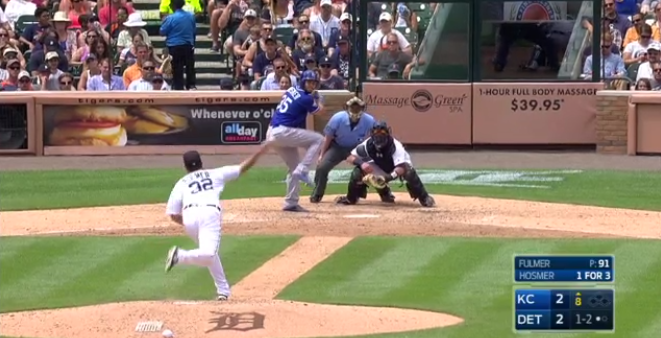 He's hit with and without the leg kick, and he's scuffled with and without the leg kick, but he's mixed it up more recently, which has also coincided with his lengthy slump.
Although I don't have access to video of each and every two-strike pitch Hosmer has seen, there does appear to have been a shift toward more toe taps in the last couple of months. I can't seem to find any specific circumstances in which he always uses one or the other. I thought he may be using the toe tap against tough lefties, and that may be a part of it, but as you see above, he also used it against Seth Maness. And he used a leg kick when homering twice against Chris Sale. He's all over the place.
It's possible Hosmer isn't going into each game saying which mechanism he's going to use, and he's simply adapting based on how he feels and how he's seeing the ball that day. Beyond that, Hosmer was striking out more than usual in May and June, and perhaps once he started struggling, he wanted to get back to a simpler approach so he could make more contact in two-strike counts. The idea does make some sense, but it hasn't paid off quite as he'd hoped.
While Hosmer has struck out less often in the last two months, he's actually whiffed on more two-strike pitches in that timeframe (37) than he did in the first two months (31).
With how often Hosmer's been changing up his swing, it seems to me that he just hasn't been able to gain any kind of consistency with his timing. I am not a hitting coach, but from my vantage point, he looks like a guy trying different things to get back to where he was earlier in the season. He looks uncomfortable, and he hasn't found his rhythm for quite a while, so he's tinkering more.
This isn't the first time Hosmer has had an extended slump, of course. But he usually starts to come around after the All-Star Break, and we've yet to see that this season. It's probably too late for that bounce-back to matter for the Royals this year, if it does indeed arrive. That doesn't mean it wouldn't be refreshing to see.