A 3-4 day for the affiliates with a huge win at Low-A Lexington.
HR Roll Call Mauricio Ramos (7), Jack Lopez (6), Cam Gallagher (4), Brandon Downes (6), Travis Maezes (12), Roman Collins 2 (6), Amalani Fukofuka (5), Esteury Ruiz (4)
BP KC Hitter of the Day – Roman Collins 4-6 4R, 2 HR, 2 RBI, SB (9)
BP KC Pitcher of the Day – Daniel Stumpf 3.1 IP 1 H 0 R 0 BB 3 K 6-1 GO-FO 40p/26k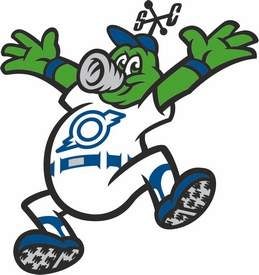 Iowa Cubs 13 Omaha Storm Chasers 0
While Danny Duffy was carving up his opponent at the major league level the Triple-A squad for the Royals was getting carved up in a similar fashion. Just three hits, the first not coming until the sixth inning while striking out 17 times against no walks. The Chasers pitching staff couldn't match that effort, getting knocked around to the tuen of 15 hits including three home runs to give up a 13 runs in a blowout.
Ramon Torres 1-3 CS (3)
Jon Dziedzic 6.1 IP 8 H 6 R 5 ER 1 BB 3 K
Dusty Coleman 1 IP 1 H 0 R 0 BB 1 K 1-0 GO-FO 14p/10k
NW Arkansas Naturals 7 Arkansas Travelers 2
Starter Josh Staumont struggled mightily with his control Monday, walking six and giving up a couple runs to start his outing before getting saved by the bullpen and the Naturals offense. Reliever Daniel Stumpf tossed 3.1 inning scoreless innings in relief of Staumont while the offense muscled up for seven runs on six extra base hits, including three home runs. The home runs came off Travelers starter in consecutive innings with Cam Gallagher topping it off with his fourth of the season. The Naturals catcher also collected a double as part of his three hit day while also calling the bullpen into scoreless relief over the final 7.1 innings. The win knotted the division race up between the two teams with two games left in the series.
Cam Gallagher 3-4 2R, 2b, HR
Alfredo Escalera 2-4 R, 2-2b, RBI
Miguel Almonte 2 IP 1 H 0 R 0 BB 1 K 1-3 GO-FO 24p/14k
Salem Red Sox 11 Wilmington Blue Rocks 7
Wilmington's starter got knocked around and dug too large of a hole for the offense to comeback from in the first game of their series with Salem. Trailing 10-1 after just two innings after starter Corey Ray was tuned up for eight runs in 1.2 innings the Rocks started to rev up their offense in the fourth inning. Outfielder Brandon Downes was the catalyst of that offense, doubling and scoring in that inning before hitting a grand slam in the fifth to trim the deficit to 11-6. A run on an Elier Heranandez triple in the seventh trimmed the deficit to 11-7, but Wilmington could get no closer prior to the end of the game.
Brandon Downes 3-5 2R, 2-2b, HR, 5 RBI
Anderson Miller 1-3 2R, R, BB
Samir Duenez 2-5 2b, CS (2)
Lexington Legends 17 Rome Braves 2
The Legends exploded all over the Rome Braves pitching staff on Monday, scoring five runs or more off three different pitchers. It was a slow burn off starter Touki Toussaint in his six innings as the Legends scored in five of the six innings but couldn't bust through with the crooked inning despite three solo home runs. The Legends lead stood at 5-2 through six innings before they busted the game open on the Braves bullpen with 11 runs between the seventh and eighth innings as the Braves pitching and defense tripped all over themselves. During those two innings Lexington walked six times, got hit by another pitch and reached on a pair of errors to put the game well out of reach.
Nolan Watson 4.1 IP 6 H 2 Er 3 BB 1 K 4-4 GO-FO 80p/50k
Travis Maezes 3-5 3R, 2b, HR, 2 RBI, BB
DJ Burt 1-5 2R, RBI, BB, 2 SB (34)
Bluefield Blue Jays 6 Burlington Royals 5 F/13
A game that went back and forth ended up falling in the Blue Jays win column thanks to a big knock in the thirteenth inning by a former players son. The Royals pitchers Geoffrey Bramblett and Alex Massey got touched up for a pair of solo home runs as the Royals pitchers gave up four runs in the first six innings. Those four runs were one upped by the Burlington offense despite a 3 for 18 performance with runners in scoring position, but a run in the ninth off Walker Sheller tied the game and sent it to extras. The two teams continued to pile up strikeouts in extras as they combined to put away 39 hitters via the K in the thirteen innings. Unfortunately Burlington's pitchers were unable to strikeout Vladamir Guerrero as the former All Star's son came through in the top of the thirteenth inning with an RBI single that would end up being the game winning hit.
Kort Peterson 2-6 R, 2b, 3b, RBI
Emmanuel Rivera 1-2 2RBI, 2 BB, 2 SB (5)
Alex Close 1 IP 0 H 0 R BB 3 K
AZL Royals 9 AZL Giants 3
The Royals punched out 12 hits, walked six times in scoring nine runs to give their starter Colton Howell his first win. The former Husker worked five innings while allowing just one run and striking out three while getting backed with five runs while he was on the hill. Infield John Brontsema continued his hotting with a 3 for 5 game that included three runs batted in to pace the Royals club.
Khalil Lee 1-5 R, RBI
John Brontsema 3-5 R, 3 RBI
Oliver Nunez 2-5 2b, 2 RBI
DSL Astros 7 DSL Royals 1
The Royals pitching staff gave up seven runs in a rare poor pitching performance in their Monday loss. The offense could claim just an Esteury Ruiz home run on their side to fall two games back in the division.
Freddy Fermin 1-3 2b
Esteury Ruiz 1-3 HR, BB
Raymond Lopez 1-3 2b