A 3-5 record for the Royals affiliates on Monday after a pair of split doubleheaders.
HR Roll Call Chase Vallot 2 (12), Nicky Lopez (3)
BP KC Hitter of the Day – Kort Peterson 3-3 R, 3b
BP KC Pitcher of the Day – Jake Junis 7 Ip 3 H 1 R 1 ER 0 BB 7 K 2 HBP 5-3 GO-FO 95p/60k
Omaha Storm Chasers 3 Colorado Springs Sky Sox 1
The Royals moved Alec Mills to the DL after the righty had continued to encounter neck strain. In his wake, they called up Jake Junis to Omaha and the righty showed he was ready for the Triple-A stage on Monday night. Working seven innings, Junis allowed just one run on the night while allowing just three hits in an efficient 95 pitches over seven innings. Nerves or a wayward arm slot caused a couple hit by pitches in the first inning, one plunking a hitter in the head, but Junis was able to strike out two in that inning and get a weak flyball to navigate around those problems. From there, Junis found a groove, collecting seven strikeouts and five groundouts while a third inning home run proved to be the only blemish on his record. The offense rewarded Jake's effort with a win plating runs in the third, fifth and sixth, the last came via a Hunter Dozier double that scored Jorge Bonifacio from first base.
Hunter Dozier 2-4 2-2b, RBI
Jorge Bonifacio 1-3 R, BB
Ramon Torres 1-4 R, 2b,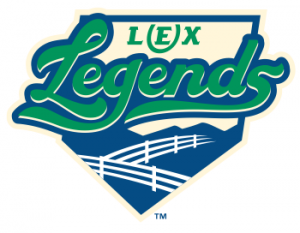 Game 1
Lexington Legends 2 Asheville Tourists 1 F/9
The Legends and Tourists exchanged second inning runs before getting mired into a low scoring affair. Starter A.J. Puckett allowed a second inning solo home run prior to working the final four innings scoreless, striking out five hitters on 74 pitches. The game was scheduled for seven innings, but with the two bullpens slowing the offenses down it extended until the ninth inning at a 1-1 tie. With one out in the bottom of the ninth, Chase Vallot would end things with one swing, driving a ball over the left-center fence for a walkoff home run. It was Vallot's first home run since returning to Lexington and his 11th home run of the year.
A.J. Puckett 5 IP 3 H 1 R 1 ER 1 BB 5 K 1 HR 2-4 GO-FO 74p/44k
Sam Lewis 4 IP 3 H 0 R 0 ER 0 BB 6 K 3-2 GO-FO 51p/38k
Chase Vallot 1-4 HR
Game 2
Asheville Tourists 5 Lexington Legends 1
The second game didn't go quite as well for the Legends as Asheville starter Devin Burke kept the offense on ice. The 25 year old who has reached Triple-A previously proved too much for the young Lexington lineup, giving up just two hits over a seven inning complete game. The Legends starter, Julio Pinto, wasn't quite as successful in his four innings, allowing three runs on five hits including a home run via Rockies uber prospect Brendan Rodgers. The Tourist would tack on two more runs in the seventh to stretch their lead while the only run provided by the Legends came via Chase Vallot's second home run of the day in the last inning.
Chase Vallot 1-3 HR
D.J. Burt 1-3
Julio Pinto 4 IP 5 H 3 ER 1 BB 3 K 1 HR 5-2 GO-FO 68p/45k
Game 1
Burlington Royals 4 Johnson City Cardinals 3
The Royals top two hitters in the order carried the club to another win in game one of the doubleheader. Leadoff man Nicky Lopez singled and scored in the first inning before starting the third inning scoring with an inside the park home run to put Burlington up 2-0. The second man in the order, Kort Peterson, pushed Lopez along in the first before connecting on a second single in the third and eventually scoring on a Chris DeVito double. The Royals would tack on a fourth run in the fifth to push their lead to 4-1 before hanging on for a 4-3 win in the seven inning shortened game.
Kort Peterson 3-3 R, 3b
Nicky Lopez 2-4 2R, HR
Ofreidy Gomez 5 IP 3 H 1 R 1 ER 2 BB 4 k 5-3 GO-FO
Game 2
Johnson City Cardinals 6 Burlington Royals 2
The Royals had a 2-1 lead through four innings, but the bullpens inability to hold it lead to their four game winning streak getting snapped. Lefty Andre Davis was able to navigate through 3.1 innings while allowing five hits and just one run before giving things to the pen. Relievers Jose Veras and Michael Silva struggled in their two combined innings as the pair gave up five runs over the fifth and sixth innings to fall behind 6-2. The Royals had no hits over the final three innings to drop the game and see their division lead cut to 3.5 games.
Boo Vazquez 2-3 R, 2b
Jonathan McCray 1-3 R, RBI
Emmanuel Rivera 2-4
Billings Mustangs 7 Idaho Falls Chukars 4
The Chukars fell behind early and lost to Billings when a late comeback bid came up short. Starter Andres Machado gave up a pair of home runs in the first three innings that gave Billings a 3-0 lead. That lead was pushed to 7-1 through eight innings as the Mustangs starter, Andrew Jordan, pitched six scoreless against just one hit and reliever Zac Cornell gave up just one run in his two innings. The Idaho Falls bats finally got things working in the ninth with a pair of walks and a two run double by Manny Olloque, but after a sacrifice fly from Meibrys Viloira that scored Manny things cooled off and the Mustangs put away the game for a 7-4 win. The sacrifice fly was the only damage that Viloria could do as his 20 game hitting streak was stopped with an 0 for 3 night at the dish.
Manny Olloque 2-4 2R, 2-2b, 2 RBI
Yeison Melo 1-4 RBI, SB (5)
Meibrys Viloria 0-3 RBI
AZL Padres 7 AZL Royals 2
The Padres no hit the Royals for six innings Monday on the way to an easy 7-2 win. A seventh innings double by John Brontsema broke up that no hit bid and the shutout after a Jesus Atencio single brought him home, but the club could score just one more run in dropping their second game of the second half. Starter Dillon Drabble had his worst outing of the year, giving up 10 hits and six runs in four innings to take his first loss as a pro. The Royals currently have the best record in the AZL second half at 8-2 and stand 4.5 games ahead in their division.
Seuly Matias 0-3 BB
Jeison Guzman 1-4 R
John Brontsema 1-4 R, 2b
DSL Red Sox1 6 DSL Royals 5
The Royals fell a run short in a comeback bid against the first place Red Sox1. The Royals four pitchers gave up at least one run each to put the club in a 6-2 hole after the top of the eighth inning. A rally in the bottom half would pull the Royals within a run, but runners caught stealing in both of the eighth and ninth would prevent them from tying the game.
Esteury Ruiz 1-4 R, 3b, RBI
Darwin Feliz 2 IP 2 H 1 R 0 ER 0 BB 3 k
Rubendy Jaquez 2-4 RBI