Royals affiliates went 4-3 with a big offensive day at Triple-A on Tuesday.
HR Roll Call: Whit Merrifield (9), Ryan O'Hearn (18), Mike Hill 2 (8), Dennicher Carrasco (6), Jose Caraballo 2 (5)
BP KC Hitter of the Day – Mike Hill 3-3, 3R, 2 HR, 4 RBI
BP KC Pitcher of the Day – Darwin Feliz 5 IP, 3 H, 1 R, 0 ER, 1 BB, 3 K, 7-2 GO-FO 
Omaha Storm Chasers 12 Fresno Grizzlies 5
Coming into Tuesday night's game, the Chasers hadn't scored more than four runs since August 6th, but that would change as the team broke out in a huge way in the fourth inning. Up 1-0 early, Omaha would get things started in that fourth with a Whit Merrifield single. They just kept going, with the first five hitters in the inning reaching base. That lead to five runs as the pressure came with two more one out hits before Merrifield finished what he had started with a grand slam to complete the nine run outburst in the frame. After two more runs in the sixth, Omaha had plated a dozen on the board which would be more than enough for the easy win.
Whit Merrifield 2-5, 2R, HR, 4 RBI
Dusty Coleman 2-5, R, 2b, 3 RBI
Alec Mills 3.2 IP, 2 H, 1 ER, 1 BB, 5 K, 5-1 GO-FO, 59p/39k
Corpus Christi Hooks 7 NW Arkansas Naturals 2
The Naturals starter struggled to hit the strikezone while the bullpen struggled to keep the ball in the yard during Tuesday's loss for NW Arkansas. It was Josh Staumont once again struggling with the zone, walking six in just two and one-third innings as he could connect with the strikezone on just 28 of 64 pitches while allowing three runs. Following Staumont, reliever Evan Beal gave up a pair of home runs in his 2.2 innings and Miguel Almonte gave up one in his inning of work. The Naturals offense couldn't keep pace, scoring just two runs on Ryan O'Hearn's 18th home run of the year.
Ryan O'Hearn 1-3, HR, 2 RBI
Alfredo Escalera 2-4, 2-2b
Josh Staumont 2.1 IP, 2 H, 3 ER, 6 BB, 3 K, 2-1 GO-FO, 64p/28k
Wilmington Blue Rocks 7 Potomac Nationals 5
The Rocks fell behind early, but a pair of Mike Hill home runs helped bring them from behind for a win. Starter Foster Griffin gave up a run of five singles in second inning to give Potomac a 3-0 lead. In the third, a walk by Hill to leadoff the inning, combined with a pair of singles lead to two runs to pull within 3-2. In the fourth inning, Hill's first home run for Wilmington pushed the Rocks ahead 4-3. Following Potomac's run-scoring single in the top half of the sixth, it was Hill again taking a ball deep to right field with a two-run homer to put Wilmington out in front 6-4. An RBI double by Austin Bailey, also in the sixth inning, tacked on an insurance run while the bullpen hung on to earn Griffin's fourth win for Wilmington this season.
Robert Pehl 2-3, 2R, 2b, BB
Elier Hernandez 2-3, 2R, 2b, BB
Foster Griffin 6 IP, 11 H, 4 R, 3 ER, 0 BB, 1 K, 12-4 GO-FO, 90p/64k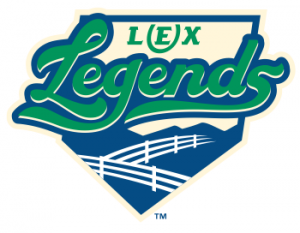 West Virginia Power 13 Lexington Legends 2
The Legends pitching staff was knocked around in the first game of their series with West Virginia on Tuesday. Starter Gersn Garabito struggled once again, giving up five runs (4 ER) over 4.2 innings to drop to 2-9 on the season. Things didn't get better for the Lexington bullpen as lefty Mark McCoy and Brian Bayliss were tuned up for eight more runs while the Legends offense was shutout by the Power pen.
Chase Vallot 2-4, 2b, RBI
Xavier Fernandez 2-4, R, 2b
Gerson Garabito 4.2 IP, 8 H, 5 R, 4 ER, 0 BB, 6 K, 3-5 GO-FO, 78p/49k
Billings Mustangs 7 Idaho Falls Chukars 2
The Chukars offensive woes continued as did the struggles of a 2016 draftee. Just two runs scored, thanks to a 1 for 9 effort with runners in scoring position lead to Jace Vines seeing his record drop to 1-5 on the year. It wasn't all Vines fault as the Texas A&M alum allowed just one earned run (2 R) over his five innings that featured three hits and three walks, but the Mustangs got after Enmanuel Cammacho for five runs to put the game well out of reach. The defense committed four errors including Ricky Aracena making his 28th error in just 43 games played.
Meibrys Viloria 1-4, 2b
David Edwards 3-4, R, 2b
Richard Lovelady 2 IP, 1 H, 0 R, 0 ER, 0 BB, 2 K
AZL Royals 10 AZL Rangers 6
Eleven hits and five walks lead to a 10-run night and another Arizona win. With Royals rehabber Kris Medlen starting for the club and working a pair of scoreless innings, the Royals built an early 4-0 lead with two runs in the first and third innings. The Rangers knotted the game at 4-4 as they knocked around Rex Hill, but the Royals opened things up with a four run fifth to separate during the game. A big part of that inning was Robby Rinn's two-run double which lead to him coming around on Sebastian Rivero's run scoring single. A two run seventh inning essentially put the game out of reach and lead the first place Royals to another victory.
Khalil Lee 2-3, 3R, 2BB
Seuly Matias 2-3, 2R, RBI, BB
Kris Medlen 2 IP, 3 H, 0 R, 0 ER, 0 BB, 2 K
DSL Royals 9 DLS Phillies 1
The Dominican club powered up for a win over the Phillies on Tuesday. Five extra base hits that included three home runs as the pitching staff limited the Phillies to just one run on six hits.
Esteury Ruiz 2-4, 2b
Jose Caraballo 3-4, 2 HR, 2 RBI
Dennicher Carrasco 1-4, HR