Baseball teams love to have great pitchers. They want great starting pitchers. They want great relief pitchers. They want guys who are able to put up ridiculous, eye-popping, ace-like numbers. If a team has a staff chock-full of great pitchers, that team is probably going to win a lot of baseball games.
That's the strategy: build a staff of great pitchers. Being a general manager is easy!
Except the problem with this strategy is that there is not an infinite number of great pitchers. There isn't even an infinite number of good pitchers. Teams are limited in regards to the pitchers they can acquire because of all sorts of economic principles I should probably understand better than I currently do. Supply and demand, resource allocation, and osmosis, or something.
In other words, teams simply cannot build a staff of great pitchers. They will struggle to build a staff of great pitchers and good pitchers. They need to fill in the gaps with pitchers who can be just average. They need Dillon Gee.
The Royals signed Gee to a minor-league contract this winter, hoping he could provide some roughly average innings in the rotation and/or bullpen, as needed. The weren't expecting him to dominate. They weren't expecting him to be an All-Star. They were expecting average, and average is what they've gotten.
Gee has a 4.37 ERA in 105 innings this season. That comes out to an ERA+ of 101. Just above average. But the averageness doesn't stop there.
Out of 59 pitchers in the league who've thrown at least 100 innings, Gee's adjusted ERA ranks 33rd. His 6.7 percent walk rate ranks 32nd. His strikeout-to-walk ratio of 2.7 ranks 34th.
He does allow hits at an above-average rate, and his strikeout rate is a little below average, but on the whole, Gee has been decidedly average in 2016. And that's just fine.
Being characterized as average can sometimes come with a negative connotation, but in this game, it really shouldn't. Think about the Royals' playoff chances. They're not in playoff position at the moment. Now think about where the Royals would be had they simply been an average team in July. Had they gone 12-14 instead of 7-19, they'd have 74 wins and be tied with Boston for the first Wild Card. Average may not be great, but it's also not terrible.
That's Dillon Gee. He hasn't been great, but by not pitching consistently awful games, he's brought stability to the fifth starter role. Had he been unreliable, the Royals would've had to roll the dice with another starting pitcher, which could also thin their bullpen depth, which has been tested more than enough already this season. Gee's allowed the Royals to avoid those headaches during their most important stretch of the season.
This isn't to say Gee has been stellar every time out, even since returning to the rotation on July 10 (he has made a pair of relief appearances since then, but one was a piggyback appearance following a start from Brian Flynn). Gee's had some clunkers, and actually, his worst starts of the year came against the Twins and Angels, because baseball is full of silly things. He's allowed three runs or fewer in seven of his ten appearances since that date, which kept the team in the game, even if the offense and/or bullpen eventually let him down.
It hasn't been a remarkable year for Gee, but I have noticed something to keep an eye on over the last month of the season, and it's Gee's slider. Before July 10, opponents hit .436 with a .692 slugging percentage off of his slider. Since July 10, they're hitting .222 with a .289 slugging percentage.
He's also allowing far fewer line drives off of his slider recently, with a 10.3 percent line drive rate over that time, compared to 23.7 percent prior to July 10. Oddly enough, Gee isn't getting more whiffs with the slider, but the balls in play haven't done nearly as much damage. His velocity and movement on the pitch aren't the driving factors for the difference. The reason boils down to command.
The following is an image showing Gee's slider locations prior to July 10, along with the locations of his sliders since that July 10 start.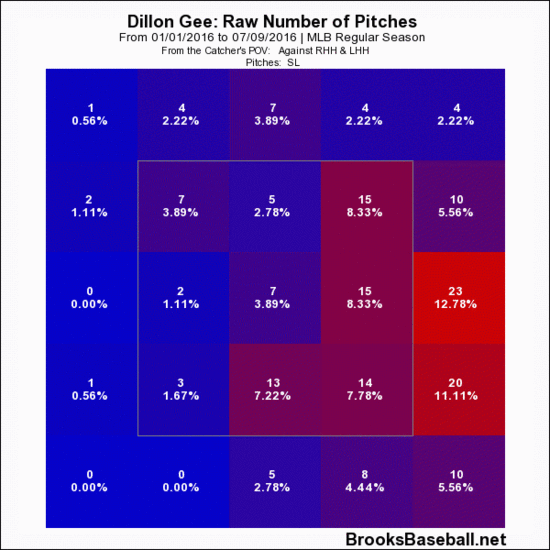 Earlier in the year, Gee was leaving his slider up, and catching too much of the plate. In the last month and a half, he's been able to keep it down more often, and away more often, and it's led to better results with that pitch.
Unfortunately, his changeup and curveball have gotten knocked around quite a bit in those last ten appearances, so his overall line is worse than you'd prefer. He has leaned on his slider a bit more, particularly when he gets ahead of batters, so it'll be interesting to see if Gee starts to miss more bats with an increased slider rate. He's thrown more sinkers as well, and while he's still giving up some extra-base hits, it's been a more effective pitch. Because he's unlikely to work through a lineup three or four times, it's possible that he could focus more on those two pitches, while just mixing in a few curves and changeups.
Granted, even if he does see some better results with an improved pitch mix, he's still Dillon Gee. He's not Yu Darvish. He isn't going to throw seven innings of two-run ball every time out. He doesn't have that kind of stuff, and he doesn't have that kind of ceiling. What does have is the ability to take the ball every fifth day, and keep the team in the game more often than not. Gee has done what was asked of him, and his average results have helped put the Royals in a position to make a run at the postseason.