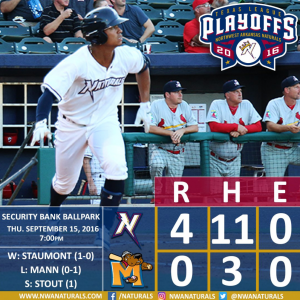 NW Arkansas Naturals 4 Midland RockHounds 0
Midland leads series 2-1 (best of 5) 
With the season on the brink the Naturals turned to their most impressive starter during the last month of their season and once again he delivered. Fireballing Josh Staumont who pitched NW Arkansas into the playoffs before pitching a fantastic game in the Springfield series was on his game once again. Working six and one-third scoreless innings, allowing just three singles, one walk and striking out eight hitters. The righty worked efficiently in that time, tossing 89 pitches with 59 strikes while earning seven groundouts on the day.
The Naturals second baseman, Corey Toups, opened the game with a double and score in the first on a sacrifice fly by Mauricio Ramos to take a 1-0 lead that would last until the seventh inning. In that seventh inning a leadoff double by Humberto Arteaga and a walk by Toups was cashed in by Alfredo Escalera with a double down the left field line, pushing the advantage to 3-0. The night wasn't over for the combo of Toups and Escalera as the pair combined for another run in the night with a triple to the right field corner off Escalera's bat brought home Toups after a one out walk.
Following Staumont three relievers finished off the final two and two-third innings to complete the win. Starter Glenn Sparkman will try to pitch NW Arkansas to a deciding game five.
Alfredo Escalera 4-5 2b, 3b, 3 RBI
Josh Staumont 6.1 Ip 3 H 0 R 0 ER 1 BB 8 K 7-1 GO-FO 89p/59k
Corey Toups 1-3 3R, 2b, 2 BB