The 2016 season has not been a great story for the Kansas City Royals as a whole. They've had injuries, poor performances, and insecticide. Barring a crazy finish, they'll be watching the playoffs from home for the first time in three years.
However, there have been a few good stories for individual Royals. Cheslor Cuthbert has filled in admirably for Mike Moustakas. Paulo Orlando has provided some surprising offense in a full-time role. And of course, Whit Merrifield has stolen bases and hearts in his first big-league season.
It's been an interesting ride for the former ninth-round pick. In Merrifield's first two months, he hit .306/.327/.427. He only drew five walks in those 162 plate appearances, but he did enough damage when he swung the bat to make it all work.
Then July happened. The only thing Merrifield hit that month was a wall, as he scuffled to a .170/.241/.245 line. It was at that point that the 27-year-old rookie was sent back to Omaha, in favor of Raul Mondesi.
As I wrote earlier this season, pitchers were content to throw plenty of strikes to Merrifield, and he was content to hit those strikes, over and over again. Of course, major-league pitchers tend to adjust, and adjust they did, as you can see from the following image.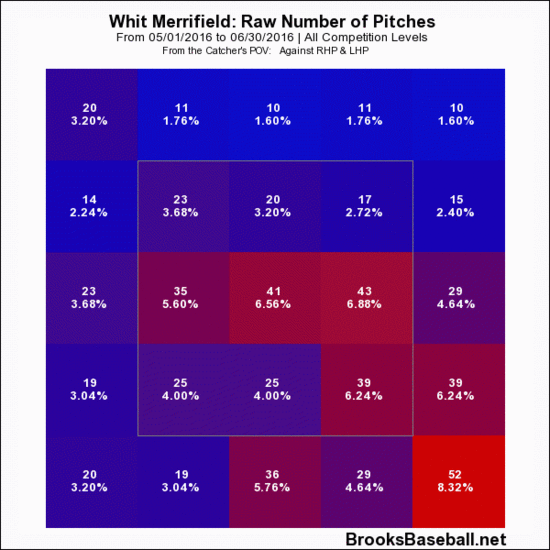 Along with a different approach by the pitchers, Merrifield changed the way he was doing things. He wasn't the most selective batter when he first came up, but he did have some solid plate discipline for those first two months. When pitchers started throwing more pitches low and away, Merrifield started swinging more low and away.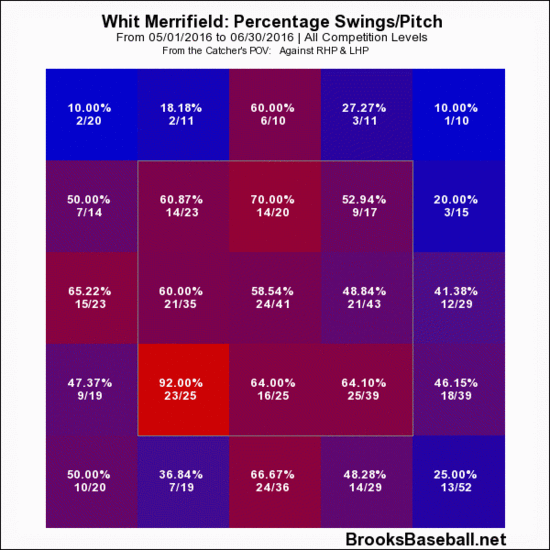 He wouldn't be the first player to come out of the gates hot, only to cool off once his scouting report made its rounds. And considering Merrifield's prospect status – or lack thereof – it was fair to wonder if he would ever make much of an impact again. Even though Mondesi struggled, there was no guarantee Merrifield would be able to do much more. It seemed like the league had figured him out.
Except, whatever the league figured out was apparently forgotten during Merrifield's time in Omaha.
Since his recall, he's hit .346/.397/.442 in 58 plate appearances. Although pitchers aren't being quite as aggressive against him, he's still seeing quite a few strikes.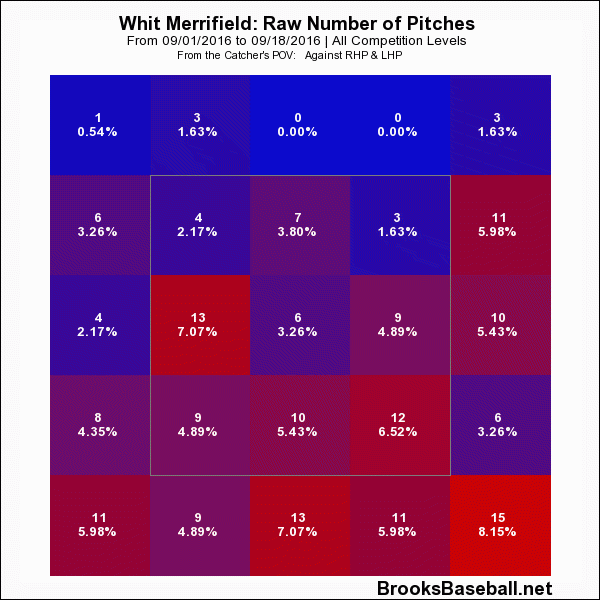 However, what's more encouraging is Merrifield's plate discipline. He's done a much better job of laying off those pitches below the zone.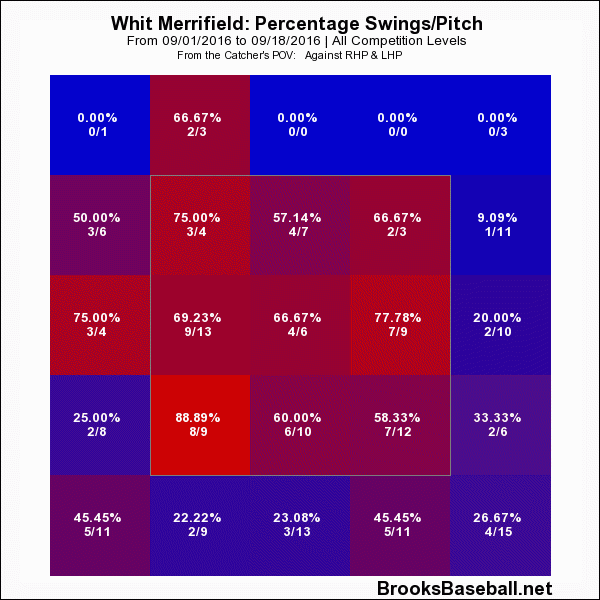 Because of his patience, Merrifield's drawn five walks this month, which is a walk rate of 8.6 percent. That may not seem very high, but his season-long rate is just 5.4 percent, and he's a Royal, so it's all relative. Plus, when he does swing the bat and make contact, he's hitting the ball with authority.
Since September 1, Merrifield's average exit velocity is 91.5 mph, which puts him on par with Yoenis Cespedes. That number isn't extraordinarily high, really, but what's helping Merrifield this month is his ability to elevate the ball more often. His 18.9 degree average launch angle puts him right next to Chris Davis. Most physics students are capable of telling you that baseballs hit hard at that kind of incline will likely travel a longer distance, and Merrifield's average batted ball distance backs up that assertion. He's hit balls an average of 233 feet this month, putting him in the 73rd percentile among all players with at least 25 batted balls in September.
During his breakout, Merrifield was only averaging 211 feet on his batted balls, hitting them 88.9 mph at a 10.9 degree launch angle. Surprisingly, he actually had a higher launch angle in July, but due to weaker contact (84.8 mph exit velocity), his average batted ball traveled just 200 feet.
Merrifield is really squaring up fastballs, as his average exit velocity against them this month is north of 93 mph. In July, that number was around 88 mph. And due to Merrifield's willingness to lay off pitchers' pitches, he's getting to see a few more fastballs, which leads to more opportunities to make excellent contact.
The other thing Merrifield's doing well is not getting too pull-happy. Early in the season, he spread the ball to all fields equally, but when he struggled, he was hitting the ball to the opposite field just 25 percent of the time. This month, he's hitting the ball up the middle almost 40 percent of the time, and he's hit more balls to the right side than to the left.
I'm not one to decry pull hitting, but based on how he was being pitched in July, it seemed like Merrifield was pulling off too many pitches, rolling over too often, which resulted in weak grounders and popups. It may have been a timing issue as well as an approach problem, but both of those items seem to be corrected so far in September.
It should be pointed out that despite the extra distance, Merrifield still had only three extra-base hits this month, entering Sunday, which could be attributed to a bit of bad luck. He's had a handful of well-struck balls find fielders' gloves, so if he continues to make quality contact, we should see his slugging percentage increase. Sure enough, Merrifield hit a double on Sunday afternoon.
He's not Robinson Cano, but Merrifield has now shown an ability to adjust. He's given pitchers a reason to not avoid the zone altogether. He's also given them a reason to not be too aggressive in the zone. Merrifield has forced major-league pitchers to adjust to him, and it now looks like they're going to have to adjust yet again. The fact that those words can be typed with all sincerity is a sign of Merrifield's story to date. It's also a sign that his story is still ongoing.