The Cleveland Indians are one win away from winning the World Series, and a lot of that is because they've had a dominant bullpen this postseason that Terry Francona has used early and used often. That's led to a lot of conversations about both the dominance of the unit and the brilliance of Francona as a manager during this postseason. And it's hard to argue both points. Their bullpen has done some phenomenal things and Francona has used them basically perfectly. There have been maybe two or three instances where I've even thought about disagreeing with what he did.
And that all leads us to an innocent tweet sent out by Major League Baseball: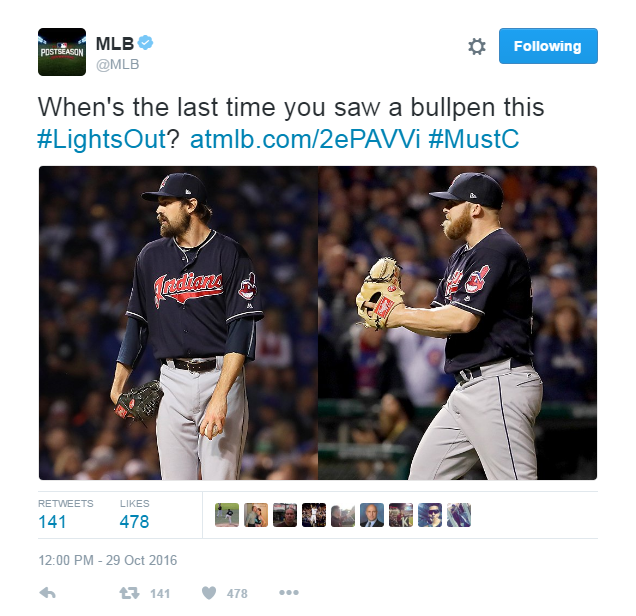 Before many Royals fans could jump to their keyboard and answer, one member of a bullpen we all think was pretty #LightsOut, Kelvin Herrera, responded with: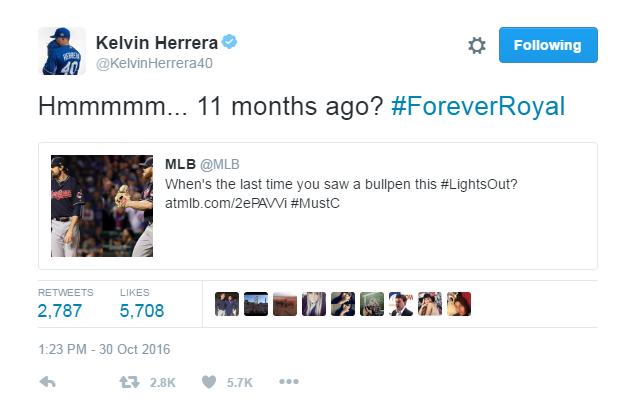 The team jumped in as well:
So that got me thinking. And while I was thinking and while I'm telling you what I thought about, I want to stress that this has nothing to do with taking anything away from the Indians bullpen. They've been ridiculous this postseason. After last night's effort, they've posted a 1.56 ERA in 13 games spanning 52 innings. They've allowed just 37 hits while striking out 69 and walking just 18. That's insane. They've been unbelievable.
But the Royals of the last two years have been pretty unbelievable themselves. The ERA isn't better, but you could make an argument that they've actually been more dominant. Well, at least the 2015 version might have been.
In last year's postseason, the Royals bullpen threw in 15 of the 16 games the Royals played (big thanks to Johnny Cueto for his World Series Game Two complete game). They threw 64.2 innings and gave up just 52 hits. They struck out an unbelievable 89 and walked just 15. Their WHIP was 1.04. The home run ball hurt them as they allowed nine, but more than half came in a tough division series against the Astros.
And while win-loss record doesn't say a ton, the Royals bullpen was 8-0 in the 2015 playoffs. The Indians are experiencing this now. They know that even if they don't have a lead late, the bullpen is going to hold down the opponent and give the team a chance to win. And quite often, the team will win.
Some of the stars were guys you would figure would be the stars of that bullpen. Wade Davis pitched 10.2 innings without allowing a run. He struck out a ridiculous 18 and walked just three. Luke Hochevar also went 10.2 innings without giving up a run. He only struck out four, but he also only walked one. Both had a WHIP under 1.00.
But the real star, to me, was the aforementioned Herrera who did similar things to what Andrew Miller is doing this year. Herrera didn't throw as many innings, but he went 13.2 innings with just one earned run allowed. He struck out 22 (!) batters and walked just three. That compares pretty favorably to Miller's 29 strikeouts and four walks in 17 innings. Both are and were beyond dominant.
Then if you go back to the 2014 postseason, you'll see that the return trip was better, but the original crew was pretty darn good themselves. They were 7-1 in their postseason run with a 2.74 ERA in 62.1 innings. They gave up just 48 hits and struck out 70 while walking 27. This unit gave up just one home run the entire postseason. That's pretty amazing.
Davis was a star in 2014. He went 14.1 innings, gave up just eight hits while striking out 20 and walking two. That's 10 strikeouts for every walk if you're mathematically challenged. He did give up earned run, so he had an ERA, but his 0.70 WHIP was pretty okay. And Herrera was really good in 2014 too. He had a 1.80 ERA in 15 innings. He struck out 16 and walked seven.
To me, the most impressive of all was closer Greg Holland, who threw 11 innings and struck out 15 while walking five and giving up just one run. He was a perfect seven for seven in save opportunities. It was quite a performance that got more impressive when we learned he did it on what was basically a shredded elbow.
So in all, the Royals bullpen is 15-1 with a 2.62 ERA in 127 innings the last two years. They've struck out 159 and walked 42. They have a collective WHIP of 1.12. They have six separate instances of a pitcher throwing at least 10 innings in the postseason. In all those instances, the ERA for that pitcher was below 2.00. In five of the six instances, the ERA was below 1.00. In two of the six instances, the ERA was 0.00.
What the Indians are doing is actually really fun to watch, and they've been flat out nasty and dominant. Terry Francona has masterfully managed his bullpen to give the Indians an edge Royals fans have grown accustomed to. It's a fun ride, Indians fans. Enjoy it. But don't sleep on the Royals of the last two years because the bullpen that took the last two Octobers by storm was pretty darn dominant too.