Before we know where players will be assigned, let's take a quick look at who may be on the verge of a breakout based on their performances one season ago.
Not really a breakout candidate after last year but I expect Storm Chaser's Hunter Dozier to improve on his solid season at Triple-A. Look to a better performance in home games after hitting an abysmal .224/.297/.326 in the right-handed hitting heaven that is Werner Park, while Dozier holds his own on the road if not quite the 1.000+ OPS that he put up last year to improve on his .864 Triple-A OPS last season.
After dominating right-handed hitters at Double-A the results didn't fair quite the same in Omaha (.350 vs .225) for Jake Junis. This seems far-fetched for a pitcher that has faired well versus same-siders with one of the better curveballs in the organization to go along with his heavy 91-94 mph fastball. Along with that curve, Junis can toss a slider to get out righties. His development this past season allowed the Royals to feel comfortable in trading Alec Mills off the 40-man roster in hopes that Junis takes that next step forward in his slow development path.
Double-A – Samir Duenez, the first baseman came on big in the playoffs for NW Arkansas after his promotion with three home runs in eight games. That gave him 16 home runs, 54 total extra-base hits and 107 RBI for the 20-year-old as he sped through three levels. Playing in Arvest Park which has generally favored left-handed hitters in the past should help Duenez, but he will also need to improve his .220/.287/.342 line versus southpaws.
Corey Ray, the righty came on strong over his final five starts at High-A last season (0.62 ERA, 30% k-rate) when he appeared to feel more comfortable with his breaking ball to go along with his mid to high 90's fastball and a solid changeup. That slider will have to do the heavy lifting to keep righty's in line after they hit him to the tune of .291/.334/.496 last season. When the Royals moved to NW Arkansas ten years ago the Texas League was thought of as an offensive league; this hasn't been the case over the past three seasons with the league fitting more in the middle of the pack offensively and even below the Eastern League. Look for Ray to take advantage of these circumstances this season.
High-A – Anderson Miller – this one is more on feel than anything else, knowing that Frawley field is a bit more difficult on right-handed hitters that left me edging towards a lefty swinger. Miller is likely heading into the season completely healthy after his hamate bone injury suffered in April of last season. The power tends to take a bit to come back from the procedure to repair the injury, and after no home runs in his first 22 games back, Miller hit six in his final 47 games. The contact rate will need to improve from last year's 29.7% K-rate, but that could've have been a result of injury as he's never had greater than a 20% rate through college or his other year of pro ball.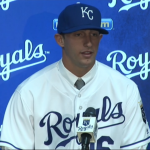 On the mound, A.J. Puckett is refining his two breaking balls (slider, curveball) while leaning heavily on his fastball/changeup combo to have a solid if unspectacular year at High-A prior to earning his way to Double-A. The Royals had the training wheels on Puckett last year in Lexington and received some odd results as the righty was good every other outing. In odd-numbered starts, Puckett put up a 0.62 ERA with just 15 hits allowed in 29 innings, including a five-inning no-hit outing on just 56 pitches. In even-numbered starts, Puckett allowed a 7.55 ERA with hitters reaching via a 1.59 WHIP. The better pitching environment combined with a year under his belt should help Puckett get through this league in 10-15 starts.
Low-A – Playing in Lexington is a great environment for hitters, ranking as the third best ballpark for home runs in the South Atlantic League. Knowing that, I would expect Meibrys Viloria to continue his ascension towards the top of Royals prospect charts after exploding in Idaho Falls last season. The 20-year-old has a knack for the barrel and strong hands that give a different sound off the bat in BP and games, as was evident last season while he was destroying right-handed pitchers.
Lefty Cristian Castillo took advantage of Burlington's home park (.504 OPS) last year but also flummoxed right-handed hitters to the tune of a .191 BA against and a 26% K-rate with his plus changeup and well-commanded fastball combo. It could be difficult to duplicate those numbers in a good hitting environment but I believe his age, command and pitching intelligence could be too much for the league and earn him a quick move to the Carolina league. If this lefty could raise his velocity into the low to mid 90's instead of the 89-90 range where it sits now then the Royals could have a real prospect on their hands with his current pitch combination.
Feature Photo Meibrys Viloria via Milb.com Jared Ravich