The Royals affiliates went 2-2 with an excellent pitching performance at Triple-A.
HR Roll Call: Bubba Starling (1), Angelo Castellano (1)
BPKC Hitter of the Day: Angelo Castellano 2-4, 3R, HR, 4 RBI
BPKC Pitcher of the Day: Josh Staumont 6 IP, 1 H, 0R, 2 BB, 12 K, 4-2 GO-FO, 92p/58k, 16 swinging strikes

Quotes from Josh Staumont's start
Cam Gallagher on when he knew Staumont had going on: "I was catching him in the bullpen, and that was some of the most electric stuff that I've seen."
"His fastball is electric, and he could go five innings with just that but his curveball and changeup were both on tonight and he pounded the strike zone, got ahead and put away hitters when he needed to."
Staumont on bouncing back from a rough outing: "You always want to prove you deserve to be where you are." 
Staumont on his changeup: "We had a pretty big emphasis on it this offseason, switching from a split-change to a circle change. It allows me to be more consistent with it, leaving it down in the zone to play it off my fastball and curve."
Brian Poldberg on what he said when Staumont walked his second hitter of the 6th inning: "This is your game, and this is your guy. When the manager is coming out there usually the guy is thinking the worst. This was his game to lose and early in the year, I like to put guys in that situation to see how they handle it. It gives them a chance to prove themselves."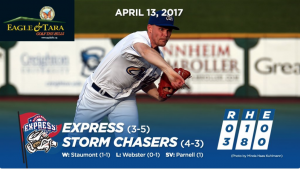 Omaha Storm Chasers 3 Round Rock Express 0
Fire was thrown on Thursday night in Papillion. Starter Josh Staumont piled up 12 strikeouts in six innings of work, using all three of his pitches in an efficient 92 pitch outing that featured 58 strikes. In three different innings, Staumont struck out the side in order, putting down nine of the first twelve hitters he faced. The righty hit 98 mph on the gun in the first inning and 97.5 mph in the sixth while working his curve in the mid 80's and featuring an improved circle change in the low 80's. A groundball single through the right side in the fifth and two walks in the sixth, the second of which looked more like he was squeezed by the ump were the only blemishes on his line.
The Rangers affiliate ran out Dillon Gee and the veteran nearly kept pace with Staumont, giving up just a fourth-inning run via a Jorge Bonifacio RBI double. A Roman Torres RBI single in the seventh scored another run for Omaha before a Bubba Starling blast in the eighth pushed the lead to 3-0. Lefty Matt Strahm worked two perfect innings in relief with three strikeouts before Bobby Parnell closed out the game in the ninth with the Chasers 16th team strikeout of the night.
Matt Strahm 2 IP, 0 H, 0 R, 0 BB, 3 K, 1-2 GO-FO, 20p/14k
Jorge Bonifacio 1-4, 2b, RBI
Bubba Starling 2-4, HR
San Antonio Missions 5 NW Arkansas Naturals 4 F/14
The Naturals lost a 14-inning affair on a ball that shortstop Humberto Arteaga couldn't handle Thursday night. Prior to that run coming across in the last inning, the Naturals bullpen had tossed eight and two-third scoreless innings after starter Matt Tenuta had given up four runs. The offense went 1 for 16 with runners in scoring position in the loss.
Samir Duenez 2-6, R, 3b, 2 RBI, BB
Alfredo Escalera 3-7, 2R, RBI
Reid Redman 2.2 IP, 0 H, 0 R, 0 BB, 4 K, 0-2 GO-FO, 34p/22k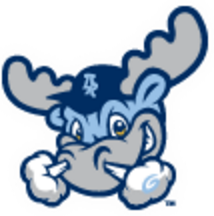 Potomac Nationals 6 Wilmington Blue Rocks 4
Prospect Scott Blewett got touched up for six runs (five earned) in 4.1 innings to take his first loss at High-A. The Wilmington lineup fared okay, connecting on nine hits, but the 0-for put up by their fourth and fifth place hitters limited their opportunities to cash in more. Outfielder Elier Hernandez snapped out of 2 for 30 slump with a three-hit night that featured a double and three driven in. The loss drops Wilmington to 2-5 on the season.
Elier Hernandez 3-4, 2b, 3 RBI
D.J. Burt 2-3, 2R, 2b, HBP
Scott Blewett 4.1 IP, 9 H, 6 R, 5 ER, 3 BB, 2 K, 8-1 GO-FO, 2 HR, HBP

Lexington Legends 14 West Virginia Power 5
The Legends offense gave the home-opening crowd plenty to cheer about, pounding out 16 hits and 14 runs in a rout. Eight of the nine Legends hitters collected a hit in this one with the only Emmanuel Rivera going hitless. Seven hitters collected two hits with Angelo Castellano pacing the offense with four RBI and an absolute bomb to left in the fourth to finish off a six-run inning that pushed the lead from two runs to eight.
Starter Gerson Garabito gave up three runs in the third, but worked through it to get the victory while striking out seven hitters in five innings.
Khalil Lee 2-5, 2R, 2-2b, 2 RBI, 3K
Gabe Cancel 2-4, 2R, 2b, RBI, BB
Gerson Garabito 5 IP, 6 H, 4 R, 3 ER, 2 BB, 7 K, 4-1 GO-FO, 85p/54k