The Blue Rocks walked off of the second night in a row to salvage one of the three Royals affiliate games on the day.
HR Roll Call: None 
BPKC Hitter of the Day: Travis Maezes 2 gms 2-6, R, 3 RBI, 2 BB
BPKC Pitcher of the Day: Colin Rodgers 4 IP, 3 H, 1 R, 0 ER, 1 BB, 8 K, 4-0 GO-FO, 78p/47k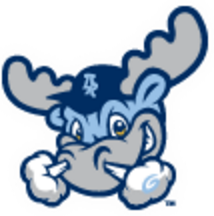 Game 2
Wilmington Blue Rocks 4, Potomac Nationals 3 F/11
The Rocks salvaged the second game of the doubleheader with a second walk-off win in as many days.
The Wilmington offense and defense wasted a brilliant spot start by lefty Colin Rodgers, as the former 3rd round pick flummoxed the Nationals hitters for four innings. A two-out double in the fourth inning was allowed to score off Rodgers when shortstop Jecksson Flores threw wide which allowed Bryan Mejia to race home to tie the game up.
The Nationals took the lead in the eighth only to see Wilmington push the tying run across in their half of the inning with a sacrifice fly. The game would remain tied until the eleventh when another two-out double came back to haunt Wilmington, this time scoring on a Potomac single to regain the lead.
With one quick out in the eleventh, it looked like the Rocks night would end, but Anderson Miller – hitless to that point – would single to extend his on-base and hit streaks. The slugger would move to second when Colton Frabasilio was hit by a pitch. Those two would move into scoring position after Roman Collins earned a walk, to bring up Travis Maezes with the bases loaded. Responsible for part of both runs up to that point the former Michigan infielder made sure he had the biggest hand in the game, connecting on a single to right to score both Miller and Frabasilio to walk things off for the Rocks.
Anderson Miller 1-5, R, 25 game on-base streak longest since '11 for a Wilmington player
Richard Lovelady 2 IP, 1 H, 0 R, 0 ER, 0 BB, 2 K, 3-0 GO-FO, 21p/15k
Gabe Cramer 3 IP, 2 H, 1 R, 1 ER, 1 BB, 8 K, 55p/34k
Game 1
Potomac Nationals 6, Wilmington Blue Rocks 1 
The Blue Rocks Scott Blewett had eluded being touched despite his troubles versus lefties so far this season, but on Wednesday evening the Nationals affiliate made sure that Blewett was tagged in the Rocks loss.
Coming into the game Blewett, without a plus changeup that he can lean on, had given up a .333/.405/.540 line versus lefties. That didn't let up with left-handed hitters tagging Blewett for seven of his eight hits allowed on this night, including a pair of home runs off the bat of Taylor Gushue. One right-handed hitter did get to Blewett for a double but once again Scott showed his ability to handle same-siders as he has this year.
The Rocks managed just one run on the offensive side as the Nationals starter danced around baserunners in the first few innings of the game.
Anderson Miller 1-2, RBI, BB extends hit streak to 10 games, on-base to 24 games
Roman Collins 2-3, 2b
Scott Blewett 5.2 IP, 8 H, 6 R, 6 ER, 0 BB, 3 K, 8-4 GO-FO, 75p/53k

Greenville Grasshoppers 12, Lexington Legends 1
Young teams put together uninspiring performances from time to time. This has certainly been the case for the Lexington Legends on occasion this season, and was the case on Wednesday afternoon their loss. The Legends employed an impatient approach, swinging early and often at balls that were hard to do significant damage to, resulting in quick outs and a lack of offense. In addition, the defense was making multiple errors, allowing their opponent to pick up some unearned runs.
The Greenville starter, Michael King, who the Legends had scored five runs on in just five innings in their previous meeting, worked a breezy seven scoreless innings on just 84 pitches, while giving up just a pair of singles and two walks and earning 14 worm burners.
On Lexington's side, Gerson Garabito was solid as always, allowing just four hits and a pair of unearned runs via errors by Gabriel Cancel and Emmanuel Rivera while striking out six in five innings. The righty has lowered his ERA to 2.20 to go along with his sub 1 WHIP. The bullpen couldn't match Garabito's strong performance, with three different pitchers allowing a combined 10 runs after Garabito's exit.
The Legends loaded the bases in the eighth but pushed just one across in the loss.
Khalil Lee 1-3, BB
Meibrys Viloria 0-3, R, BB
Gerson Garabito 5 IP, 4 H, 2 R, 0 ER, 1 BB, 6 K, 7-3 GO-FO, 89p/59k