Royals affiliates went 1-3 on Thursday with a couple of rough pitching performances at Double-A and High-A.
HR Roll Call Raul Mondesi (2), Anderson Miller (5), Cody Jones (2), Meibrys Viloria (3), Gabe Cancel (5), Emmanuel Rivera (2)
BPKC Hitter of the Day: Emmanuel Rivera 2-3 HR, 2 RBI, BB
BPKC Pitcher of the Day: Josh Staumont 5 IP 4 H 0 R 0 ER 5 BB 10 K 1-3 GO-FO 109p/65k
Omaha Storm Chasers 5 Las Vegas 51s 1
The Royals top prospect Josh Staumont had one of those outings in the Chasers first game in Las Vegas to start their series with the Mets Triple-A affiliate.
Throwing in the mid 90s as usual against a rather loaded lineup, Staumont's control wavered which allowed him to go just five innings. The Mets threatened multiple times versus him with four singles and the five walks allowed, but he was able to dance around the trouble with 10 strikeouts. The righty had to use 109 pitches while on the mound, but he was still able to find the zone 65 times despite the walks.
The Omaha offense staked Staumont to a lead with a two-run single in the third inning off the bat of Paulo Orlando. One inning later the Chasers tacked on another two runs with a double from Dean Anna that scored Ramon Torres and Bubba Starling. Those runs were plenty for the bullpen to finish up Staumont's win with two innings of one run ball by Yender Caramo and Malcom Culver's perfect ninth.
Raul Mondesi tacked on his first Triple-A home run in the ninth as part of a three-hit night.
Raul Mondesi 3-4 HR, SB (7)
Paulo Orlando 1-5 2 RBI
Ramon Torres 2-4 R
Tulsa Drillers 9 NW Arkansas Naturals 3
After being Mr. Reliable in his first six starts, Zach Lovvorn was bullied in his start versus Tulsa.
The righty, after a scoreless first inning, was knocked around for eight hits, a pair of home runs and seven runs over the next two innings. Unable to finish the third inning, this was Lovvorn's worst start since a five run August start last year that lasted less than two innings.
Another two-run inning off the reliever pushed the Naturals down 9-0 and the offenses inability to cash in on opportunities put this one out of reach.
Frank Schwindel 3-5 R, 2b hitting .353
Alfredo Escalera 3-5
Humberto Arteaga 2-3 RBI
Potomac Nationals 8 Wilmington Blue Rocks 4
Consistency is key for a starting pitcher. One can't be consistently his best but finding a way to be 85-90 percent of his best even when he's only feeling 70 percent is the key to good results. This is something A.J. Puckett continues to be in search of since he turned pro last year. The Pepperdine product has alternated good to bad starts pretty much every time out since his professional debut. With back to back decent starts out in his last two outings, it looks like he may have been on the verge of building on something. That turned out not to be the case with his start on Thursday evening.
Working just two and one-third innings Puckett struggled mightily with the strike zone, walking a season high five while getting touched up for seven runs on five hits. A solo home run started his night in the first before a pair of walks were cashed in on a one out double. Trailing 3-2, Puckett let things get away from him in the third inning, walking three hitters while giving up a pair of hits before leaving the game with just one retired in the inning.
Trailing 8-2 after the top of four, Wilmington received a pair of solo home runs by Cody Jones and Anderson Miller but were unable to get any closer in dropping the game to end the series in a 2-2 split.
Cody Jones 1-3 HR
Nicky Lopez 2-5 R
Chase Vallot 1-3 BB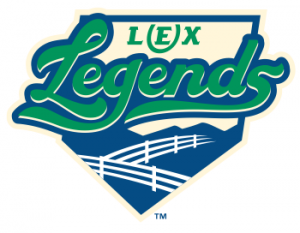 Greensboro Grasshoppers 5 Lexington Legends 4 F/10
The Legends lost a big power bat with Chris DeVito's promotion to High-A, but power wasn't their problem on this night.
Trailing 3-0 after a two-run home run in the second and a sac fly brought home a run in the third inning off starter Travis Eckert, the Legends got their bats going in the fourth. A one out inside the park home run on a ball that ricocheted into the right corner away from the right fielder scored Gabe Cancel to push the score to 3-1.
A walk in front of Emmanuel Rivera's home run tied things up and one pitcher later Meibrys Viloria had given the Legends a 4-3 lead with his third home run of the season.
From there, the bats went quiet while the Grasshoppers got a run off Ofreidy Gomez in the eighth to tie it up. The Legends turned to usually reliable reliever Grant Gavin but he found himself in trouble in the tenth after a pair of groundball singles loaded the bases around an error with no outs. The righty was able to limit the damage to just one run but that was enough to finish off the game as the offense went silent in the home half of the tenth.
Gabe Cancel 1-4 HR
Emmanuel Rivera 2-3 HR, 2 RBI, BB
Meibrys Viloria 2-4 HR