Nate Karns has been a very good starter for the 2017 Royals. He's made seven starts and posted a 3.63 ERA with 46 strikeouts in 39.2 innings. Lately, he's been especially adept at getting the strikeout with 29 in his last three outings, spanning 17.1 innings pitched. His strikeout rate is up a bit from his career, but his walks are down, which is a good combination. He's still not getting that deep into games but he's giving enough quality innings to be effective. All seems to be going well for the new Royals starter.
Well, almost all is going well. He has given up his share of home runs. To be exact, he's allowed eight this season in just 40.1 innings. That's a pretty hefty home run rate of 1.8 HR/9, especially considering he's upped his ground ball rate from 40.3 percent last year to a robust 55.2 percent this year. That means that 22.9 percent of the fly balls he's allowed have resulted in home runs. That sure seems like a lot.
It's not all bad, though. Six of the eight homers Karns has allowed this season have come with the bases empty. Home runs in general hurt because the object of pitching is to not allow runs. If there's nobody on base, though, it doesn't hurt nearly as much. It's fair to wonder if it's sustainable for him to allow mostly solo home runs. Given that he's thrown 64.4 percent of his pitches with nobody on base, I think it's somewhat reasonable to assume he'd give up more solo home runs than any other variety, but at six of eight, he's ahead of that pace even.
So what if I were to tell you that the solo home runs might be a product of the way Karns pitches? It's easy to say that a home run is a home run and it's just been fortunate that so many have been with nobody on base, but I think the way Karns attacks hitters has a great deal to do with how many solo home runs he allows.
Take a look at his pitch distribution with nobody on vs. with runners on base:
| | | | |
| --- | --- | --- | --- |
| | Fastball | Changeup | Knuckle Curve |
| Bases Empty | 50.12% | 17.09% | 32.79 % |
| Runners On | 48.93% | 13.30% | 37.77% |
That part doesn't tell us a ton other than the fact that he's throwing the fastball and changeup a bit more with the bases empty. Those two pitches have been hit out of the park for six of his eight homers allowed when he's only thrown them about 60 percent of the time.
What is interesting is how he pitches hitters with the bases empty compared to with runners on base.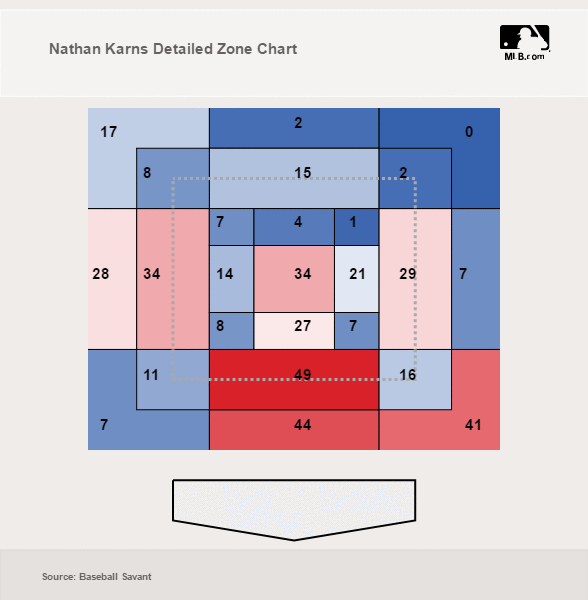 There isn't a massive difference between the two profiles, but the one with the pink spot in the center is the pitch distribution from Karns with nobody on. You can see that with nobody on base, he doesn't seem to have an issue coming over the plate and challenging the hitter. He still tries to stay down at the bottom of the zone or even below it, but it appears that he's more willing to issue a challenge with nobody on base. It certainly seems that he wants to force the hitter to beat him rather than beating himself with a free pass. (Big thanks to Baseball Savant here.)
With that in mind, with nobody on, Karns has a walk rate of just 5.5 percent. With runners on, that jumps to 11.7 percent. Without talking to Karns, I can't know for certain what he's thinking, but it does appear that he's willing to live with the occasional solo home run in an effort to attack the hitter when he can't do nearly as much damage as other situations. And it's hard to argue with the results. With nobody on base, he has a strikeout rate of 29.4 percent compared to 26.7 percent with nobody on. That isn't an especially large difference, but it's a difference nonetheless.
It's also worth noting that four of his home runs allowed have come on the first pitch of the at bat (they're all solo shots). In these situations, the pitch location is even more striking with 9.5 percent of pitches in the middle of the zone compared with just 6.3 percent center cut in all other counts. On the first pitch, he throws either a fastball, sinker or changeup (pitches without the swing and miss of his curve) about 68 percent of the time, about the same as with nobody on. Again, this is all conjecture based on the numbers, but it sure seems like he's trying everything he can to get ahead in the count and, especially with nobody on base, will live with the occasional solo home run knowing that his stuff is good enough to avoid that most of the time.
So yeah, the home runs are a tiny bit concerning. His 1.8 HR/9 dwarfs what he's done in his previous two full(ish) seasons in the big leagues. He was at 1.2 HR/9 and 1.0 HR/9  in the last two years. His home run per fly ball rate is roughly double what it was the last two seasons as well. But even if this elevated home run rate continues due to simply being around the strike zone more than in the past, I don't think it's crazy to believe the distribution of home runs with nobody on vs. runners on base will change drastically. With the kind of pitching he's been doing, you can certainly live with the occasional solo home run.
And hey, if nothing else, Karns and the Solo Shots could make a pretty good baseball band name.