The Royals affiliates won four out of five games on Thursday with a pair of walkoff wins at High-A and in the Dominican Summer League.
HR Roll Call: Garin Cecchini (3), Donnie Dewees (5)
BPKC Hitter of the Day: Donnie Dewees 2-4, 2R, 2b, HR, 2 RBI, SB (8)
BPKC Pitcher of the Day: Corey Ray 9 IP, 4 H, 0 R, 0 ER, 0 BB, 4 K, 13-6 GO-FO, 88p/60k
Omaha Storm Chasers 4, Nashville Sounds 2
Starter Luke Farrell tied a career high in strikeouts while the Chasers scored some late runs to take home a win over the Sounds.
After watching the Sounds knock six home runs off Omaha starters the last two nights, Farrell kept the ball in the park, allowing two runs on seven hits in his 6.2 innings. Those seven hits were limited to just two runs thanks to 10 strikeouts by the starter as he pounded the zone with 77 strikes on a career-high 116 pitches before leaving with his team trailing.
The Chasers would quickly get their starter off the hook, getting a two-out ground rule double from Raul Mondesi that was quickly cashed in on an error on a ball off the bat of Jorge Soler. Back to back singles by Ryan O'Hearn and Bubba Starling would score Soler to give Omaha 3-2 lead after seven innings.
The Chasers would tack on an insurance run in the eighth on a Garin Cecchini solo home run before reliever Malcom Culver closed things out in the ninth.
Luke Farrell 6.2 IP, 7 H, 2 R, 2 ER, 0 BB, 10 K, 3-4 GO-FO, 116p/77k
Raul Mondesi 2-5, R, 2b
Bubba Starling 1-4, RBI
NW Arkansas Naturals 5, Springfield Cardinals 0
The Naturals jumped on Springfield early and received a terrific effort on the mound to pull within one game of the first-place Cardinals.
The Naturals first two hitters in the lineup, Jack Lopez and Humberto Arteaga, both singled to start the game. After Lopez advanced to third on Arteaga's single he was brought home via the groundout from Corey Toups to give NW Arkansas the 1-0 lead. A Mauricio Ramos single pushed Arteaga 90 feet away, from where he would score on a wild pitch. With the Cardinals starter wavering, Donnie Dewees would double up the score with his fifth home run of the year.
Those runs would be all that righty Corey Ray would need. Working his first complete game of his career, Ray kept the ball on the ground and navigated around just four hits. The Cardinals had just five at-bats with a runner in scoring position, going hitless while the former Aggie didn't walk a hitter for the first time this season.
The Naturals tacked on a run in the eighth while their starter used just 88 pitches to complete the game and put his squad in position to even the standings tomorrow night.
Jack Lopez 2-3, R
Corey Toups 1-4, R, RBI
Mauricio Ramos 1-4, R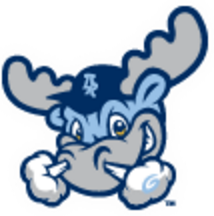 Wilmington Blue Rocks 4, Buies Creek Astros 3 F/15
The Blue Rocks needed extra innings to take game one with the High-A farm club of the Astros Thursday night.
Shortstop Nicky Lopez helped Wilmington to a 2-0 advantage early. The rising prospect walked, stole second, and advanced to third on a throwing error before scoring on a wild pitch in the first. One inning later, it was a Lopez triple that pushed the advantage to two runs.
Starter Colin Rodgers worked five scoreless, allowing just a pair of a singles and two walks. The lefty put away four Astros with strikeouts and six with groundouts in the process, placing himself in a position to earn the win. That wouldn't happen unfortunately, as lefty reliever Jacob Bodner struggled in his two innings, giving up three runs on five hits to put the Rocks behind 3-2.
That score would remain until the bottom of the ninth when an error and a pair of back to back singles helped the Rocks tie the game.
The two offenses would be put on ice for the next five innings until the bottom of the 15th. Still tied at three, the Rocks would get a one out single by Jecksson Flores to kickstart their inning. The infielder was pushed into scoring position on a walk of Chase Vallot. From there, Flores would come racing home on a Roman Collins double to walk things off for Wilmington.
Richard Lovelady 2 IP, 2 H, 0 R, 0 ER, 0 BB, 5 K, 2-0 GO-FO, 47p/33k
Nicky Lopez 2-6, R, 3b, BB, RBI, 2SB(13)
Colin Rodgers 5 IP, 2 H, 0 R, 0 ER, 2 BB, 4 K, 6-4 GO-FO, 86p/47k

Columbia Fireflies 8, Lexington Legends 0
The Legends didn't have much going well in Columbia Thursday night in getting swept.
The offense put together just four singles while getting shut out, and the pitching staff was knocked around for 12 hits. Starter Travis Eckert took the loss, allowing four runs in four innings including a home run by Dash Willingham. The bullpen didn't fare much better with Arnaldo Hernandez giving up a second home run to Willingham, and Geoffrey Bramblett allowing three runs to finish off the game.
Vance Tatum 1 IP, 0 H, 0 R, 0 BB, 2 K, 14p/9k
Angelo Castellano 2-4
Rudy Martin 1-3

DSL Royals 3, DSL Rays1 2 f/10
The DSL Royals won a game in extra innings over the Rays squad to improve to 4-1.
The Royals took a 1-0 lead in the seventh inning after a Brayant Aponte double that scored Edickson Soto. The Rays quickly answered in the eighth, scoring a run on a Royals throwing error.
The game went to extras where the new rule of starting a runner on second base was employed. The Royals, in their half on defense, quickly cut down the runner from second on a fielder's choice when the catcher, Felix Familia, tossed out a runner at third. Back to back errors followed though, and the Rays took a lead on a single.
Trailing by one, the Royals started their inning with a sac bunt that was good enough to allow the runner to reach first. A hit by pitch and a sac fly error allowed the Royals to even the score and load the bases once again. After a pop out, catcher Felix Familia walked things off for the Royals with another sacrifice fly.
Brayant Aponte 2-3, 2b, BB, RBI
Wilmer Jimenez 3.2 IP, 2 H, 0 R, 0 ER, 1 BB, 6 K, 1-2 GO-FO
Kelvin Gonzalez 3 IP, 4 H, 1 R, 0 ER, 1 BB, 2 K, 4-0 GO-FO