With their selections in the 2nd and Supplemental 2nd round, the Royals chose catcher M.J. Melendez and Evan Steele. After taking Nick Pratto with their 1st round pick, the addition of Melendez is another in the young mix. On the other hand, Steele could be a quicker mover as a lefty who has a three pitch mix and upper level velo in the mid 90's with a big body.
A quick breakdown on what was said about the players via Baseball America.
M.J. Melendez – M.J. established himself as one of the top catching prospects in the class with a strong showing on the showcase circuit, and he made impressive strength gains as a senior. Melendez is a lithe, athletic receiver with quick feet and excellent lateral mobility. He sets a low target. He has plus arm strength behind the plate and can throw accurately with carry from his knees. Melendez is a lefthanded hitter whose power is ahead of his pure hitting ability at this point. He has a bit of a high hand set with some length to his swing. Melendez uses a leg kick to get his lower half started and has quick hands; when he connects with a pitch he's able to drive the ball with authority, and he projects to hit for some power at the pro level. He ditches his leg kick in two-strike counts and focuses more on making contact.He's a smart game-caller, has years of experience catching hard throwers on the showcase circuit and is bilingual, so he could adapt to catching at the professional level faster than most prep catchers.

My analysis – With Sam Carlson on the board, that is where I would have went. I'm not sold on the bat here from Melendez and the strain put on young catchers to not only handle young pitchers, but control a running game often leaves their bat lagging.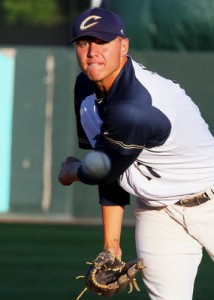 Evan Steele – Steele was the No. 320 prospect in the 2015 BA 500, and he spent one year at Vanderbilt before transferring to Chipola. This spring, he got off to a strong start, with his fastball working mostly at 90-91 and touching 93. He missed some time due to a blood clot, and he slowly returned to form as the spring unfolded. Towards the end of the season, Steele was back at full strength, slinging his low 90s heater from his low three-quarters arm slot and mixing in a hard sweeping breaking ball and potentially above-average changeup. He has excellent size and is said to have high extension according to TrackMan, giving him the deception for his stuff to play up.
My analysis – This is a solid pick for the Royals based on their track record in recent years with Cody Reed and Matt Strahm from the JUCO ranks. Obviously anytime you can add a three-pitch mix lefty with possible plus velocity you're adding a prospect to the system that is worth watching. The Royals have become enamored with low slot lefties lately as they were rumored to be on Trevor Rogers, added Skoglund in the past and were linked to Chris Sale previously. Adding Steele to that mix continues that trend for Kansas City.