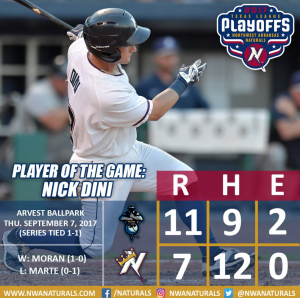 Tulsa Drillers 11, NW Arkansas Naturals 7 –
Series Tied 1-1
Game two turned in to a wild affair as the two Texas League combatants tried to keep hold the attention of fans during a hectic night of sport. The Royals starter who had started the season as their #1 prospect at the start of the yeand sent to Double-A to regain confidence and mechanics, Josh Staumont looked to build on his quality work as of late.
Unfortunately for Staumont, he struggled with the zone and struggled to miss bats as well. The Drillers capitalized against the hard thrower, connecting on five hits while walking five times on the way to six runs in just 2.1 innings. A pair of doubles led to two runs in the first by Tulsa and was followed a two run home run. Two inherited runners scored off a single allowed by Yunior Marte in the third to push the deficit to 6-0 for the Naturals.
Another run in the fourth put NW Arkansas down 7-0, but they wouldn't be deterred, getting a sac fly and a two-run home run by Nick Dini in the fourth to pull within 7-3. An inning later, three singles to start the frame was followed by an error on a ball hit by Ryan O'Hearn to pull them within a run. One more run in the sixth on a sacrifice fly by Donnie Dewees tied it up and gave the Naturals a new game.
The new game though turned out much like the earlier one for NW Arkansas. After Yunior Marte plunked a hitter, manager Vance Wilson turned to reliever Matt Tenuta. The lefty didn't quite have it on this night and things got away from him and his squad. After allowing a walk and a single to load the bases with no outs, Dodgers Drew Jackson took Tenuta deep for a grand slam and a four run Tulsa lead. The Royals Double-A squad couldn't find an answer, and the series is even at a game apiece.
Josh Staumont 2.1 IP, 5 H, 6 R, 6 ER, 5 BB, 2 K, HR, 2-4 GO-FO, 66p/38k
Yunior Marte 3.2 IP, 2 H, 2 R, 2 ER, 0 BB, 2 K, HR, 5-1 GO-FO, 43p/27k
Jason Adam 1 IP, 0 H, 0 R, 0 ER, 0 BB, 2 K, 11p/8k
Samir Duenez 1-4, R, RBI, BB
Nick Dini 2-4, 2 R, HR, 2 RBI
Anderson Miller 1-3, R, 2b, RBI
Donnie Dewees 2-4, R, RBI
Idaho Falls Chukars 6, Orem Owlz 4
The Chukars pushed ahead early and received quality pitching to defeat Orem on Thursday evening. Outfielder Travis Jones carried the big stick for Idaho Falls, homering in the first to give Idaho Falls an early 2-0 lead, then going deep again in the eighth to tack on an insurance run. In between, Jones used his speed to steal a base and score a run in the third inning as part of a two-run inning.
Starter David McKay gave up four runs (2 ER ) over five innings while striking out five hitters to improve his record to 6-5 for Idaho Falls.
Travis Jones 2-4, 3R, 2 HR, 3 RBI, SB
Matt Morales 3-5, R, SB, CS
David McKay 6 IP, 7 H, 4 R, 2 ER, 1 BB, 5 K, 6-2 GO-FO, 93p/59k