HR Roll Call: Frank Schwindel (4), Adalberto Mondesi (2), Seuly Matias (8), Nick Pratto (3)

BPKC Hitter of the Day: Nick Dini 3-4 2R, 2b, RBI, BB
BPKC Pitcher of the Day: Dan Tillo 6.1 IP 1 H 3 R 3 ER 3 BB 10 K 6-2 GO-FO

Columbia Fireflies 4 Lexington Legends 3 F/10
Starter Dan Tillo took a no-hitter to the seventh inning for the second time this year only to make a mistake that cost him a chance at a win. The lefty was dominant early, striking out the first nine hitters he faced as he showed his low 90s control while working his slider in and away. The Fireflies started to make contact in the fourth frame, but Tillo continued to put them down, taking his no-hitter into the seventh with just a walk allowed in that time. Despite this pitching effort, the offense wasn't creating any separation, getting no-hit on their own until the sixth when they finally broke through with a Travis Jones single to break up the dual no-no's and giving Lexington a 1-0 lead. One inning later, Seuly Matias pushed the advantage to 2-0 with his eighth home run of the season. With that 2-0 lead, Tillo got a quick groundout to start the seventh frame before he lost the strike zone, walking a pair and elevating his pitches more than he had in the previous innings. With two on, Tillo elevated a pitch to left-handed Quinn Brody and he did the rest, driving it out the opposite way for Columbia's first hit on the night, giving them a 3-2 lead in the process, and ending Tillo's night. The game remained a one-run deficit until the ninth when Nick Pratto unloaded on his third home run of the season to tie the game and send it into extra innings. The Legends free baserunner, Jeison Guzman, made a baserunning mistake in the tenth before Columbia doubled to end the game with just their second hit of the affair.
Seuly Matias: 1-4 HR
Nick Pratto: 1-4 HR
Josh Mitchell: 1.2 IP 0 H 0 R 0 ER 1 BB 3 K 1-1 GO-FO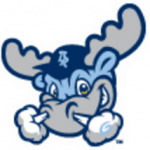 Potomac Nationals 12 Wilmington Blue Rocks 2
Starter Cristian Castillo's struggles continued with the lefty watching his ERA balloon to nearly nine after a seven-run three-inning effort. Nationals talented prospect Juan Soto kept his hit parade going with two home runs, his fourth and fifth against the Royals organization in just the nine games against this season. The talented outfielder and possibly Top-10 overall prospect has nine home runs in just 25 games this season while hitting .375 across the Low-A and High-A levels. The Rocks managed just five hits in this one with three coming from Kort Peterson while struggling with runners in scoring position again in the loss.
Khalil Lee: 1-3 RBI, BB
Kort Peterson: 3-5
Emmanuel Rivera: 0-4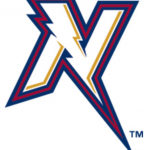 NW Arkansas Naturals 9 Springfield Cardinals 2
Starter Glenn Sparkman continued his solid season, working a career-high innings in this one while continuing his walkless run. The right-hander worked eight innings, allowing just two runs (1 ER) on five hits while pounding the zone with 69 strikes on 96 pitches. With those pitches, he earned a season-high thirteen groundouts while pushing his streak of work without a walk allowed this season to 27.1 innings. The offense gave Sparkman the win for his solid effort, pounding out 13 hits with three hit efforts from Nicky Lopez and Nick Dini to push across nine runs in the win.
Nick Dini: 3-4 2R, 2b, RBI
Nicky Lopez: 3-5 2R, 3b, RBI
Glenn Sparkman: 8 IP 5 H 2R 1 ER 0 BB 2 K 13-8 GO-FO 96/69k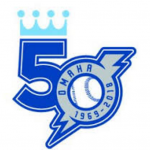 Omaha Storm Chasers 6 Iowa Cubs 4
The Chasers struggled with runners in scoring position, going just 3 for 17 in this one, but they did enough to earn a series victory in Des Moines. Infielder Ramon Torres singled in Omaha's first run after an Adalberto Mondesi sac bunt pushed Humberto Arteaga into scoring position. An inning later it was Arteaga doing to the work with a RBI single to bring in Paulo Orlando after his leadoff double. Home runs by Frank Schwindel and Mondesi gave Omaha their fourth and fifth runs over the next two innings. Those homers came in handy after starter Trevor Oaks ran into some trouble in the fifth with a three-run home run allowed of his own that trimmed the Omaha lead. Oaks would leave the damage there after six innings before the two clubs swapped single runs before Jason Adam shut the door for his second save of the season.
Adalberto Mondesi: 2-4 HR, 2 RBI, SB (3)
Bubba Starling: 2-3 SB (1)
Jason Adam: 1 IP 0 H 0 R 0 BB 3 K 11p/9k
Friday Probables
Omaha – Jon Dziedzic (lhp) 0-3 2.10 ERA 1.23 WHIP
NW Arkansas – Foster Griffin (lhp) 2-2 2.96 ERA 1.36 WHIP
Wilmington – Jace Vines 1-4 8.06 ERA 1.84 WHIP
Lexington – TBD