The full season regular season came to a close over the Labor Day long weekend with the combined teams finishing with the four teams finishing a combined four games over .500 thanks to the Legends finishing 16 over by themselves.
HR Roll Call: Paulo Orlando (11,12), Samir Duenez (10), Jecksson Flores (7), Alfredo Escalera 2 (4,5), Chase Vallot (14), Nick Pratto (14)
Sunday BPKC Hitter of the Day: Nick Pratto 2-4 R, 2-2b
Monday BPKC Hitter of the Day: Alfredo Escalera 2-4 2HR
Sunday BPKC Pitcher of the Day: Josh Dye 5 IP 3 H 1 R 1 ER 1 BB 6 K 1-1 GO-FO 72p/50k
Monday BPKC Pitcher of the Day: Ofreidy Gomez 7 IP 5 H 1 R 1 ER 1 BB 5 K 2-8 GO-FO 77p/49k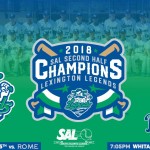 76-60 2nd Half Champs
Sunday Greenville Drive 7 Lexington Legends 4
Monday Greenville Drive 6 Lexington Legends 4
Avg Brewer Hicklen .307
HR Seuly Matias 31
RBI MJ Melendez 73
Wins Garrett Davila 7
ERA (minimum 50 IP) Holden Capps 2.98
Saves Tad Ratliff 10
The Legends were outslugged over the weekend as they rested their prime pitchers in waiting for their first playoff appearance in 12 years. First baseman Nick Pratto kept his hot hitting going with two hits in each game with a home run on Monday and pair of doubles on Sunday.
Nick Pratto: 4-9 3R, 2-2b, HR, RBI
Cal Jones: 3-8 RBI, CS
Sebastian Rivero: 2-4 2 RBI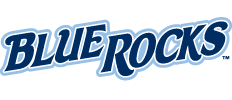 68-72 Overall 3rd place
Sunday Game 1 Potomac Nationals 1 Wilmington Blue Rocks 0
Sunday Game 2 Wilmington Blue Rocks 3 Potomac Nationals 2
Monday Potomac Nationals 5 Wilmington Blue Rocks 4
Average Travis Jones .298
HR Gabe Cancel, Kort Peterson 8
RBI Gabe Cancel 73
Wins Gerso Garabito 8
ERA Garabito 3.16
Saves Bryan Brickhouse 14
The Rocks finished off their season losing two of three games, the last one an extra-innings loss to the Nationals. All three starters allowed just one run in each game with Josh Dye earning his first High-A win following the Burlington season with a spot start. Reliever Tyler Zuber blew Monday's game with three runs allowed in the tenth inning on three hits and a walk.
Josh Dye: 5 IP 3 H 1 R 1 ER 1 BB 6 K 3-4 GO-FO 72p/50k
Andres Sotillet: 7 IP 4 H 1 R 1 ER 4 BB 7 K 6-3 GO-fO 109p/69k
Ofreidy Gomez: 7 IP 5 H 1 R 1 ER 1 BB 5 K 2-8 GO-FO 77p/49k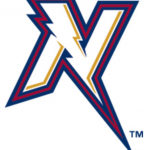 70-70
Sunday NW Arkansas Naturals 4 Arkansas Travelers 3 F/10
Monday Arkansas Travelers 8 NW Arkansas Naturals 3
Avg Nicky Lopez .333
HR Alex Liddi 23
RBI Liddi 72
Wins Emilio Ogando 11
ERA Pedro Fernandez 2.81
Saves Jake Newberry 12
The Naturals split their weekend games to finish and even 70-70 for the season. Starter Scott Blewett gave NW Arkansas a quality start on Sunday before Ian Kennedy was roughed up on Monday. The Sunday game featured a Jecksson Flores game-tying home run in the ninth for the infielder who won the Texas League batting title.
Alfredo Escalera: 2-7 2HR, 2 RBI, K
Jecksson Flores: 1-6 HR
Samir Duenez: 2-3 HR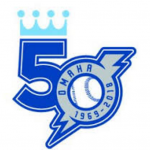 66-74
Sunday New Orleans Baby Cakes 6 Omaha Storm Chasers 4
Monday Omaha Storm Chasers 6 New Orleans Baby Cakes 5 F/10
Avg Humberto Arteaga .292
HR Frank Schwindel 24
RBI Schwindel 93
Wins Jon Dziedzic, Trevor Oaks 8
ERA Richard Lovelady 2.47
Saves Lovelady 9
The Chasers split their final weekend with an extra-inning win and a blown lead on Sunday. First baseman Frank Schwindel connected on five hits in the two games with a pair of doubles. Those doubles were his 37th and 38th of the season which broke Omaha's franchise record for a season that had stood since 1983. Closer Richard Lovelady completed his ninth save of the season to finish with an ERA of 2.47 on the season.
Jake Kalish 5 IP 8 H 1 R 0 ER 1 BB 5 K 3-4 GO-FO 85p/55k
Frank Schwindel 5-10 2R, 2-2b, 3 RBI
Nicky Lopez 1-9 2R, RBI, BB, SB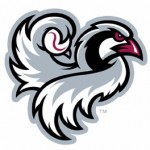 Idaho Falls Chukars 4 Ogden Raptors 2
The Chukars kept pace with first place Grand Junction with a slim win on Monday. Starter Kris Bubic worked five innings with seven strikeouts giving up just a second inning two-run home run as his only blemish. The Chukars quickly answered in their half of the second inning with a Hunter Strong RBI double and a Rubendy Jaquez run scoring single. Royals seventh-round pick Tyler Gray toss four scoreless innings in place of Bubic, working around three walks and earning the win with Offerman Collado's two-run single in the sixth inning.
Rubendy Jaquez: 2-2 RBI, BB
Kris Bubic: 5 IP 4 H 2 R 2 ER 4 BB 7 K 3-1 GO-FO 90p/51k
Tyler Gray: 4 IP 1 H 0 R 0 ER 3 BB 3 K 6-3 GO-FO 72p/42k