HR Roll Call: Nick Pratto (15)
BPKC Player of the Day: Nick Pratto 2-3, HR, 2 RBI, 2 SB


Lexington Legends 3, Rome Braves 1
Lexington leads series 1-0 (best of three)
The Legends started their playoff series with the Rome Braves on Wednesday night with first round pick Jackson Kowar on the hill. The former Florida Gator, who excelled in the College World Series this past season, held his own against the Braves, working efficiently as the right-hander tossed just 57 pitches in his five innings of work. The Legends took a lead in the first inning when Kyle Isbel reached first on an error before stealing second. First baseman Nick Pratto quickly drove in Isbel to give the Legends a 1-0 lead. In the fourth, Rome threatened with a leadoff single followed by a double to put two in scoring position with no outs, but Kowar stiffened, getting a lineout before ending the inning with a pair of strikeouts. The next inning though, Kowar made a mistake by giving up a solo home run to Hagen Owenby to even up the game 1-1. The Legends answered with a stolen base by Cristian Perez after his leadoff single and Sebastian Rivero's RBI single that gave Lexington a 2-1 lead. The very next inning, Pratto tacked on with another home run, his third in his last four games. The Legends bullpen of Janser Lara and Tad Ratliff were dominant over the final four innings, tossing up zeroes to give Lexington a 1-0 advantage in the best of three series. Lefty Daniel Lynch will start the second game of the series for the Legends on Friday night.
Jackson Kowar: 5 IP, 5 H, 1 R, 1 ER, 0 BB, 5 K, 4-2 GO-FO, 57p/36k
Janser Lara: 3 IP, 1 H, 0 R, 0 ER, 0 BB, 3 K, 2-1 GO-FO, 34p/25k
Cristian Perez: 1-3, R, SB
Sebastian Rivero: 1-3, RBI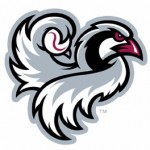 Idaho Falls Chukars 8, Ogden Raptors 7
The Chukars were eliminated from the Pioneer League postseason on Wednesday night when Grand Junction secured the playoff spot with a 3-1 win over Orem. Despite that, Idaho Falls received a good start from Zach Haake who gave them three innings of shutout ball with three strikeouts on 41 pitches. The Chukars pounded out eight runs, with five coming in the fifth inning on six hits including four doubles to take an 8-1 lead after seven innings. That lead was just big enough as the bullpen gave up six runs in the final two innings before Daniel James struck out the final hitter of the night to strand the potential tying run on second base.
Zach Haake: 3 IP, 1 H, 0 R, 0 ER, 1 BB, 3 K, 2-3 GO-FO, 41p/24k
Rubendy Jaquez: 2-5, 2R, 2b, RBI, 2 SB
Nathan Eaton: 1-2, R, 2 RBI, BB, SB, CS