With the Minor League season nearly over, what better time to highlight some of the best players in the minor league ranks for the Royals organization this season?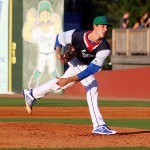 Starting Pitcher – Daniel Lynch
Rarely would we select a draftee for this spot, but no starting pitcher in the organization has been as dominant as Lynch in his 12 starts since joining. The lefty has put away nearly 11 hitters per nine innings via strikeout while maintaining a WHIP of 1.013 during his 51.1 innings. He's been able to do it thanks to a fastball that has risen to the mid-90s, topping out at 97 mph, alongside a pair of advanced offspeed pitches in his curve and changeup.
Honorable Mention – J.C. Cloney with a 12-1 2.21 ERA in 85.2 innings and 14 starts between rookie-level Idaho Falls and Lexington.
Catcher – M.J. Melendez
The Royals second round pick from 2017 had an extremely rare season for a high school catcher with Melendez connecting on 54 extra base hits in his 111 games. Playing at an advanced level for a high school drafted catcher, Melendez handled the pitching staff and running game quite well, tossing out 42 percent of attempted base stealers against him.
Honorable Mention – Meibrys Viloria, the Colombian born catcher held his own in the difficult hitting Carolina League with a .260 average and .342 OBP while tossing out 41 percent of runners.
First Base – Frank Schwindel
The 2018 season was the fourth in five full minor league seasons in which Schwindel hit 20+ home runs, connecting on 24 home runs for Omaha. Posting the third best slugging percentage in the organization, Schwindel also set an Omaha franchise record for doubles in a season with his 38 two-baggers.
Honorable Mention – Nick Pratto's second half surge of .327/.399/.532 helped him counter a rough first half and lead Lexington into the playoffs for the first time since 2006.
Second Base – Jecksson Flores
Coming into this season, Flores had very pedestrian numbers with a .643 career OPS in 422 minor league games. That didn't prevent him from busting out at Double-A this season, becoming one of the main catalysts to the Naturals lineup. He led the Texas League in hitting while setting new career-high marks in nearly every offensive category.
Honorable Mention – The MVP of the Burlington season, Jose Marquez, led the team in almost all offensive categories with his .301/.355/.498 line with 26 extra base hits in 59 games.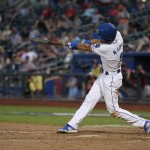 Shortstop – Nicky Lopez 
If there were questions entering the season whether Lopez could handle upper level pitching, the former Creighton shortstop quickly answered that this season. After a somewhat slow start in April for the Naturals, he took off in May and June, hitting .363/.410/.473 to get promoted out of Double-A. In Omaha, he continued to hold his own, hitting .278/.364/.417 with seven home runs in 57 games after hitting just 10 in his previous 284 minor league games. Along with the bat, Lopez was a steady hand defensively, committing just five errors in his 374 chances at the position.
Honorable Mention – Despite having to play all around the infield due to Adalberto Mondesi and Nicky Lopez taking precedent, Humberto Arteaga had a nice season with the bat, hitting .292/.322/.386. As usual, his defense was outstanding when he did get to play his primary position.
Third Base – Rubendy Jaquez
The Royals roster in Arizona didn't have that great of a season, but Jaquez was a pleasant surprise. Leading the team in OPS while impacting on the bases with 16 steals, he will likely have to move to second in the future. He showed off a good bat in the AZL and briefly in the Pioneer League with a .316/.404/.449 across the two levels.
Honorable Mention – An injury sidetracked Emmanuel Rivera's season, but a good closing August (.913) helped him finish with a .760 OPS in Wilmington while positioning him for a breakout season at Double-A next year.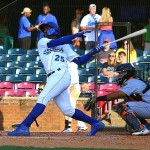 Right Field – Seuly Matias
Despite missing more than 40 games, Matias easily led the organization with his 31 home runs. Those home runs resulted in him finishing second to only Brewer Hicklen in OPS within the organization. Just when it appeared that he made an adjustment to do a better job of making contact, his season was cut short by a luggage accident. Still, the power exhibited in a less than full season more than earned him a spot on this list.
Center Field – Kyle Isbel 
No positional player draftee from the '18 draft made more of an impact than Kyle Isbel this season. Advertised as an outfielder who can also play some infield, Isbel dominated the Pioneer League, hitting .381/.454/.610 before joining Lexington for their playoff push. Playing center field while batting at the top of the Legends lineup, Isbel has become a factor, getting on base at a .345 clip at that level while stealing 24 bags across the two levels this season. It's somewhat doubtful that his speed will be enough to keep him in center long term, but for this season he has played at a good enough level to take the spot here.
Left Field – Brewer Hicklen
No outfielder in the system had the type of season Hicklen had, combining both power and speed while playing for the Lexington Legends. The 2017 seventh round pick got a late start, not landing with the Legends until late April, but when he received regular playing time in May he showed the football tools that got him drafted. As previously stated, Hicklen ranked first in OPS in the organization among players who started the season the Royals, third in stolen bases, fifth in home runs and in the top ten in runs scored.
Honorable Mention – Kort Peterson had a nice rebound season after his injury in '17, hitting well in Wilmington before exhibiting power at Double-A. The former UCLA outfielder connected on 45 extra base hits on the season.
Utility Player – Nathan Eaton
The Chukars MVP played four different defensive positions while also taking the DH spot in five games this season. The main catalyst to the Idaho Falls lineup was near the top in most offensive categories for the Chukars with his .354/.427/.581 line while stealing 19 bases in 66 games. A catcher in college, the Royals had him put away the tools of ignorance with Idaho Falls and it may have freed him up as he easily topped all of his college stats this past season. Not shabby for a 21st round draft pick.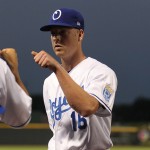 Relief Pitcher – Richard Lovelady
If it wasn't for service time and 40-man roster dynamics, Lovelady surely did enough to earn a spot on this year's major league team. The left-hander was the most reliable reliever for the Omaha Storm Chasers with his 73 innings and a 1.01 WHIP. Working in 46 different games, Lovelady allowed an earned run in just 10 outings while dominating left-handed hitters with just a .157/224/.258 line against him.
Honorable Mention – Tad Ratliff was dominant for the Legends. Once handed the closing role with the squad, he struck out 22 over his final 20 innings with 10 saves in 14 appearances.