Salvador Perez is a three-time All-Star, a World Series Most Valuable Player, and one of the most beloved players wearing a Kansas City Royals uniform. And yet, as he enters the 2016 season, the 25-year old has even more to prove. After an extremely successful debut season, Perez has seen his offensive performance decline in each of his four following seasons. He's now looking to buck that trend.
The Royals don't need their World Series MVP to be the regular season MVP, but it would be much easier for them to win a third consecutive pennant if Perez can get back to being an above average hitter.
Perez had a solid 2013 campaign, with a .277 TAv and 13 home runs in his first mostly-full season. Overall his power wasn't anything special, but because he made enough solid contact to all fields, he remained productive. The following season, however, things changed, as he fell to a .251 TAv. Perez stopped hitting the ball to the opposite field with any kind of authority, which, combined with opposing pitchers realizing he would swing at anything within 6 feet of the plate, prevented Perez from reaching his offensive potential.
This pattern continued into 2015, with Perez seeing pitches in the strike zone roughly 46 percent of the time, down slightly from prior seasons. Perhaps in an effort to combat his hacktastic ways, Perez opened his stance, which may have allowed him to see the ball better, and given him a better idea of whether or not to swing. Take a look at his pre-pitch stances from 2014 (top) and 2015 (bottom).
This wasn't the first time Perez had tinkered with his stance, as he occasionally employed an open stance in 2013 as well. But after abandoning that idea in 2014, he brought it back full-time last season.
It was a good idea. Unfortunately, hackers gonna hack. Perez did swing at balls less frequently, but the difference was hardly significant. He chased 43.1 percent of those pitches out of the zone, compared to 43.8 percent in 2014. And considering he saw more pitches out of the zone than ever before, it's easy to see how Salvy maintained such a miniscule walk rate.
Perez's contact rate on pitches out of the zone dropped some, to a hair under 70 percent, though he still avoided striking out pretty regularly. The problem, of course, is that when he made contact with those pitches, he wasn't doing much with them.
That's where Perez's second adjustment comes into the picture. Along with a more open stance, Perez began using more of his body in his swing load. Prior to last year, Perez was a very handsy hitter. He controlled the bat primarily using his hands and arms, which allowed him to make a ton of contact. And because he has such quick and strong hands, Perez often made decent enough contact to still be productive. Here's video of Perez doing just that:
As more pitchers attacked him outside of the strike zone, it became more difficult for Perez to square up pitches using only his upper body, so he incorporated a bit more movement last season. Again, a video for your eyeballs to enjoy:
If the videos aren't different enough to notice, here are some screenshots of Perez just before the pitcher released the ball:
In the first video, Perez doesn't use much of a leg kick, and while he uses some of his lower body, it's primarily an upper body action. In the second video, Perez uses a higher leg kick, and brings his elbow toward his knee, allowing him to uncoil and open his hips more powerfully at the point of contact.
Incorporating more of his body into his swing should have provided a bit more pop, and in fact, it did. Perez hit a career-high 21 home runs, and his ISO improved to .166. When Perez made good contact last year, he made really good contact.
Unfortunately, he simply didn't make enough good contact. While his line drive rate increased to 28.2 percent (from 26.2 percent in 2014), Perez also increased his ground ball rate to 42.5 percent (from 39.3 percent), and his popup rate remained north of 10 percent. A player like Perez isn't able to leverage that kind of ground ball rate into much offensive success, so one area of the strike zone he has to control is the lower third. While his 2014 season was disappointing, he at least did some damage when making contact with low pitches. Last year, well: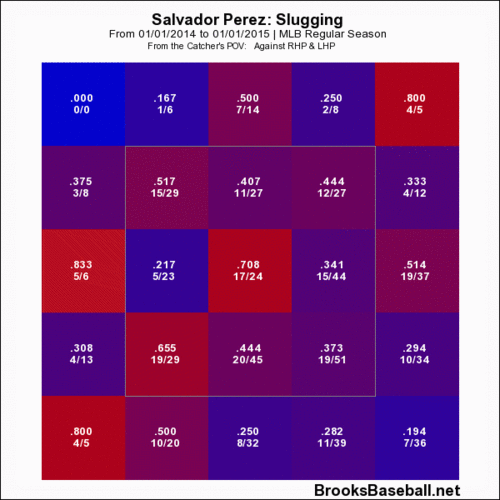 Pitchers could essentially attack the lower part of the zone with reckless abandon, because too often Perez would be unable to square up anything in that area. He did occasionally drive a pitch that was down and in, and when pitchers elevated the ball, Perez made them pay, but when they got in on his hands or kept the ball down, he was overmatched.
To recap: Perez was a below average hitter in 2014, mostly because he didn't recognize bad pitches soon enough, and also because he didn't have the kind of power needed to compensate for a low on-base percentage. He then made mechanical adjustments, likely in an effort to correct those issues, and while they were technically successful at improving those respective problems, Perez's overall offense was even worse.
Have you ever tried to fix something around the house, like a leaky pipe, only to learn you've created a new, worse problem somewhere else? Congratulations, you know what it's like to be Salvador Perez! Without the $52-million contract, but still. You're basically just like him.
It's unclear if the extra movements in his swing are what led to decreased production on low pitches, but it is certainly possible that he wasn't able to ever get fully comfortable with his new swing mechanics, which could have affected his timing.
While the hundreds of words above this may lead you to think Perez should ditch the adjustments altogether, I'm reluctant to agree, because both changes make plenty of sense. Theoretically, he should be better off with his open stance, and using more of his lower body strength in his swing ought to get his power numbers up even more. It's just going to take a bit more work so he can consistently be on time at the plate.
Because Perez tends to make the swing/don't swing decision while putting on his batting helmet in the dugout, it's highly unlikely his new stance suddenly turns him into an on-base machine. But if opening himself up a bit can help get him back to chasing just 38 percent of pitches that are out of the strike zone, as he did in 2012 and 2013, that could have a domino effect on his overall production.
Pitchers would still try to get him to chase pitches, but they'd have to be a bit more aggressive, which would give him more opportunities to swing at pitches he should be attacking, which would likely result in a much better version of Perez.
Thus far this spring, Perez is sticking with the open stance, and while it's possible he isn't going with the full leg kick (different camera angles make it difficult to compare), it does look like he's still trying to use his lower body more, at least when he has fewer than two strikes against him.
So the adjustments are here to stay. If Perez can continue to work on honing his timing, while improving his pitch recognition – if only slightly – he'll be able to contribute so much more offensively, and the Royals will have an even better shot at defending their crown.