This is the fourth time I have reviewed an Out Of The Park Baseball (OOTP) game, and I think I'm running low on ways to heap superlatives on the game.
To be specific, this game is OOTP 17, and as always, it is a heck of lot of fun.
If you're not familiar with OOTP, it is a text-based simulation game. That means that rather than controlling a joystick, you have to use your mind. It's not a test of reflexes, it's a test of mental ability. To me, that's a lot more fun than your average video game. OOTP is fully customizable, meaning you can immerse yourself in every conceivable detail of a game. Want to manage your team pitch-by-pitch for 162 games? You can. Do you prefer to put your team together, cross your fingers, and hope they play well (this is my usual method)? You can do that, too. Prefer something in the middle? That's OK, too.
The thing about OOTP is that each version has been an excellent game, and every year I wonder how the OOTP team will top themselves. I don't envy them this task; by now, my expectations for them rival what Yankees fans must have felt about their team in the 1950s.
This year, the OOTP team topped themselves by adding accurate historical minor leagues from 1919 through 2015. So if you start a historical season (my favorite way to play), your team will have their correct minor league affiliates for that year, filled with real players. Better yet, those players will have their actual stats with them, thanks to a new database of more than 150,000 minor league players. Then, those minor leagues change the way they did in real life, with affiliations switching just as they did in history.
Another nice addition for us history buffs is the ability to play a historical exhibition, whether a game or a series, between teams from different seasons. So if you want to check out whether the 1985 or 2015 Royals are the best team in franchise history, this is as good an opportunity as you will ever get.
If starting in the present and going forward is more your speed, you will be pleased with the ability to add independent minor leagues and several international leagues (including Japan, South Korea, Taiwan, Mexico, Cuba, Italy, Australia, and The Netherlands), all with accurate rosters, biographical info, and ratings.
Ah, the ratings. Here I must point out that after years of having Baseball Prospectus provide player ratings and projections, OOTP has switched to the ZiPS projection system for current major leaguers and a very healthy chunk of the current minor league players. I suppose we can debate the merits of ZiPS and PECOTA some other time (since you're probably a Royals fan, I expect you have a few things to say about PECOTA), but it's something to be aware of.
As an added bonus for folks who like to play with current players, OOTP has added an official MLBPA license, allowing the game to use FaceGen likenesses of current major leaguers. No more searching through user-created modifications to add player photos (unless you want to!). As a testament to OOTP's desire to get things right, one of the first free updates for the game this year involved making those FaceGen images better. For example, here is how Salvador Perez looks: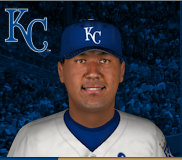 And here's Lorenzo Cain: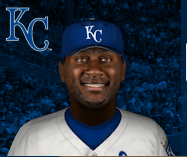 But they still have some work to do on this, I think. Here's Eric Hosmer: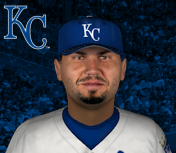 I mean, it sort of looks like him. I guess. If you squint.
Anyway, that's a minor quibble, and it's easily overlooked when you consider the many additions the OOTP team made to this game. From small but pleasing touches to auto-generated game recaps and WPA graphs in the box scores, to big and welcome changes such as improved AI and varied approaches to roster building from your competitor GMs, the developers have improved an already amazing product.
And I didn't even mention the improved 3D graphics. Since introducing 3D graphics for in-game viewing two years ago, OOTP has steadily improved them. Now they include better stadium models and player symbols that move with the action. Here are the Royals turning a double play:
Finally, another change you can enjoy whether you prefer historical, current, or completely made-up scenarios is the move to multi-core processor support. This means simulations go much faster, and after running through a season on my preview copy of the game, I can confirm that.
Once again, the OOTP team has outdone their previous effort. It's pretty amazing, really, and I look forward to seeing what they come up with next year. In the meantime, OOTP 17 will be an excellent way to pass the time (especially if your favorite team has two straight off-days!).
"Out of the Park Baseball 17″ is available on PC, Mac, and Linux platforms. You can also purchase it through Steam. Find your version on the Out of the Park Developments website. A download code was provided by the publisher for the purpose of review. Also, a mobile version (iOS and Android) is now available under the name MLB Manager 2016.