The Twins were a pesky team last year. It looks like they're set to reprise that role this summer. The two clubs traded… Well, it wasn't exactly a heavyweight bout, so let's not say punches. Let's keep it simple and say they traded runs.
This one went down to the wire.
WPA Play(s) Of The Game
Tonight, it's plays of the game. Plural. And it goes to Wade Davis in his ninth inning. As we've heard Denny Matthews when a reliever walks a batter to lead off an inning, "How many times does a leadoff walk come back to bite you?" (Or some version of that question.) That's the situation Davis and the Royals found themselves after Brian Dozier worked a ten-pitch free pass.
Davis threw the kitchen sink and Dozier, who fouled off pitch after pitch, five in total. It's kind of amazing he let pitch number 10 slide by. Less amazing the home plate umpire ruled it was out of the strike zone.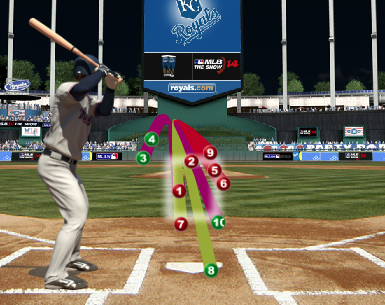 Anyway, Dozier soon stole second, which lowered the Royals' Win Expectancy to 64 percent. Davis needed an out. Badly. According to the Run Expectancy Matrix, a runner on second with no outs results in an average of 1.1 expected runs scored. Not ideal when you're holding a one run lead.
He got it when he whiffed Danny Santana, which shoved the Win Expectancy back to 78 percent, or about where it was when the inning began. By the numbers, that's the play of the game. But with a runner on second and one out, there's still plenty of danger to tiptoe around. Davis got a comebacker from Joe Mauer to force Dozier in a rundown that almost reached comic proportions with Mauer advancing to second. Davis then did his thing punching out Eddie Rosario to end the game.
Fire Was Thrown, Walks Were Issued
Not the best of starts from Yordano Ventura. He struggled through his first inning, requiring 27 pitches to record three outs.
He tired a bit in the fifth and came out overthrowing in the sixth, elevating the ball and issuing two more walks before he was pulled for Luke Hochevar.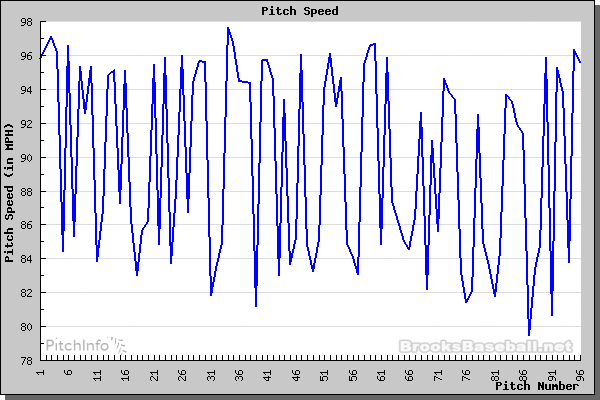 The six walks tied a career-high. It wasn't the best of starts, but if you're into the psychology of Ventura, you have to be encouraged that he kept his composure while struggling with a strike zone that seemed to be against him. He wasn't at his most sharp, but he limited the Twins to two runs – the second of which scored on a single off Hochevar.
Sal Perez, Sal Perez, Sal Perez
Get it? Salvador Perez hit a triple. Get it now?
It was Perez's first triple since September 25, 2014. You can be forgiven if you don't remember that far back. That was the day before the Royals clinched a Wild Card spot.
This three bagger brought home Alex Gordon from first to tie the game. Sometimes you need a little luck to get to third and Perez probably caught some when Rosario made an ill-advised dive for the ball in left-center. He missed and the ball rolled all the way to the wall. Perez broke the tie when he stepped across the plate on an Omar Infante sacrifice fly. The bottom half of the order accounted for all four runs.
About Soria
My advice is still to keep calm about Joakim Soria. The home run from Byung-ho Park was an absolute moon shot, but the guy is a legit power hitter. And the pitch was a flat slider that ended up middle-middle. Well, it ended up in the fountains, but you get the point.
He did strike out the side. His issue on Sunday night was command. As far as I could tell, his issue on Friday was one poorly located pitch. Had these two appearances come in July or August, there wouldn't be near the amount of angst.
Personally, I'd flip-flop Soria and Kelvin Herrera in the bullpen pecking order, but for now this is how Ned Yost sees his relievers.
Up Next
Ian Kennedy makes his Royals debut tonight. Be sure you read about his mastery of the strike zone before watching the game.