A 3-2 day for the farm with two wins in Lexington and a win at Double-A Northwest Arkansas.
HR Roll Call – Jorge Bonifacio (1) Clint Barmes (1) Jose Martinez (1) Frank Schwindel (1) Carlos Garcia (1) Brandon Dulin (1) Chase Vallot (1) 
BP KC Hitter of the Day NWA Ark – Frank Schwindel 2-4 HR, 3 RBI
BP KC Pitcher of the Day NWA Ark – Alec Mills 6 IP 2 H 0 R 1 BB 9 K

Round Rock Express 6 Omaha Storm Chasers 4
After a horrible start to the season, Miguel Almonte made progress in start number two versus the Round Rock Express on Tuesday. The Royals 6th ranked prospect by Baseball Prospectus had a great feel for his slider early which allowed him to cruise through the first four innings of the game. That groove would escape him in the fifth inning however as he lost his fastball location to the arm side and struggled to escape trouble that his defense created with back to back errors by Dusty Coleman and Cheslor Cuthbert, the latter's fourth of the young season. Those mistakes combined with three walks in the inning by Almonte led to three Round Rock runs, giving them a 3-2 lead that they wouldn't relinquish the rest of the day. Round Rock tacked on 2 more in the 5th and another in the 9th to post a 6-4 victory. It was an extremely sloppy game by the Chasers as they committed four errors on defense while also making a couple mental mistakes at the plate with ill-planned bunt attempts.
Third baseman Cheslor Cuthbert left the game for precautionary reasons after taking a groundball off the side of his head.
Miguel Almonte (L, 0-2) 4.2 IP 1 H 3 R 0 ER 3 BB 7 K 86 P 48 strikes 7 GO 2 FO
Jarrod Dyson 2-5 SB
Jorge Bonifacio 2-4 HR (1)
Whit Merrifield 2-5 RBI, E-4 hitting .348 currently
Brian Flynn 3 IP 5 H 2 ER 1 K
Joey Gallo 2-5 R
Jurickson Profar 0-4 RBI, BB
NW Arkansas 9 Midland RockHounds 2
The Naturals jumped all over Midland starter Chris Jensen, scoring seven runs in four innings on their way to an easy win. Catcher Zane Evans got the scoring started in the 1st with a two-run bases loaded double and was brought home two batters later on a Frank Schwindel two-run single. The Naturals would tack on another pair the next inning, and Schwindel would homer in the 3rd to pace starter Alec Mills with a 7-0 lead. Those were more than enough runs as Mills backed up his solid first start of the year with 6 innings of scoreless ball that included 9 strikeouts and just 2 hits and one walk allowed.
Raul Mondesi 1-5 2 SB, 3b, R
Bubba Starling 0-1 3 R, 2 BB, SB made a nice catch up against the fence to rob a double
Frank Schwindel 2-4 HR 3 RBI
Alec Mills 6 IP 2 H 0 R 1 BB 9 K 81 P 60k 3 GO 1 FO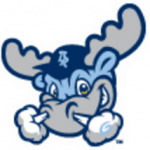 Carolina Mudcats 15 Wilmington Blue Rocks 4
An ugly game for the Wilmington Blue Rocks bullpen Wednesday as they allowed 14 runs after Colin Rodgers gave them 4 scoreless innings. The three victims to the assault were pitchers Matt Alvarez, Ian Tompkins and Mark McCoy, all of whom permitted at least five baserunners between hits and walks allowed. The Rocks mustered four runs on offense thanks in part to a 3 hit night from Corey Toups that included a pair of triples.
Ryan O'Hearn 1-3 RBI
Brandon Downes 1-3 2b, BB, R, SB
Colin Rodgers 4 IP 1 H 0 R 3 BB 1 K 68/36 P/K 4 GO 5 FO
Game 1
Lexington Legend 9 Augusta GreenJacket  8
Starting a game down 7-0 probably isn't the best idea, but it didn't seem to hurt Lexington on Wednesday after resuming and winning their rain shortened Tuesday night affair. The Legends, who have scored at least 5 runs in every game so far this season, used a five run 6th inning and got a pair on a two out Samir Duenez double in the 7th to win a 9-8 contest. Reliever Emilio Ogando did most of the work, pitching five innings of one run ball to give the offense the time to rev up and comeback after starter Julio Pinto put them in a hole on Tuesday.
Julio Pinto 2 IP 5 H 7 R 6 ER BB 3 K 54 P 37k 4 GO 0 FO
Emilio Ogando 5 IP 4 H 1 ER BB 4 K
Brandon Dulin 2-5 HR (1) 2 RBI
Samir Duenez 2-4 2b 2 R 3 RBI BB
Amalani Fukofuka 2-4 R RBI BB hitting .381
Game 2
Lexington Legends 4 Augusta GreenJackets 3
The Legends were limited to less than 5 runs for the first time this year but the 4 they scored in a shortened 7 inning game was enough to sweep the day. The Legends mustered just four hits in the night-cap but used walks and base stealing to their advantage to cross the plate three times prior to a Chase Vallot mammoth home run to finish the scoring and secure the win.
Scott Blewett  – 5 IP 5 H 3 ER 2 BB 3 K 1 HR 69 P 42 K 6 GO 3 FO HBP
Chase Vallot – 1-2 BB HR (1) hitting .500 so far on 16 AB
Anderson Miller – 2-3 RBI
DJ Burt – 0-2 R, SB
Marten Gasparini – 0-2 R SB