You are a Royals fan. You probably watched the game. You've seen this. It's worth viewing again. And again. Just hold your browser there for a moment. I'll wait.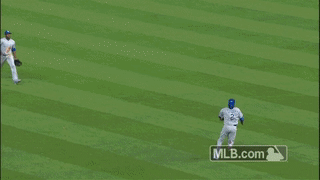 Alcides Escobar is a defensive animal. That's a description, but he truly defies description. That play? Sick, sick, sick. I'm not sure what was more impressive. The over the shoulder catch or the pivot and throw. I mean, he's in center field, sliding away from first base. He pops up and whips a throw on one hop to the target. That's insane.
This was a complete game. Pick your pleasure. Pitching? Yep. Offense? Sure. Defense? Abso-freakin-loutely.
The Astros are a difficult team. These games were tight. And the Royals took three of four.
WPA Play of the Game
After Lorenzo Cain's line drive was lost in the LEDs, Eric Hosmer stepped to the plate with two runners on and two out. He scalded a double to left-center that left his bat at 103 mph. That padded the Royals lead to three and added nearly 19 percentage points to their Win Expectancy.
The Pitching
Another start, another premium performance in Royal blue from Ian Kennedy. He threw 67 fastballs on the night. Astro batters swung at 31 of them. They missed 12 times. That's crazy impressive. As Hunter Samuels noted last week, Kennedy is generating a ton of misses on pitches located inside the strike zone.
Kennedy didn't allow a hit until the sixth and was incredibly efficient until he ran through the order the third time in the seventh inning. That time through the order penalty is real.
The Fielding
Duh.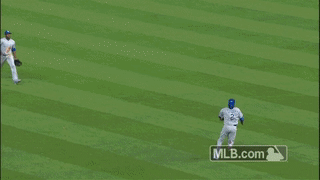 And a tip of the cap to Paulo Orlando who got a force out on a liner to right. On any other team, that's a highlight. On the Royals, that's relegated to second banana status.
The Hitting
Give this Royals team an extra out and you will be punished. George Springer lost Cain's line drive in the newly installed LED lights at Minute Maid Park. It should have been the third out in the inning.
Not so fast. The Hosmer double followed by two more doubles signaled an eruption. Salvador Perez capped the scoring with a single. When the smoke cleared, five runs crossed the plate to salt the game away. It was the largest offensive explosion in an inning this season for the Royals.
And Mike Moustakas hit another home run.
Did you like this recap?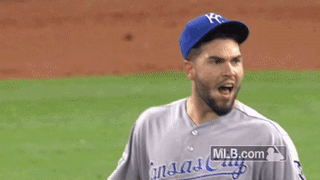 The Royals head to Oakland tomorrow. Edinson Volquez gets the start against Rich Hill. Maybe we will see Billy Butler.