The scoreless innings streak ended at 27. Long live the scoreless innings streak. The losing streak ended at five. Long live the losing streak.
You know what? Screw those streaks. They're over. Forget it and move on. Scoring runs are more fun. So are wins. The Royals did both Sunday afternoon in Seattle. Finally.
It Had To Be OmaRBI
I'm kind of kicking myself for not setting some Bovada type odds for who would be the guy to drive in the run to end the Royals run of offensive futility. Had I been equipped with the foresight, I would have put short odds on Omar Infante. Why? Because in the insanity of the West Coast Road Trip it makes all the sense in the world.
Sometimes a little "doinker" to quote Uncle Hud is all it takes.
WPA Play Of The Game
I love this. Bases loaded, no outs. The Royals have a three run lead and Danny Duffy enters the fray.
In this situation according to the Run Expectancy Matrix, a run scores over 86 percent of the time. A single run wouldn't have been the worst thing in the world. Yet the Matrix also says that in an inning where a team faces that situation, they allow on average 2.3 runs in that frame. That's a little concerning.
No problem for Duffy, though. Facing Dae-Ho Lee, Duffy starts him with a fastball on the outer edge taken for strike one. After a fastball down, Duffy goes up and Lee chases, fouling a pitch off that was well out of the zone. Finally, Duffy goes up and away with 98 mph gas. Swing and a miss. Down goes Lee and up goes the Royals Win Expectancy by 10 percent. That strikeout was huge.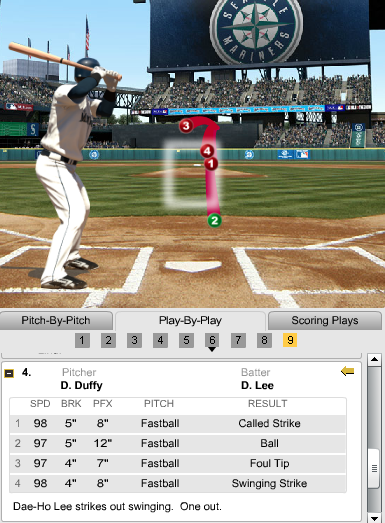 Equally large was the strikeout of the next batter, Kyle Seager. Seager offered at two fastballs out of the zone before he was frozen by a beautiful curve that caught the black on the outside.
A Great Signing, Or The Greatest Signing?
Hats off to Ian Kennedy who once again gave the Royals what they needed from their starting pitcher. It wasn't his best start, but five innings of shutout baseball while the Royals strung together some hits to finally cross home was damn necessary. Who knows what would have happened if they had fallen behind early again, like they did on Saturday. Fortunately, we didn't need to find out.
It was a bit of a slog though, as Kennedy needed 86 pitches to get through those five. He was done three batters into the sixth after allowing a couple of singles and a walk to the top of the Mariners lineup facing them for the third time in the afternoon.
As mentioned above, Duffy was more than up for the challenge.
Ummmm
You may have been wondering why no Luke Hochevar in the sixth inning after Kennedy loaded the bases. After all, Hochevar has been Ned Yost's "fireman" this year, the guy who gets the call when there are runners on base. Makes sense considering Hochevar is nails with runners on, stranding 11 of 12 he's inherited. In post game comments, Yost said Hochevar was dealing with "a sore elbow" so the Royals wanted to give him a day off.
Needless to say, we're hopeful this is nothing.
Up Next
A short three-game homestand opens on Monday against the Washington Nationals. The first match-up should be a good one as Edinson Volquez faces Gio Gonzalez. This is your chance to see Bryce Harper. He's kind of good.