After dropping two of three in Cleveland over the weekend, the Royals remain stuck at .500. PECOTA, as you can probably guess, remains bearish on the Royals. The projection says they will win only 62 games the rest of the season, which is fewer wins going forward than the Twins. Our BP projected playoff odds continue to shrink, down over four percent the last seven days. The Royals now have a 9.5 percent chance of making the postseason, according to the report. Their chances of repeating as World Champions in now a minuscule 0.4 percent.
Is it time to panic? And if now now, when?
It's OK to worry about the team and the performance we've seen from the first 30 games, but it doesn't feel like it's time to reach for the eject button on the season. There's such a long way to go. Yes, the Royals are 6 games behind the White Sox who have been playing out of their collective minds, but to worry at this point is to buy Chicago as a .600 team. They've gotten some great production, especially from their starting pitching, but I'm not sold they're going to go wire to wire. Besides, they're 6-0 against the Twins. If you haven't noticed, it helps to play the Twins. Another thing, the Royals have yet to play the Sox. There are 19 games against the two teams this year and the curtain doesn't even raise on their match-up until May 20.
While the deficit may look daunting, there's plenty of time to grind away and make up some ground.
Maybe this is pie in the sky thinking. I don't know. The last couple of seasons have left me with a surplus of optimism. We've seen and experienced things never thought possible. That can cause a serious shift in perspective.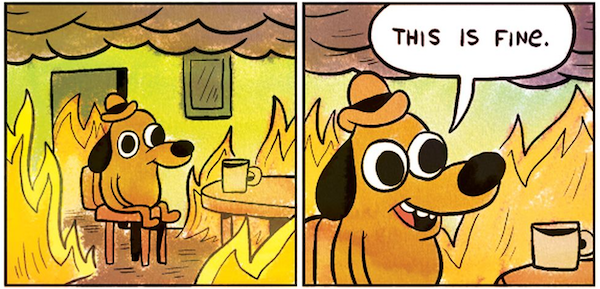 I've seen from some accounts on Twitter, the question that "maybe the Royals just aren't that good. Maybe the last two seasons have been a fluke."
I'm sorry, that's just nuts. (I know. It's kind of dumb to mine Twitter for reaction. Stick with me.)
If you expand the sample size to three years and go back all the way to the 2013 season, you'll find the Royals won more games over that span than any team in baseball. While those of us close to the team may have been caught off guard by the swiftness of their turnaround after so many seasons at the bottom of the AL barrel, the last three seasons have not been a fluke. Not even close. First of all, the 162 game schedule is a great leveler. In this three year scenario, we're talking 486 games. You don't accidentally stumble into the most wins when your sample size is that massive. Second, to appear in back to back World Series and to explain that away as a fluke seems a special brand of insane. Flags fly forever and all that and there are a pair above the Royals Hall of Fame. They say "AL Champions" and "World Champions." That didn't happen because they weren't good.
In fact, it wouldn't be all that strange to see a team (like the Royals) have a surplus of regular season wins, only to crash out in the postseason in two or three appearances. It happens, which brings me to another point. Sometimes you need a few breaks to go your way, even when your club is the best in the league. Think back to last October. Yes, that Astros game is coming up again. If Carlos Correa fields the Kendrys Morales ground ball, what happens next? It's an alternate history Royals fans don't want to consider (I certainly don't), but it sure helped to have a funky spin (and a little luck) on our side that inning. Did that propel them to the title? I'd say no. That was Johnny Cueto shoving the next game, all the way to a Christian Colon line drive a few weeks later.
Luck can be the residue of design, and at this point of the 2016 season, it sure feels as though the Baseball Gods are conspiring against us. Or at least against Ned Yost.
It's funny how the narrative can shift when you're not getting the breaks. Take Sunday's dash home by Cheslor Cuthbert in an attempt to tie the game. Last year, he scores on that play and it's another example of, "How the Royals are relentless and put pressure on the other team to force them into mistakes." This year, he hesitates, is gunned down at the plate, and it's just the latest TOOTBLAN in a season full of bone-headed miscues. It's difficult to see the game through a consistent prism when your team is involved. It's your right as a fan to see what you want. But it is kind of strange how the narrative is fluid.
This season, we've seen our share of dumb baserunning, poor situational hitting, slumps, injury, and a lack of focus in the field. Errors, strikeouts, and outs on the bases are foreign to us after the last couple of years. Some will argue regression. Others will claim the team is resting on its laurels. (That's a patently ridiculous statement, by the way.) Meanwhile, I'll just sit here and think, that's baseball.
Baseball is a strange, funny, and at times, mystical game. So here were are, again. Each season has it's own identity. Last year it was about a romp through the AL Central all the way to the title. Results and process seldom carry over from season to season. And here we are. Thirty games into what will surely be a grind.
Buckle up. This could be a wild ride.