Every once in a while, your team is going to give away a victory. Doesn't mean it won't sting. It'll hurt like hell. Especially after the good vibes from the last week were effectively flushed down the toilet in the ninth inning on Thursday.
With Wade Davis unavailable after throwing three consecutive games, Ned Yost turned to Joakim Soria to close out a one run contest in the ninth. Soria was betrayed by his defense. A grounder past a statuesque Omar Infante where Paulo Orlando fell, allowing Carlos Santana to advance to second. A bunt. A sinking line drive to right where Orlando made the bonehead play of the night in leaving his feet to dive for the ball. That's just poor baseball IQ. The run is going to score, the game is going to be tied. You need to be aware of the situation, which dictates you keep the ball in front of you, limit the advance of the hitter and try to get them in extras. Instead, Orlando dived, missed, and played the ball into a three base hit.
Instead of a double play opportunity to close out the inning, now there's a runner on third with one out. It's a team game, but oftentimes an individual mistake can kill you.
The Butcher At Second
At this point, it's simply indefensible to have Infante in the lineup. The money he is owed is a sunk cost. It's time to give him his walking papers. He can't hit. He has limited range. He can't throw. It was all on display on Thursday.
I'm still not sure what happened on the line drive in the fifth. I was listening to the game on the radio at that point. All I know is Steve Physioc was critical of Infante's play for the ball. That's enough for me. If Physioc is killing you for a mistake, it had to have been egregious.
In the eighth, with runners on first and second and one out, Yan Gomes hits a room service double play ball to Alcides Escobar. Quick throw to second, Infante can't complete the pivot. He literally had all the time in the world, and bounced a throw wide of the bag to Hosmer's right. Infante has no arm. It's limiting his range to his backhand because he knows he can't make the throw. How a team with championship aspirations continues to run the corpse of Infante at second is one of the great unanswered questions of the season.
As bad as the Infante display was, and as poor as Orlando was in the ninth, this was truly a brutal team defensive effort. The boys were throwing the ball all over the field. In the box score the runs off the bullpen were earned, but there were miscues all around. Just a brutal night with the leather.
Another confounding night from Yordano Ventura. The velocity was fine, but he continued his trend of not missing bats. Of his 99 pitches, he only got four swing and misses. He had innings where he was highly efficient, then went all wobbly and racked up the pitch count. Seriously a head scratcher. Typical Ventura.
After opening the game with 10 pitches in the first, he needs 28 in the second and 32 in the third. Then, for the next nine outs, he threw just 28. I'd say that third inning took a toll, but he certainly rallied. Yet his velocity took a noticeable hit around pitch number 50.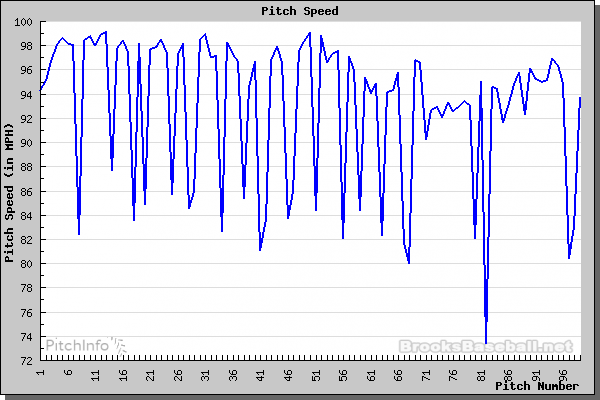 He got a little stronger in his last couple of innings, but that's a concerning velocity chart.
I haven't taken a close look at his arm slot from game to game, but there's a noticeable pattern. Here is his release point from tonight, plotted by types of pitches.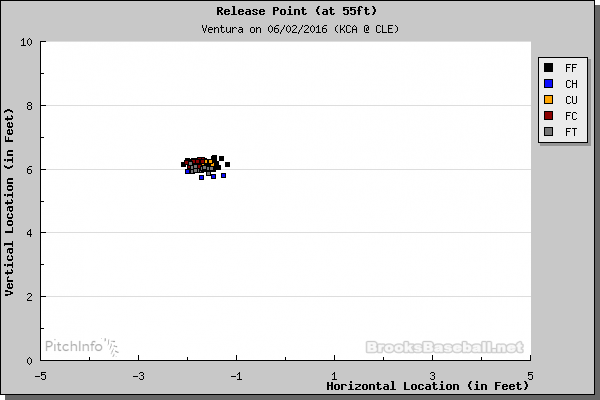 Compare that to a start from August 11, 2015, which was one of his better starts of last season.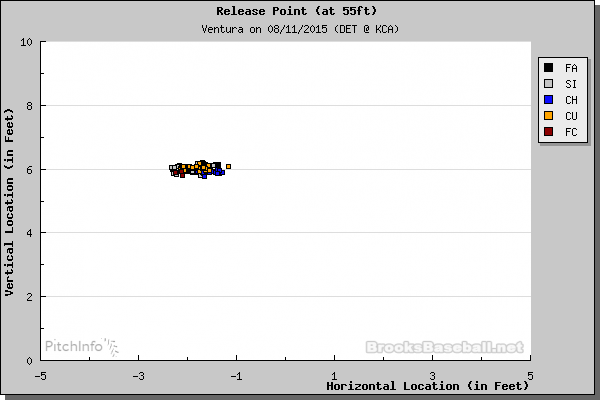 He had a higher release point with much less horizontal spread. He seems to be overthrowing his fastball and opening up, which could explain the elevated release point. That could also explain why he was all over the freaking place with his fastball.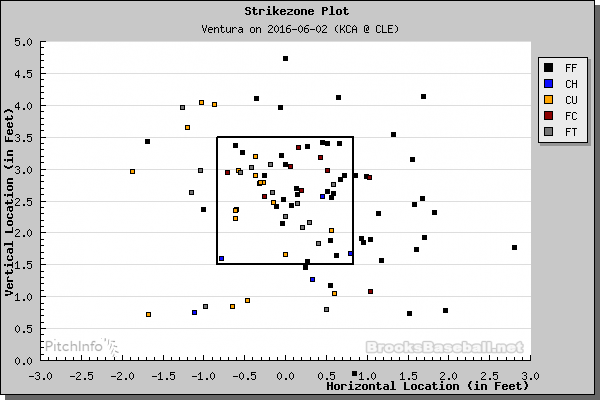 At this point, I'm not sure there's anything the Royals can do with Ventura, except to have him work out his mechanics between starts and hope it translates to games. Good luck with that.
Wasted Effort
Another night, another double-digit hit attack from the Royals. Twelve was the magic number tonight, marking the 10th consecutive game where the Royals have collected more than 10 base knocks. They're the first team to accomplish this feat of hitting strength since 2010. Show of hands, who expected this kind of offensive output a month ago? Put your hands down. You're lying.
Up Next
The Royals try to get back on track Friday in the second game of this four-game set. Edinson Volquez takes the mound at 6:10. And it's the weekend. Everything is better on the weekend.