That was embarrassing.
Is there any other adjective we can use? I'm open to suggestions. Embarrassing may not be strong enough to described what we just watched. From the flaccid offensive performance, to Yordano Ventura's lack of command, to his confrontations with Manny Machado. This game, like this road trip, has been dreadful.
My colleague had a prescient tweet in the aftermath.
The psychoanalysis from fans who have never had a conversation with the guy. Leave it at he needs to pitch better cause that's all you know

— Clint Scoles BP (@ClintScoles) June 8, 2016
If you've come here for dime store psychology, move along. That's not happening here. Until Ventura addresses the media any attempt to explain his mental state is purely speculation. What we do know – what is irrefutable – is Ventura has a reputation for these kinds of actions. This means that we will be served hot take after hot take about how Ventura is a punk. How he's immature and is trash. We're going to hear it tonight. We're going to hear it when the suspension comes down. And we're going to hear it probably every time he takes the ball for the rest of the season.
And you know what? You can't defend those statements. How can you even try? Ventura has the potential to be a very good pitcher on the team I root for and there is no way I can stand up for him. Not after tonight.
Bad reputations aren't fun. And now Ventura has made his heel turn complete. He had been able to somewhat rehabilitate his image from his rocky start to last season. Any goodwill he found during his solid second half and keeping an even keel during a struggling start to 2016 has been washed away. This is the kind of stuff that's going to follow him for the rest of his career. I'd say it's unfortunate, but the guy brought it upon himself. There's no sympathy here.
In retrospect, should we be surprised? Ventura allowed three runs to cross the plate before he recorded an out. He came inside against Machado facing him for the second time in the game in the second inning. Machado wasn't happy and let Ventura know by staring at him after the second pitch came close. The conversation started when Machado flew out to end the inning. That set up the confrontation in the fifth. First pitch – a 99 mph fastball that was his fastest pitch of the night – in the back. There can be no question as to the intent.
Let's not completely absolve Machado in this situation. He has a bit of a reputation of his own. His actions in the second didn't help, but Ventura has to be the bigger person and stay in his game. He didn't do that, and once the pitch made contact with Machado's back, I really can't take any issue with the Orioles third baseman paying a visit to the mound. When a pitcher hits a batter on purpose, any response aside from going full Marichal is fair game.
As to performance, Ventura was off his game from the start. He served up too many meaty pitches the Orioles were able to turn on and cash into runs.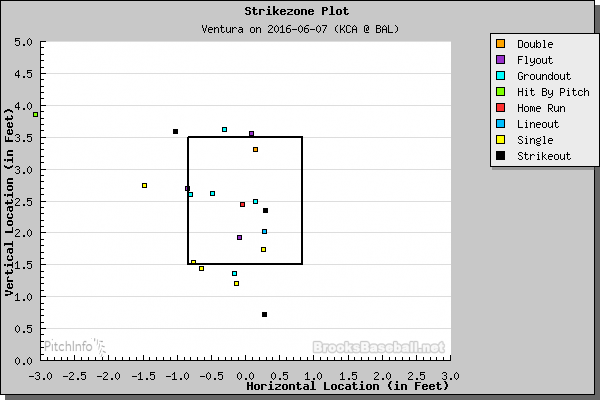 After a rough start to the game and a home run allowed leading off the second, Ventura seemed to find his footing in the third and fourth. That made his actions in the fifth all the more disappointing.
The kerfuffle overshadowed another dispiriting performance from the offense. To be able to muster just a single run in an Ubaldo Jimenez start is an awful showing. You can't sugarcoat that. You can't explain it away as a slump. Jimenez is, if anything, a slump buster. He's the guy you get healthy against.
The Royals had runners on first and second with two outs in the first. They had runners on second and third with no outs in the second. They had the leadoff batter on in the third. They had the bases loaded with no outs in the fourth. They had first and second with one out in the fifth.
They scored one lousy run.
It seems like a good time to break out the Bell Axiom: Don't ever say it can't get worse.