The first rounds are your bread and butter in a draft, but a team can find true value in the later rounds. Those diamonds in the rough can be extremely difficult to find, and you won't find one every year but when a team does, it sets their draft apart. That said the Royals have had their share of diamonds lately, whether it was Whit Merrifield in the 8th round, Mike Aviles who they paid $1,000, Greg Holland in the old CBA as a 10th rounder for $50k or Jarrod Dyson in the 50th round, the scouting staff has done a solid job of providing value to go around their 1st round picks. Hopefully one or two of these next few players can join that group of unearthed diamonds.
Quick Analysis
Best Pick: A.J. Puckett
Favorite Pick: Khalil Lee
Most Physical Position Pick: Kameron Misner
Biggest Upside: Khalil Lee
Might Surprise Top 10 Rd: Cal Jones
Might Surprise Rd 11-40: Malcom Van Buren
11. Vance Vizcaino CF 6'1 200 lbs Stetson U. 8/1/94
Slot Value $100k
The son of a Royals scout, Junior Vizcaino, headed to University of Tennessee out of high school where he dreamed of SEC notoriety. A shoulder problem and being dissatisfied with the program a year later found him at the Royals complex rehabbing the shoulder while working with players at extended spring training. It is likely that the Royals got their best and most honest scouting look at Vance, competing against players above his level at the time. That look was enough for the Royals to draft him that year, taking him the 2014 draft in the 29th round. The outfielder passed and elected to head to Stetson and coach Pete Dunn, a former Royals minor leaguer himself, after they had recruited him extensively from high school and kept on him after he left UT.
The shoulder problem lingered at Stetson on his arrival, pushing him to left instead of his natural centerfield spot but it didn't prevent him from showing off his skills at the plate. Hitting at the top of the order Vizcaino was a table setter, hitting .341 while showing off his speed on the bases. This past season Vance got off to a bit of a slow start with the bat but was able to show other skills with 22 stolen bases in 25 tries while playing a plus defense in center.
Coach's and scout's kids get "it" for the most part because they've been around the game their entire career. That's the case for Vance, add in the fact that he's a great athlete that runs in the 6.6 to 6.7 range with a gap to gap approach and a little pop with solid tools all around.
Analysis - No organization knows Vance as well as the Royals, so I'll reserve judgement for his play on the field. A four time draftee, the Royals obviously aren't the only team that thinks he can play.
12. Jeremy Gwinn RHP 6'5 195 lbs Colby Community College 10/1/94
A late bloomer, Gwinn has grown a couple inches since joining the Colby program, and in that time he's added 6-7 mph on his average fastball. A Colorado part-time home schooled product, Gwinn was plucked away to Colby from the Colorado Baseball Academy where he showed he could get by against older hitters with a mid to high 80s fastball.
Currently a two pitch pitcher, Gwinn works both sides of the plate with his 90-93 mph fastball that touches some 4's and 5's. Next to the fastball, he works a tight slider in the high 70s and low 80s that shows two plane movement with depth. It's an average offering that is too much for JUCO hitters to make contact with when you combined the fastball. He tosses a change up and curveball also, but didn't need them much during his college career. Gwinn's coach in college said that Gwinn shows good arm speed with the change up with some arm side fade, using it well when they asked him to throw it early in outings but struggling with the pitch during the course of action when it wasn't planned as much.
"Jeremy still has projection left and his humble attitude combined with his work ethic will help him through pro baseball."
The Colby program added weight onto Gwinn with kettle bell work and Olympic weights, but the velocity Coach Clark believed the velocity was created through band work and the long toss routine the team employs.
Analysis – Lots of tools to work with for the pitching development staff.
13. Logan Gray 2b 6'1 180 lbs R/R Austin Peay U. 1/12/95
Gray is a local pick from Rockhurst HS that the Royals drafted in 2013 with a 25th Rd pick that decided to attend Austin Peay instead of heading to pro ball. He has flashed power during his college career hitting 26 home runs in just 81 games the past two seasons. A stress fracture he sustained in his throwing arm cost him games and possible draft pick positions. Coach Travis Janssen spoke to Gray's selfless attitude, work ethic and the fact that he is a "first class individual, good player and better person." On top of that, Janssen described how different the ball sounds coming off Gray's bat.
Via Baseball Prospectus – You don't see a ton of second baseman with above-average power, but that's what Gray has. He generates quality leverage, and there's a natural loft to his stroke. There's also a ton of swing-and-miss here, and there are questions about where he'll end up on the diamond, but if he can stay at second base and show the same pop, he's a potential steal in the 13th round. 
From the looks of it, Gray will need to cutdown his swing and tighten his approach to achieve success at the pro level but if he can do that while maintaining the carry he gets off the bat then he could be a worthy pro product. His average athleticism should give him a shot to play second base and if not he may have enough pop in the bat to handle left field.
Analysis – Worthy of an earlier pick with the athleticism and power needed to carry multiple positions.
14. David McKay RHP 6'3 205 lbs Florida Atlantic 3/31/95
This righthander is two years removed from Tommy John surgery that cost him his freshman year at FAU. A cerebral pitcher according to Coach John McCormack that works currently in the 89-91 mph range with his fastball alongside his curveball and change up. The curveball, according to the coach, is the pitch to watch with the possibility of it being a tick below average currently with the chance to be his best pitch in the future.
The Royals are likely hoping the fastball ticks up a tad more and combines his solid control with the fastball to become something they can look at towards the backend of a rotation down the line. From the sounds of it, his work ethic and intelligence combined with his professionalism will be a great addition to the organization regardless if the stuff ticks up or not. David's brother Ryan was an 11th round selection of the Miami Marlins in 2015 and is currently in their minor league system.
"David has the understand and professionalism that it takes to make it to the majors and will represent the Royals very well." 
Former KC Picks from FAU- 2015 – Roman Collins, Billy Endris
Analysis – Nice org arm addition.
15. Mike Messier LHP 6'6 205 lbs Bellarmine U. 5/12/95
This lefty has some projectability despite the age as he continues to add weight and strength to his slender 6'6 frame. Currently working in the high 80s with some low 1s and 2s in there, he got more of a workload at Bellarmine, working 72 innings which was up from just 30.2 the previous year. He took slight advantage, striking out 84 while hitting double digits during three different starts and also tossing five complete games. Game to game he was an enigma for the squad showing dominance or being off with very little middle ground and completing the season with a 4.75 ERA.
During the summer in the Perfect Game Collegiate Baseball League Messier was named an All-American while showing solid control and limiting opponents to just 36 hits in 45.2 innings pitched.
Analysis – Lefty arms get drafted
16. Nick Heath CF 6'1 187 lbs L/L Northwestern State U. 11/27/93
A Junction City native, Heath is an old school Royals-type pick showing off speed to burn in his game that helps him steal bases at a premium level while playing plus defense in center.
Unfortunately there isn't a whole lot else in Heath's game besides the speed as he hasn't hit much (.260 this season) over the course of his career. He's got an average arm for center and the full defensive profile looks quality.
Analysis – Speed but not much else here, Dyson/Gore style ticket with less feel for the bases.
17. Dillon Drabble RHP 6'2 190 lbs Seminole St. 7/12/96
After an abbreviated season at Central Arkansas, Drabble transferred to Seminole State where he was solid in his 13 starts, tossing 70.2 IP with 82 K's.
A good athlete, Drabble throws a fastball with good movement in the low 90s and a slider that can perform like a cutter at times.
Analysis – Texas A&M commit that could be a difficult draw.
18. Vance "Moonlight" Tatum LHP 6'4 210 lbs Mississippi State 5/2/95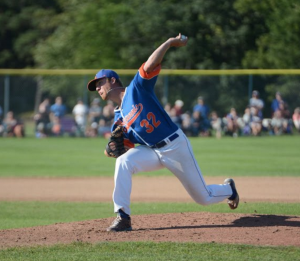 The lefthander is likely getting drafted more on the strength of his Cape Cod performance than his college career as Tatum has struggled mightily in SEC play the past two seasons but held his own on the Cape. During the '15 Cape Cod league season Tatum made 7 starts, posting a 1.93 ERA with 24 hits allowed in 37.1 innings and 26 strikeouts in that time. He tosses the typical Royals repertoire of fastball, curveball and change up.
The fastball works in the high 80s while touching 91 with decent control. In addition to the fastball is a change up with late fade and a curveball that works in the low 70s alongside a slider in the high 70s to low 80s.
After enjoying little success in the SEC Tatum may want to sign and work on commanding his pitches in pro ball.
Analysis – Refine some things and maybe you find a gem in the backend.
19. Tyler Fallwell RHP 6'5 210 lbs Cochise College 11/8/95
Coming from a strong JUCO conference that produced the eventual JUCO national champions Falwell put up strong statistics despite the light Arizona air.
Via Baseball America – A strong sophomore year with the Apaches in which the 6-foot-5 righty posted an impressive 11.6 strikeouts per nine innings has put him on the radar as a possible top 10 rounds pick. Falwell commands three pitches and throws strikes with a loose arm, delivering a fastball that sits 88-91 mph and projected average slider and changeup. His three-quarters delivery could stand to be cleaned up as he finishes with a head whack, but it doesn't affect his ability to throw strikes. Observers note that at times he lacks aggressiveness on the mound.
Analysis – The size and velo is intriguing as is the Royals success with JUCO pitchers in the past. Could be someone to watch if he can gain velo.
20. Anthony Bender RHP 6'4 205 lbs Santa Rosa JC 2/3/95
A tough sign, a project maybe, but athletic with a big fastball is a team's dream and that is exactly what Bender is. The Royals Lonnie Goldberg had a crosschecker rave about Bender and scout outside the Royals organization told me the same thing saying he has "plus stuff."
Sidelined with a back injury, Bender threw just 16.1 innings for Santa Rosa JUCO, allowing 3 ER on 12 hits and 5 walks. He is a difficult sign for the Royals, wanting premium money despite the injury that could send him to Cal State Northridge instead of Burlington or Idaho Falls.
Via Baseball America – "He's an arm-strength prospect who has hit 95 mph consistently when healthy, with some reports he's reached higher velocity. His slider earns fringe grades."
Analysis – Difficult sign that is probably inked here only if someone slips away.
21. Dalton Griffin CF 6'3 200 lbs South Effingham HS 9/2/97
Good athlete from the state of Georgia shows a good arm from the outfield (93 mph) and has already started to fill out his nearly 19 year old body. He showed off good strength and power in Royals workouts, hitting four or five home runs at Kauffman stadium. Griffin runs currently in the 6.8-7 second range which with the power and arm combination profiles as a right fielder down the line.
A difficult senior year saw him hit just .280 with his high school club after proving that he can handle upper end competition during the Summer circuit.
South Effingham High is the same school the produced Oakland A's rightfielder Josh Reddick.
Analysis – There is a lot to like here from a high school that has produced one major league corner outfielder.
22. Cody Nesbit RHP 6'3 175 lbs San Jacinto JC 3/5/96
Side-arming righty who worked from the pen for a talented Juco squad with a list of alums that have pitched in pro ball.
Nesbit put up ridiculous stats for San Jac striking out 78 in just 45 innings while allowing just 23 hits and 10 walks. A 0.80 ERA in the process but got got touched up in the Juco championship game for a two run home run.
Analysis – Not much info gained so far. Royals had success in drafting Daniel Stumpf from this program prior.
23. Kort Peterson OF 6'1 195 lbs L/R UCLA 4/29/94
Not a whole lot to go off here except potential as Peterson hasn't hit at UCLA or the Cape. The outfielder is said to have tools with speed and potential power, but he's yet to unleash that power, connecting on 15 extra base hits for UCLA and just one at the Cape in 43 AB. A corner outfielder for UCLA and likely in the pros he shows a strong arm, average speed and a short quick stroke.
Analysis – Not much to see here.
24. Mike McCann C 6'2 205 lbs L/R Seattle U. 7/11/95
An intelligent catcher who coach Donny Harrell said can control the strike zone at the plate and behind the dish defensively. A good receiver, great communicator and vocal leader, McCann will be a solid addition to the organization for those reasons. Due to his solid receiving skills, McCann was allowed to call about half the game, which as many of you know in the college game isn't always the case. Seattle finished 1st in the WAC in team ERA, strikeouts, wild pitches thrown (least) and second in passed balls, showing McCann was more than capable in those defensive areas.
Currently McCann's pop times are below average for the pro ranks (2.0), but there is raw power in there at the dish and can stay short with his swing when pitchers attack him middle-in. A solid approach at the dish should be able to help him unlock that raw power as he gets to play in more offensive hitting environments in the Royals minor league system. A thumb ligament injury caused by sliding head first into first base may have caused McCann a few draft rounds.
Analysis – It's important to add solid receivers who are intelligent to the organization to ehlp work with young pitchers.
25. Robby Rinn 1b 6'1 205 lbs L/L Bryant U. 10/17/92
Division I first basemen and senior signs aren't that exciting generally but Rinn exhibits a good plate approach which is solid to add to an organization.
ESPN article on Rinn link
Analysis- Senior sign first baseman
26. John Brontsema 3b 6'2 187 lbs R/R UC Irvine 12/13/94
The bat hasn't shown itself to be much of a weapon at the college game while exhibiting limited power.
Analysis – Not much to see here.
27. Rex Hill LHP 6'3 200 lbs TCU 9/8/93
Hill spent one year at San Jacinto before heading to TCU where he struck out nearly a hitter per inning but also got touched up some. The fastball possesses arms side movement and the change up does as well while the breaking ball shows off good break. The lefty struggles with with his control which leads to hittable pitches in and a difference between arm speed on his change up.
Via Perfect Game – Stuff-wise, Hill did a nice job of keeping his pitches down in the zone, and ended the summer on a high note. He was consistently 86-88 with his fastball, touching 90 on several occasions. The slider progressed as the summer went along, and he showed an advanced feel for his changeup as the season progressed, too. Perhaps most important for Hill, he must learn how to control the run game better.
Analysis – Worthy of a smaller bonus to see if you can harness more velo in a bullpen role.
28. Yordany Salva C 5'10 196 lbs S/R Broward College 10/29/96
The Royals have developed a liking with Puerto Rican catchers over the last few drafts, Salva, as a graduate of the Carlos Beltran Academy, fits that profile. His pop times in high school were solid (1.83) with below average arm (76 mph) speed during a few showcases. He continues to show that in his game, leading his JUCO conference in runners caught stealing while showing mobility. His smallish size doesn't offer much projection with the bat.
Analysis – Organizations need a lot of catchers
29. Grant Gavin RHP 6'2 185 lbs. U. Central Missouri 7/10/95
Natural athlete that has a three pitch mix that can runs  fastball into the mid 90's along next to a curveball and change up that both need refinement. He's gotten by using the fastball mostly at Central Missouri but still needs to refine command to have minor league success.
Analysis – Enough athleticism that you hope he could refine mechanics and offspeed stuff to develop into something.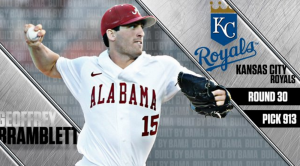 30. Geoffrey Bramblett RHP 6'2 200 lbs Alabama 4/26/95
The Royals took a pitcher here in Bramblett who has shown he can pitch against top level competition despite some iffy stuff. Tossing his fastball in the high 80s to low 90s with an average curveball and change up. He started the season as the Alabama's Friday starter and held his own on an underperforming team in the SEC. The righthander also held his own in the Cape last year in his three starts there allowing two runs over 17 innings of pitching.
The key to Bramblett's success is the sink and movement that he puts on his fastball combined with the arm speed that he's able to match with his change up, giving that pitch a possible above average grade in the future. The curveball is also a solid average pitch which allows him to keep hitters off balanced and not sitting on the fastball.
Analysis – Does a coaching change get the Friday starter to head to pro ball? He wouldn't be the first starter to keep pitching above his stuff as he rose up the ranks, a worthy pick here.
31. Malcom VanBuren RHP 6'5 185 lbs Hanahan HS 7/5/98
Dream a dream on this one as the late bloomer is starting to bust out with his stock, still not 18 years of age Van Buren might have a bright career ahead as his arm and body come together. From the mid 80s with his fastball, Van Buren started popping some low 90s this year and has seen his velocity hit as high as 93 mph. Along with the velo popping, Van Buren was showing feel for spin, tossing both a slider and a curveball. The stock was rising for Malcom until he ran into Tommy John surgery which will sideline him for 12-14 months. There is still plenty to like in the athleticism, the velocity and the body that could add plenty of weight and strength. I wouldn't be shocked to see him tossing much higher velocity once back from Tommy John and showing that his stock s much greater than that of a 31st rounder.
Via The Post and Courier - "I'm impressed with what he's got," Hanahan pitching coach Bryce Florie said. "He's a potential big-time pitcher. He's got three pitches and a fourth pitch being a change-up, which would work good if the hitters were a little better at the high school level — he doesn't throw it that much."
Coming from good bloodlines Malcom's father was a running back at East Carolina where he accounted for 1800+ yards, scoring 18 touchdowns and passing for another.
Analysis – Dream big here, but he doesn't seem likely to sign with KC after Tommy John.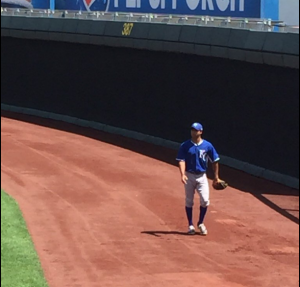 32. Luke Bandy CF 6'0 175 Providential Christian Academy 1/5/98
According to Perfect Game, Bandy is the top prep player in the state of Arkansas where he shows top end speed (6.5 /60) and a plus infield arm.
Currently Bandy plays shortstop but may have to move to the other side of second base as he adds weight and strength in the future. The bat has a chance to carry what is becoming an offensive position at second as Bandy shows good strength and bat speed with a slightly long swing that one would hope can be shortened in pro ball.
Analysis – A plus athlete who shows bat speed and a strong arm. Worthy pick for the Royals.
33. Kameron Misner OF 6'4 205 lbs Poplar Bluff HS 1/9/98
Via Perfect Game – Misner had almost no national exposure before this spring but has had a steady flow of scouts coming into see him this spring based on his profile and 6-foot-4, 210-pound build combined with outstanding lefthanded bat speed and above average raw athleticism. 
Athleticism, size, average speed and potential plus pull side power that is just in its infancy combined with relative youth to the game considering he was a dual sport athlete in high school.
Analysis – A coaching change at Missouri may give the Royals the inside track to landing Misner. He's a late bloomer the Royals should push hard on with the Missouri coaching change.
34. Nathan Webb RHP 6'2 215 lbs Lee's Summit North 8/20/97
At one point, Webb was one of the hardest throwing kids in the area. He has a good sized frame with solid athleticism that included power at the plate while playing QB in high school. As a member of the Royals grounds crew, Webb already has a World Series ring, and now he has a pro contract to attach to it.
Analysis - Why not?
35. Mark Sanchez C 5'11 200 lbs Cal Baptist Univ. 8/17/94
Sanchez becomes the fourth catcher drafted out of the Cal Baptist program after being a workhorse in three out of the last four seasons. Sanchez started 142 games with just a redshirt 2015 in between.
Via Perfect Game – Lean athletic build, body projects to fill out well. Smooth left-handed swing, quiet approach, good bat speed, stays inside the ball well, good leverage, goes to all fields well, has a good feel for hitting. Arm works well behind the plate, athletic actions, good transfer and release.
Analysis – Org catcher
36. Alex Massey RHP 6'3 195 lbs Tulane Univ. 2/1/93
When starting, Massey works in the low 90s with a downhill slider. The problem with the big righty has been staying healthy but late in the season he looked strong, pitching well in the conference tourney for the Green Wave. In college he's struggled with control and developing a third pitch, but perhaps the Royals can find something for him in the pen where his low 90s fastball can play up. It's already shown that he can touch 94-95 at times from a mostly starting role but maybe he can find some extra zip from the pen. Toss in his low 80s slider that could use some tightening and you could possibly see a bullpen piece from a senior sign.
Analysis – Solid late pick
37. Justin Camp RHP 6'2 235 lbs Auburn U. 5/17/93
Camp has worked better from the bullpen in college than he has as a starter despite a frame that appears to look like it can handle a starting role.
Via Perfect Game – His fastball typically ranged from 90-93 mph, but often was only the third-best pitch in his repertoire as he got hitters repeatedly off balance and induced a high incidence of ground-ball outs on the strength of his dominating secondary pitches, a changeup and curve that he was able to throw in any count and locate at will. His ability to mix his three pitches efficiently was a key to his success, and opposing hitters batted just .159 off him. Camp may not throw much harder as he progresses because he is mechanically sound and already has filled out his big frame.
Analysis - Org starter
38. Joey Fregosi SS 5'11 155 lbs Murrieta Valley HS 11/14/97
Son of special assistant Jim Fregosi.
39. Chase Livingston C 6'1 203 lbs Univ. of Rhode Island 4/6/94
Org catcher without much in the bat.
40. Taylor Kaczmarek RHP 6'2 215 lbs Univ of San Diego 1/23/92
A sentimental re-draft who had acquired cancer after the Royals originally drafted him.