Hot Hot Hot
Despite some struggles in winning at the minor league levels there are a few bats that are doing well across the organization.
Lexington Legends – Anderson Miller has hit well since rejoining the Lexington squad, hitting .318 in 11 games with five doubles. The 2015 3rd round pick has a smooth swing and easy athleticism. Look for him to get a promotion to High-A relatively soon.
Wilmington Blue Rocks – Alfredo Escalera had an absolute brutal April to start the season but has recovered nicely, hitting .314/.381/.403 since that time. The 21 year old outfielder could begin to show some more power as he ages and gets out of Frawley field next season.
NW Arkansas Natruals – After the longest home run drought in his young minor league career (25 games) Ryan O'Hearn has found the power stroke once again this past week, crushing three longballs in seven games. The lefty has been remarkably consistent against both righties and lefties, hitting .316 versus same siders and .310 versus right-handed pitchers coming into June 16th.
Omaha Storm Chasers – Really, no one in Omaha is excelling with the bat, but Hunter Dozier did hit a pair of home runs on his current roadtrip. The third baseman has some crazy home/road splits with Omaha, hitting .351/.381/.688 on the road and just .169 at home. Werner Park is extremely friendly to right-handed hitters with gusting winds to left but something hasn't meshed for Dozier in his 16 games.
Not Milling around in Double-A
Alec Mills becomes the first Double-A starting pitcher to get the bounce to Triple-A Omaha after another stellar start to his season. With four solid pitches, the right-hander continues to build on his career that started as a walk-on in college before getting drafted in the 22nd round of the 2012 draft. A true scouting success story for the Royals organization, Mills has had as much success at the Double-A level as any pitcher to ever go through the Texas League since they started the Naturals franchise. The last 33 starts for Mills over 181 innings have been outstanding, tossing nearly a K/inning against just 26 walks issued and 3.03 runs allowed per nine innings.
Triple-A can be a test as young pitchers faceoff against more experienced hitters who aren't as apt to sway from their plan. However, a guy like Mills, with excellent control and a four pitch mix, should be able to handle his business. A good finish in Omaha could have him in a position to compete for a starting role in Kansas City as soon as next year. That is something the Royals desperately need; an in-house candidate that can toss starting innings and save payroll money.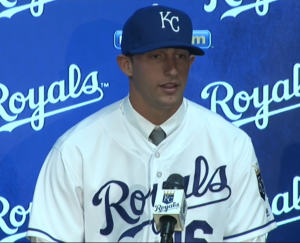 Draft Signings
A few of the Royals draft picks have already been inked with some of the contracts announced.
With the announced values of $3,240,500 on the Royals five picks and the money over $100k towards, Vance Vizcaino, Dalton Griffin and Geoffrey Bramblett, the Royals have approximately $307,330 to play with for the rest of their Top 10 rounders and overages for other picks.
2nd Rd Pick A.J. Puckett – $1.2M (slot $963,700)
3rd Rd Pick Khalil Lee – $750k (slot $579,700)
4th Rd Pick Jace Vines $375k (slot $433,900)
5th Rd Pick Nick Lopez – $243k (slot $324,800)
6th Rd Pick Cal Jones – $250k (slot $243,300)
7th Rd Pick Travis Eckert – $50k (slot $186,500)
8th Rd Pick Chris DeVito – $125k (slot $174,100)
9th Rd Pick Walker Sheller – $115k (slot $162,700)
10th Rd Pick Richard Lovelady – $100k (slot $156,600)
11th Rd Pick Vance Vizcaino $125k (slot $100k)
12th Rd Jeremy Gwinn Signed, Terms Undisclosed
13th Rd Logan Gray Signed, Terms Undisclosed
14th Rd David McKay Signed, Terms Undisclosed
15th Rd Mike Messier Signed, Terms Undisclosed
16th Rd Pick Nick Heath – Signed. Terms Undisclosed
17th Rd Pick Dillon Drabble – Signed. Terms Undisclosed
21st Rd Dalton Griffin – $105k (slot $100k)
22nd Rd Cody Nesbit – Signed, Terms Undisclosed
24th Rd Mike McCann – Signed, Terms Undisclosed
25th Rd Robby Rinn – Signed, Terms Undisclosed
28th Rd Yordany Salva – Signed, Terms Undisclosed
29th Rd Grant Gavin – Signed. Terms Undisclosed
30th Rd Geoffrey Bramblett $102,500 (slot $100k)
34th Rd Nathan Webb – Signed. Terms Undisclosed
35th Rd Mark Sanchez – Signed, Terms Undisclosed
36th Rd Alex Massey – Signed, Terms Undisclosed
37th Rd Justin Camp – Signed, Terms Undisclosed
Cover Photo May 18, 2016; Kansas City, MO, USA; Kansas City Royals starting pitcher Alec Mills (63) delivers a pitch in the eighth inning against the Boston Red Sox at Kauffman Stadium. Boston won 5-2. Credit: Denny Medley-USA TODAY Sports