Lorenzo Cain has done it. Kendrys Morales did it with a home run. Brett Eibner did it in his second big league game.
And now, add Cheslor Cuthbert to the roll call of Royals who have delivered the walk off knock in 2016.
After a weekend of high octane offense, it was only natural the finale would feature hardly any offense at all. The Tigers plated their only run in the third on a home run. The Royals scored their regulation run in the fifth on a ground out. Yet in the end, it was the Royals celebrating a 6-1 homestand against AL Central rivals while keeping pace with Cleveland, just a half game back in the standings.
Happy Father's Day, indeed.
Bunts Can Be A Good Thing
Whenever I rant against bunting, someone will always pop up and remind me there is a time and place for a bunt. I agree. That time and place was the 13th inning. After Salvador Perez opened the frame with a single and was lifted for Cain as the pinch runner, and after Cain advanced to second on a errant pick off, and after the walk to Morales… That was the time. At this moment you are literally playing for one run so trading an out for two opportunities to bring a runner in from home is a good thing. Besides, you know a manager like Brad Ausmus is going to follow your sacrifice bunt with an intentional walk. That's going to load the bases, force the infield in at the corners and put pressure all around.
Paulo Orlando squared and laid down a beautiful bunt along the third base line. He almost beat the damn thing out for a hit.
Then, it was up to Cuthbert to do his thing. It was an optimal at bat from him, staying calm, watching the first two pitches out of the zone to set himself up for some 2-0 cheese.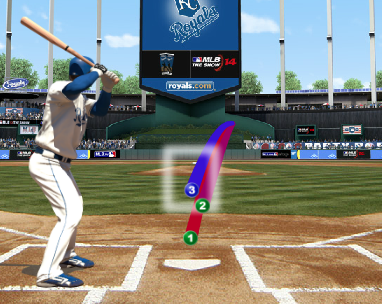 Ballgame.
Young Answers The Bell
The Royals aren't around to walk off this game if Chris Young doesn't spin a gem.
6 IP, 3 H, 1 ER, 1 BB, 7 SO
His only mistake was a letter-high fastball rookie Stephen Moya crushed in the third. Mistake may be a bit harsh. The pitch was inner half, probably on the black and it was a great piece of hitting by Moya to stay back just long enough so the ball didn't hook foul.
It was a great start from Young. A poignant one too, as we all know his story about losing his father last year before making a start at the end of the season. All Young did on Sunday was throw up a Game Score of 68, which was the exact same number he posted in that start last September.
On a day when offense was at a premium, Young did his fair share to keep the Royals in this game to advance it to the bullpen. About the relievers…
Brilliant Bullpen
We're certainly spoiled by the Royals bullpen, but there are still games where you can take a moment, step back, and say, "Damn, that was really great."
The relief corps spun seven innings of two hit baseball, with five whiffs against a single walk. Joakim Soria set the side down on 12 pitches in the seventh. Kelvin Herrera struck out the side in the eighth. Wade Davis did his thing in the ninth.
I believe it was Ryan Lefebvre who mentioned it (it may have been Denny on the radio. I was bouncing around during the game), but there is a definite advantage in the way managers use their bullpen at home. We've been over this before. Why can't they use their closer – or best reliever – earlier in games on the road. I mean, it's understood why they don't. It's just silly. So the Royals are at home and since there won't be a "save" situation at any time after the eighth inning, Ned Yost for some reason feels comfortable using Davis. Being held beholden to a made up counting statistic is baseball dogma at its worst. But I digress.
After the big three did the dirty work in regulation, Peter Moylan and Chen-Ming Wang kept the Tigers at bay for the next three frames.
Here's your fun fact from Sunday: Home run aside, the Tigers didn't advance a runner past second all game. Hell, they had only one runner reach second all game and that was on a two out steal in the fourth.
Up Next
The Royals are off Monday before they travel to New York for a quick two-game rematch versus the Mets.