A good day for the affiliates, going 5-2 with a walkoff win in Omaha.
HR Roll Call Frank Schwindel (16), Samir Duenez (11), Elier Hernandez (2), Ben Johnson (4), David Edwards (3), Luke Willis (3), Yeison Melo (1)
BP KC Hitter of the Day – Ben Johnson 3-4 HR, 2b, 2 RBI
BP KC Pitcher of the Day – Matt Portland 5 IP 3 H 2 ER 3 BB 7 K 6-2 GO-FO 91p/58k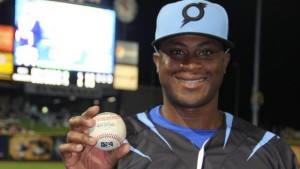 Omaha Storm Chasers 6 Salt Lake Bees 5
A late comeback woke up the Chasers offense for a walkoff win Friday night. Scoreless in the first 17 innings of this series Omaha got the monkey off their back in the 8th but trailed 5-1 still. A pitching change by the Bees to Javy Guerra got the Omaha offense ignited in the ninth when the reliever walked Jorge Bonifacio and Hunter Dozier to start the inning. Tony Cruz drove in those two following a Bubba Starling single that loaded the bases. Irving Falu's record breaking single scored Starling while a sac bunt by Parker Morin pushed the tying run to 3rd and the Falu to 2nd. Omaha's hottest bat ,Orlando Calixte, quickly stepped up and singled to center to drive in both base runners and walk it off for Omaha. That hit by Irving Falu earlier in the ninth gave Irving the hits record for a player in Omaha, counting both the Royals and Storm Chaser franchises.
Orlando Calixte 2-5 2b, 2 RBI
Jon Dziedzic 6 IP 3 H 4 ER 2 BB 4 K 5-6 94/58
Irving Falu 2-4 R, RBI
NW Arkansas Naturals 10 Springfield Cardinals 4
Lefty Matt Strahm struggled in his three innings but the Naturals offense propped him up to avoid a loss and earn a win. The Naturals offense exploded in the third through seventh innings, scoring nine runs. Infielder Corey Toups extended his hitting streak with a two hit day while scoring two runs and driving in another while three other hitters had multi-hit games. Newcomer Alfredo Escalera had a three hit day with a two run double and Frank Schwindel hit his 16th home run of the season as part of the win. The win gave NW Arkansas a one game lead in the division over Tulsa.
Matt Strahm 3 IP 7 H 4 R 3 ER 0 BB 3 K 4-3 73/46
Frank Schwindel 2-4 HR, BB
Alfredo Escalera 3-4 2b, 2 RBI
Salem Red Sox 10 Wilmington Blue Rocks 5
The Rocks pitchers couldn't slow down the Salem bats Friday, allowing 10 runs on 15 hits in another loss. Starter Corey Rays struggled in his two innings of work, giving up four runs on three hits and three walks before leaving. Relivers Jacob Bodner and Jake Newberry didn't fair well either, each allowing two earned runs while Newberry gave up two additional unearned runs. The Rocks scored five runs on 11 hits themselves including Samir Dunez's 11th home run of the season, his fifth since joining Wilmington.
Samir Duenez 1-3 HR, BB
Wander Franco 3-4 R, 2b
Elier Hernandez 2-4 2b, HR, 2 RBI
Lexington Legends 8 Asheville Tourists 5
A good day with runners in scoring position while the Legends piled up the hits on their way to another win. Lexington scored at least run in six of their eight innings with the five through eight hitters doing much of the damage with 10 of the teams 14 hits. Outfielder Ben Johnson drove in two runs for the fourth consecutive game while hitting his fourth home run of the season. The win pushed the Legends to with a game and a half of first place.
Amalani Fukofuka 2-4 2R, RBI, SB (16)
Travis Maezes 3-4 2R, 2-2b, RBI, BB
Marten Gasparini 2-3 2-3 2 RBI, E (37)
Idaho Falls Chukars 9 Helena Brewers 2
The Chukars continued to dominate at home in finishing off the Helena Brewers for a three game sweep Friday. Matt Portland struck out seven hitters in five innings while scattering three hits in his five innings to earn his second win thanks to a big offensive effort. The offense piled up nine runs on 12 hits including three home runs. The first two home runs were solo efforts by Luke Willis and David Edwards but the third homer was a big three run job by Yeison Melo in the fifth that helped put the game out of reach.
Boxscore Link
Meibrys Viloris 1-3 3b, RBI, BB
Nick Heath 2-4 2R, 2b, SB (10)
Luke Willis 2-5 2 R, HR
AZL Cubs 5 AZL Royals 4
The Royals comeback effort in the final two innings came up short in a second consecutive loss to the Cubs on Friday. Starter Julio Pinto struggled with his control in his two shutout innings, walking three while not allowing a hit in that time. Reliever Ismael Maldonado gave up five runs in 3.2 innings, taking the loss to drop to 0-2 on the season.
Khalil Lee 2-4 R, 2b
Seuly Matias 1-4 RBI, CS (2)
Grant Gavin 3.1 IP 1 H 0 R 0 BB 2 K 6-1 Go-FO
DSL Royals 4 DSL Astros Blue 3 F/13
The Royals walked off in extra innings with Andres Martin single in the 13th inning after falling behind earlier in the inning.
Jose Caraballo 2-4 R, 2-2b, BB
Christian Perez 3-5 2b, 3 RBI
Enderson Rodriguez 5 IP 5 H