Stop me if you've heard this one: Baseball is a funny game.
Really. It's true. How else can you explain what we saw as the Royals kicked off the second half of the season? It's not that the Royals were in control in the seventh inning. Especially after Luke Hochevar allowed the game-tying home run to Tyler Collins. It's that you can boil the game down to two plate appearances.
Joakim Soria vs. Miguel Cabrera
Cabrera needs no introduction. He's a monster. A hitter to be feared. After the Collins home run, Hochevar allowed back to back singles (one of which was a bunt, which further underscores how awful this evening was for the Royals) and was lifted for Soria. Quote whatever number you like, but there have been moments this season where Soria's command inexplicably disappears. So after walking Cameron Maybin to load the bases, you could have been forgiven had you feared the worst with Cabrera striding to the plate.
Soria is going mano a mano against the Tigers first baseman, throwing nothing but smoke. And it was some kind of heat, registering 95 mph on the PITCHf/x meter. Nice that Soria can put a little extra on it, but he missed on his first three pitches down and out of the zone to fall behind 3-0. He took a bit off to center a 3-0 fastball that, frankly, was surprising Cabrera passed. Soria then went back down and Cabrera, hungry to do some damage, expanded his zone and chased. Exhale.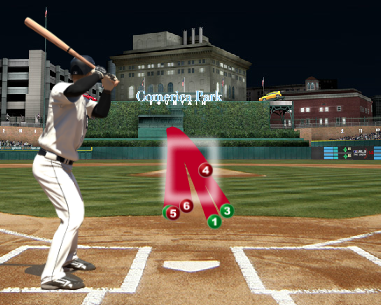 Joakim Soria vs. Victor Martinez
Not that you can take your foot off the pedal. Martinez is a dangerous hitter, closing out the first half with a .299 TAv. Soria is still pumping gas, throwing 96 mph on a pair of fastballs to jump to a 0-2 advantage. The third pitch is up and in to Martinez. He tops it and grounds it back up the middle. Soria gets a glove on it. Whit Merrifield playing a shifted second base is too far to pick it up. It's possible he could have made the play at first to get the slow-footed Martinez. When Merrifield couldn't pick it cleanly, a second run came across.
To sum up: An infield single by Victor Martinez drove in two runs. What?
Not only can baseball be funny, it can be damn cruel.
Did They Forget To Pack The Bats?
As we've written in this space with alarming regularity this season, it's tough to win when you can't plate more than a couple of runs. That was the case on Friday. No matter what happened in the freak show of the seventh inning, the sum of the Royals offense was provided by the Tigers defense. Right fielder Steven Moya couldn't catch a high fly off the bat of Salvador Perez and then Ian Kinsler bounced the relay to second. Two runs score thanks to the generosity of the Tigers defense.
And that was it. The sixth inning aside, the Royals never had more than one runner reach base in an inning. Brutal.
Up Next
The Royals send Danny Duffy to the mound on Saturday against the Tigers Doug Pelfrey. Be sure to read our series preview to get the scouting report.