Royals affiliates went 3-2 with a huge win at Double-A.
HR Roll Call: Mauricio Ramos (8), Corey Toups (8), Zane Evans (4), Chad Johnson (5)
BP KC Hitter of the Day – Mauricio Ramos 3-5, 2 R, 2b, HR, 4 RBI
BP KC Pitcher of the Day – Cristian Castillo 7 IP, 1 H, 0 R, 0 ER, 1 BB, 7 K, 5-5 GO-FO
NW Arkansas Naturals 13 Corpus Christi Hooks 3
The Naturals blew up a 4-3 game with nine runs in the final two innings for a blowout win. Second baseman Corey Toups started the game with a leadoff home run and from there the Naturals scored runs in six of their nine innings including the huge ninth. Single runs in the third, fourth and fifth innings put the Naturals ahead 4-2 with Mauricio Ramos connecting on his eighth home run in the fifth. Starter Josh Staumont missed out on a win due to his control problems, walking five in 4.2 innings despite just two hits allowed and seven strikeouts. With the score at 4-3 Ramos doubled in two runs to push the Naturals lead to 6-3. A seven run ninth inning put the game out of reach as the Naturals connected on six hits in the frame, including Zane Evans third home run of the season that capped the scoring.
Alfredo Escalera 3-5, 2R, 2b, 3 RBI
Corey Toups 1-4, 2R, HR, 2 RBI
Josh Staumont 4.2 IP, 2 R, 2 R, 1 ER, 5 BB, 7 K, 1-3 GO-FO, 99p/53k
Wilmington Blue Rocks 7 Frederick Keys 0 
The Rocks pitchers worked around ten hits to toss a shutout during their comfortable win on Thursday evening. Starter Foster Griffin worked six innings while scattering six singles over that time to earn his third win for Wilmington. The Rocks offense provided a pair of runs in the fourth when Elier Hernandez scored on a wild pitch and Robert Pehl drove in Chad Johnson with a single. After two more runs in the seventh and a three run eighth that included a Johnson home run, the bullpen finished off their three innings for the shutout. It was the third shutout of the season for Wilmington.
Foster Griffin 6 IP, 6 H, 0 R, 0 ER, 0 BB, 3 K, 9-4 GO-FO, 74p/51k
Elier Hernandez 2-4, 2R, 2b, 3b
Mike Hill 1-3, R, RBI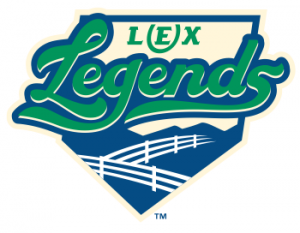 Augusta GreenJackets 3 Lexington Legends 2 F/10
Despite some solid pitching by the bullpen, the Legends dropped a game in extra innings. Trailing 2-0 after two innings, the Legends plated a pair of runs thanks to two Augusta errors. From there the two teams went silent, going scoreless through the ninth inning. In the tenth, Augusta walked it off after scoring a leadoff double with a one-out single from Skyler Ewing.
Scott Blewett 4 IP, 5 H, 2 R, 1 ER, 2 BB, 6 K, 1-2 GO-FO, 77p/46k
Brian Bayliss 4 IP, 0 R, 2 BB, 3 K, 5-3 GO-FO, 62p/38k
Brandon Dulin 3-4, 2b
Burlington Royals 10 Princeton Rays 0
The Royals received a dominating start and plenty of offense to win big Thursday night. Lefty Cristian Castillo put up his second brilliant start in his last three, tossing seven shutout innings. After a leadoff single to start the game and a hit batter in the first, Castillo found a groove before walking one in the third and finding a roll. The roll included a double play to snuff out the walk and retiring the final thirteen hitters he would face. The Royals offense would blow open a 2-0 game with a five-run sixth that featured a two-run triple by Tyler Straub.
Logan Gray 3-4, 2R, 2b, 2 RBI
Tyler Straub 2-3, 2R, 3b, 2 RBI
Alex Massey 2 IP, 0 H, 0 R, 0 BB, 1 K, 4-0 GO-FO
AZL Rangers 5 AZL Royals 2
The Royals couldn't keep the Rangers off the board early and the offense couldn't answer until late. The score was 5-0 through the top of nine innings after a scoring a run off all three Royals pitchers before the Royals could get on the board. In the ninth, they would plate two runs after a Seuly Matias double pushed he and another runner into scoring position, but they could get nothing else going after scoring those two.
Seuly Matias 2-4, R, 2b
Cal Jones 2-3
Sebastian Rivero 2-4, RBI