Ohhhhhhhh, yeah.
The 2016 season hasn't been a happy one. There are some negative vibes around the team. But you have to be delusional to deny the emergence of Danny Duffy at the front of the rotation hasn't been a wonderful development.
Summer Of Duffy
Duffy threw 98 pitches in his first career complete game. He struck out six and walked none. His velocity was hot all game.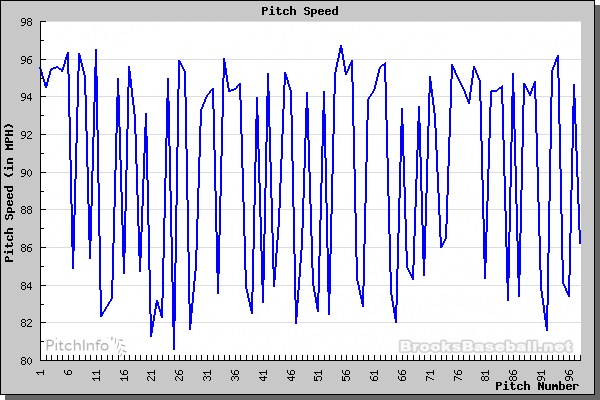 According to preliminary data from Brooks Baseball, Duffy unleashed 57 fastballs on Thursday at an average of 95 mph. Most interesting was that he didn't get a single swing and miss on the heater. That's fine because the fastball served to set up the off speed which was working. He generated nine whiffs on the curve and change.
The change in particular was a weapon. Duffy has worked to simplify his delivery to make his mechanics more repeatable, which in turn has allowed him to improve his command. He's gone from nibbler to strike throwing machine. So impressive. All the Sox could do was scratch out seven hits, stringing together three of them with two outs for their lone run.
Duffy starts are officially must-see. They have been for awhile. I just felt like writing that again.
Bert!
Another night, another walkabout by the offense. At this point, scoring less than three runs isn't news. Water is wet. The Royals were able to manufacture their runs on a walk, a stolen base denied that was overturned on replay, a Cheslor Cuthbert triple and an Eric Hosmer single.
Let's discuss Cuthbert for a moment. Love that guy.
You may be wondering if it's sustainable. Is this the kind of production we can expect going forward, especially if Mike Moustakas lands on the trading block this winter or early next season. Cuthbert's .352 BABIP suggests it's not to be expected. His .272 TAv is good, but not great. The Royals probably would be wise not to expect an encore performance, but there are signs (like a 24 percent line drive rate) that suggest he can more than hold his own as an everyday player in the big leagues. No, he's not an All-Star, but he's not a drag on the offense. His emergence, along with that of Duffy, has been a pure bright spot.
About Last Night
Now let's talk about Hosmer and driving in the go ahead run from third with less than two outs. You may remember yesterday's recap, where we lamented the Royals lack of production in that particular situation. While Hosmer has been in an extended slump, he's the best on the club at bringing home that runner from third with less than two outs, cashing in over 70 percent of the time. If there's a Royal you want up in that situation, it's Hosmer.
Track Meet
This is something about nothing, but I'm thinking the order of Billy Burns, Raul Mondesi, Jarrod Dyson, and Paulo Orlando would make a helluva 4 x 100 relay team. I'm also thinking they would be better at that than the actual act of hitting a baseball.
I kid.
I think.
Up Next
The Royals hit the road for a three game set in Minneapolis. Yordano Ventura squares off against Kyle Gibson at 7:10.