A solid day for the affiliates with a pair of doubleheader sweeps including Burlington's, which wrapped up a East division championship for them.
HR Roll Call: Orlando Calixte (11), Ryan O'Hearn (21), Joe Dudek (5)
BP KC Hitter of the Day – Ryan O'Hearn 3-5, HR, 5 RBI
BP KC Pitcher of the Day – Corey Ray 6.2 IP, 2 H, 1 R, 1 ER, 1 BB, 8 K, 4-5 GO-FO, 101p/60k
Round Rock Express 2 Omaha Storm Chasers 1
A pair of pitching staffs kept the two offenses at bay, except for one inning in the Chasers loss Tuesday night. The Express plated two runs off Jonathan Dziedzic with a sac fly and a run-scoring triple in the third inning to take a 2-0 lead. The Chasers answered with a solo home run from Orlando Calixte before both offenses went cold and failed to cross the plate the rest of the night. The Royals Wade Davis pitched the sixth for Omaha, giving up a one-out double before striking out two hitters to complete a scoreless frame. He was followed by rehabbing Kris Medlen who also tossed a scoreless inning with two strikeouts. The Chasers have six games left in their season.
Wade Davis 1 IP, 1 H, 0 R, 0 ER, 0 BB, 2 K, 1-0 GO/AO, 15p/13k
Jorge Bonifacio 3-3, BB
Orlando Calixte 2-4, HR
NW Arkansas Naturals 11 Tulsa Drillers 6 
The Naturals exploded in the game's opening three innings for 10 runs to walk away with an easy win in the opener with Tulsa. A first inning wild pitch, plus a double from Frank Schwindel and a single by Samir Duenez, gave NW Arkansas a 3-0 lead. That lead quickly expanded to 7-0 in the second on Alfredo Escaper's run-scoring single and a Ryan O'Hearn three-run home run, his 21st of the year. The hits kept coming in the third inning when Mauricio Ramos connected on a double to plate Humberto Arteaga and run-scoring singles from O'Hearn and Schwindel to push the advantage to 10-0. The waiting for the offense to finish their innings may have drained starter Yender Caramo who gave up four runs in the fifth, but he managed to finish the frame to earn his fifth Double-A win. The victory allowed the Naturals to keep pace with first place Arkansas who also won. There are three games left in this series before the Naturals turn to a possible division-deciding series with the Travelers.
Frank Schwindel 4-5, R, 2 RBI
Samir Duenez 2-5, RBI
Humberto Arteaga 3-4, 2R, SB (15)
Game 1
Wilmington Blue Rocks 9 Carolina Mudcats 1
The Rocks dominated game one with three Wilmington players doing plenty of damage to Carolina. Outfielder Anderson Miller plated the game's first run with a double to drive Cody Jones home in the first, before scoring himself on a Luis Villegas single. That would be all the offense Corey Ray would need on the day as the righty dominated the first six innings of the outing, allowing just a single and a walk while striking out seven Mudcats. Those two runs stood up until the Rocks plated three runs in the sixth with a Robert Pehl single to plate one before Miller brought Pehl home with a bases-loaded walk. Up 5-0, Wilmington put the game well out of hand in the seventh with doubles by Pehl and Miller that pushed three runs across as part of a four-run inning on the way to a 9-1 win.
Robert Pehl 3-4, 2R, 2b, 3 RBI
Anderson Miller 2-3, R, 2-2b, 3 RBI
Corey Ray 6.2 IP, 2 H, 1 R, 1 ER, 1 BB, 8 K
Game 2
Wilmington Blue Rocks 5 Carolina Mudcats 2
In game two, the Rocks used a bullpen effort to earn a doubleheader sweep. A four-run sixth inning broke open a 1-1 game when Austin Bailey singled in front of a Robert Pehl two-run double as part of the inning. The Mudcats would plate a run in the seventh, but Brennan Henry would finish off the inning for the win.
Kyle Kubat 3 IP, 2 H, 1 R, 1 ER, 0 BB, 3 K
Robert Pehl 1-2, R, 2b, 2 RBI, BB
Brian Bien 2-2, RBI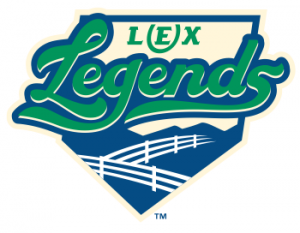 Augusta GreenJackets 2 Lexington Legends 1
The Legends could push just one run across due to a 2 for 9 performance with runners in scoring position on Tuesday, costing them a game. The Lexington pitching staff fared well, striking out 10 with starter Gerson Garabito putting away six in four innings. A run allowed by Mark McCoy in the seventh put Lexington behind 2-0 on a pair of extra base hits to start the inning. A pair of hits in the eighth quickly brought the Legends within a run and placed the tying run on base and within ninety feet after a wild pitch, but the next two hitters failed to bring him home.
Roman Collins 2-3, R, 2-2b
Chase Vallot 0-4, 3k
DJ Burt 1-3, RBI, BB
Idaho Falls Chukars 11 Ogden Raptors 10
A Chukars win in the second game of their series with Ogden displaced the Raptors from first place while pulling Idaho Falls with 2.5 games of first. The Raptors played an attrocious defensive game, making six errors and allowing 11 Chukars runs. Only four of those runs were earned as Idaho Falls knocked out 15 hits in the win. Shortstop Ricky Aracena committed his 38th error of the season in the first inning which lead to five runs for Ogden. Combined, the two teams scored 11 runs in the first, with zero earned runs in the frame.
Ricky Aracena 0-3, R, BB, E (38)
Joe Dudek 3-5, 3R, HR, 3 RBI
Angelo Castellano 2-4, 2R, 2b, RBI, BB
Game 1
Burlington Royals 9 Danville Braves 2
The Royals clinched their playoff spot in the first game of the doubleheader in Danville. The Royals '16 draftee from Oregon State, Travis Eckert, worked five strong innings in game one, allowing just a second inning run-scoring double, while leaving the game with a lead the offense had given him that same inning. With a 2-1 lead, a run scoring double by Nicky Lopez pushed the lead to 3-1 before he added a fourth run later in the frame. That stood until the eighth, when the Braves scored before Burlington put the playoffs in hand with a five-run ninth.
Travis Eckert 5 IP, 4 H, 1 R, 1 ER, 1 BB, 6 K, 5-3 GO-FO
Vance Vizcaino 2-5, R, BB
Jose Sanchez 4-5, 3 RBI
Game 2
Burlington Royals 9 Danville Braves 2
In game two, the Royals pitching squad worked around 12 hits while they did plenty with their 15 hits, pushing in nine runs. From the sixth through the eighth, the Royals punched out seven hits and used a pair of Danville errors to plate seven runs, turning a 2-0 game into a 9-1 lead and an eventual 9-2 win. Appalachian League pitcher of the year Cristian Castillo earned the win with five innings of shutout baseball. The win secured the Eastern Division of the Appy League for the Royals.
Cristian Castillo 5 IP, 4 H, 0 R, 0 ER, 2 BB, 1 K, 5-8 GO-FO
Gabriel Cancel 3-4, R, 3 RBI
Vance Vizcaino 2-4, R, RBI, BB