There's not shame to admitting skepticism when the Royals announced that Jason Vargas would begin his rehab assignment close to a year after undergoing Tommy John surgery. The urban myth timetable is usually around a year of recovery. As in, "Oh yeah, that pitcher had the Tommy John in April, so he should be good to go at the start of next season." Or something like that.
The reality is, recovery time averages closer to 18 months. Obviously, everyone is different and rehab and recovery times will certainly vary, but it's generally accepted that a return around 12 months is the anomaly and not the norm.
Jason Vargas is an anomaly.
He proved that again on Wednesday working five scoreless innings, striking out six and walking one. Five of his six whiffs came on his change. He allowed four hits, two of which were doubles with two outs. It was vintage Vargas. Or as close as we'll come, whatever that is. Assuming this was his final appearance in 2016, Vargas will finish with 12 IP with 11 strikeouts and 3 walks. He allowed one home run and posted a 2.25 ERA. I'd call that an encouraging comeback.
With his rapid recovery time, Vargas should be ready to be a factor in the back of the Royals rotation at the start of 2017. Credit where it's due as I felt the Royals were foolish to rush Vargas back to the rotation when they didn't have a clear need at the time. Turns out Vargas wasn't rushing back, he was ready. Now the Royals can head into the offseason with one fewer question mark about the rotation. He's not sexy, but there's some comfort knowing Vargas is there.
Save It For Later
One night after a walkoff win, the Royals rallied in the eighth for the final margin. Jarrod Dyson opened the eighth with a double, swiped third and seemingly missed a golden opportunity when he didn't tag on a shallow Eric Hosmer fly to center. Dyson took several strides down the line and looked every bit of a runner on the move, but he slammed on the brakes and returned to third. At the time, it seemed like a squandered chance as the throw home was well up the first base line.
Kendrys Morales doesn't care about your missed opportunities. All he did was lace a ground rule double down the right field line for his club record 30th run driven in in the month of September. After an intentional walk to load the bases and get the platoon split, Alex Gordon lined a single to right to plate a pair of insurance runs. It's good to see Gordon making solid contact.
It appeared as though with the late inning explosion the Royals, once again, would avoid elimination. The damn Blue Jays couldn't close out their game against the Orioles, going down 3-2 on a pinch-hit ninth inning home run.
There will be no October baseball.
Hos Bomb
Eric Hosmer left the yard in the third, turning on a 92 mph down and in four seam fastball. Hosmer has been going with the high leg kick of late and was able to really get his hips out in front of this one.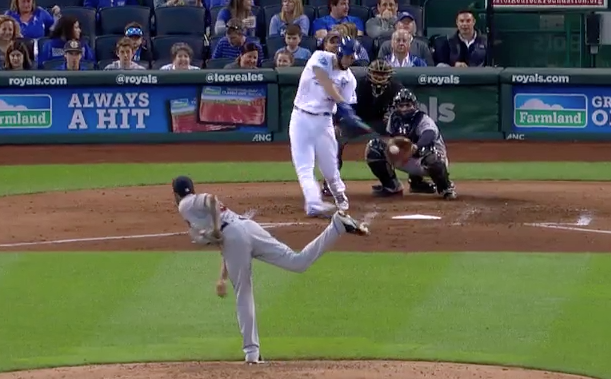 Left handed batters with power love those pitches down in the strike zone and a little bit on the inner half. Baseball Savant shows the location of the pitch Hosmer punished.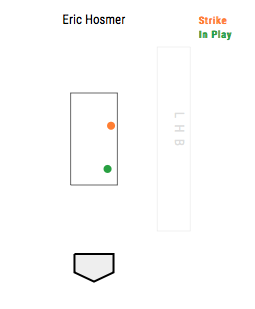 That's textbook for lefty power. Hosmer, because he prefers to confound and infuriate conventional wisdom, hasn't done much with those pitches this season.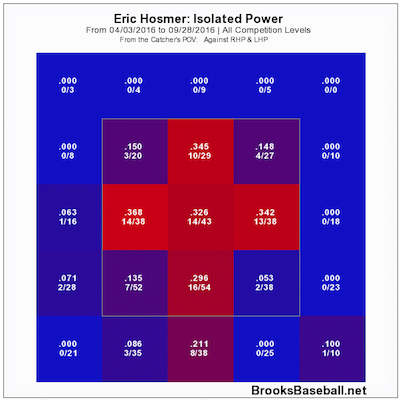 That's something else that Hosmer's lowest ISO within the strike zone comes on pitches down and in. That's been his power M.O. since 2014. Anyway, that was Hosmer's 25th home run on the year. It's his power hitting season since his rookie campaign, the down and in pitch damned.
Uncle Hud's Words Of Wisdom
"If you love baseball, you want to get more intimate with the game."
Up Next
The Royals close out the Twins series with another 6:15 start on Thursday. It's the conclusion of the Summer Of Duffy.