Checking out a few of the next group of Royals prospects in the organization that maybe on the cusp of the bigs or moving into the upper levels of the organization. A few of these guys are liked by other prospect writers more than I and a few others have tools that if morphed could become major league contributors. Part one of this series highlighted those prospects who could make an impact in Kansas City next season. Part three will check out a few other prospects a step below these before getting onto some higher ceiling younger talents.
The First base competeition: Samir Duenez vs Ryan O'Hearn
Two of the better names in this tier are first baseman, instead of giving you a profile on each I thought I would compare the the two players minor league careers to the point along with their future to decide for the longterm which will fit the K and the Royals more.
Age: Advantage Duenez – This is a huge advantage in Samir's column as Duenez was putting up a 16 HR, 100+ RBI season this past year at 20-years old while O'Hearn was completing a sophomore campaign at Sam Houston state where he hit just one HR in 76 games at that age.
Athleticism: Slight Advantage O'Hearn – The advantage defensively belongs to O'Hearn here slightly as he shows better movement in the outfield of the two players even though I believe Duenez to be a better first base defender long-term. On the bases, Duenez is a superior player, using his knowledge and speed to swipe 26 bags in 30 tries this season. In the end, while O'Hearn shows the chops to play an outfield spot defensively in a small park, I must take that advantage away going forward as neither could play an efficient defensive outfield at the K. Duenez's better baserunning gives him a slight advantage overall moving forward.
Power: Advantage Present O'Hearn, Advantage Future Duenez – The current advantage belongs to O'Hearn, he of the 25 home runs between regular and postseason this year. As I mentioned previously, Duenez, in terms of age and the adjustment the Royals made with his hips this past season, unlocked power that could have him bust out in the future.
Hit Tool: Advantage Duenez – Duenez has shown a knack for contact his entire career, but it's been a struggle to turn that contact into meaningful contact. That should improve this season as he continues to add strength to his body. On the other hand, O'Hearn has struggled with strikeouts and may continue to get exposed with that as he climbs the ladder. He did have a decent hitting season in the AZL, despite sacrificing power there.
All told, the advantage in my mind lies with Duenez and I'm sure that opinion is pretty much on an island among prospect gurus, but I'm quite okay with that. At 19 heading into 20-years old last season, too many, myself included, had given up a tad quickly on him.
Scott Blewett – The big New Yorker has been a slow go in the Royals system, but there is still plenty of upside in the right arm of his. He worked from mid-90s in '15, then back to low 90s towards the end of that season, then back into the low to mid-90s this last season with his fastball. The size of the frame could lead to possibly more velocity in the future or at least a more stable mid-90s fastball to get in the 50-60 range on the pitch. The plane of the arm angle/frame leads to plenty of groundballs when he's working at his best, along with some swing and miss when he's overpowering hitters. This past season he highlighted both at different times and started to miss more bats during his final 10 starts, with a rate of 9.9 K per 9, which is easily the best stretch of his young career.
The curve combines nicely in plane with the fastball working from 11/5 angle that he creates groundballs and whiffs when he chooses to drive it into the ground. The offering is a solid number two pitch and has the makings of a true above average pitch as he refines the control which he showed highlights of at the end of the season. In addition to that curve, the changeup started to come forward at the end of the season. It's in a much better place than it was at the end of '15 when it was being used once or twice a game. It still needs to improve as a pitch, but given his age and the growth it has shown this past season, there are possibilities that it could develop into an average pitch.
The size (likely durability), age and current/possible arsenal lead to a mid to back end future starter or back end reliever. Still just 20 years old, one could dream he gets to that #3 200+ inning starting pitcher.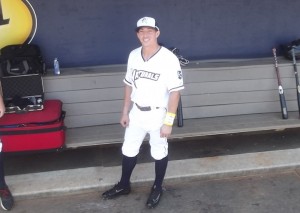 Corey Toups – Not many players did as much to improve their stock within the system as this middle infielder this past season. Small of stature at just 5'10", 170 lbs. he still carries a mighty loud bat as evidenced by his 16 home runs in 135 games played between the regular and postseason this year at High-A and Double-A. In total, the now second baseman clipped out 60 extra base hits from the right side while stealing 22 in bags in 26 tries. Still refining his defensive skills at second, Toups should become an average or better defender at the keystone spot with his athleticism and grinder mentality once he becomes fully accustomed to the position.
Overlooked due to his size at the NCAA levels and in the draft, Toups uses that to motivate him and prove those wrong. A possible top of the order bat for the Royals if he can cutback on the strikeouts, use the gap to gap approach that comes with his strong hands that generates surprising strength, and a quick bat. Not bad for a 15th round pick in the 2014 draft. The Royals lost Orlando Calixte and Dusty Coleman via minor league free agency this year which could open up a spot at Triple-A Omaha for Toups.
Eric Skoglund – Plenty of hype this offseason for Eric Skoglund as he ranked in the Top 5 of Royals prospects in one publication recently. Unfortunately I can't get on that train as the starter I saw doesn't yield more than a backend spot for me in the future. Working in the 90-92 range in the start I saw (a one-hit gem) Skoglund pairs the fastball nicely with a couple of average to a tick below secondary offerings, but everything works from the fastball that to me is a below average major league offering. Yes, he can locate it well to defeat Double-A hitters now, but I fear what it will do as he climbs the ladder. To me he's a fifth or fringe starter with limited upside as the fastball is built around control, working side to side but limited movement. The best future role I see for him is probably that as a LOOGY. After a successful run at Double-A in '16 the lefty could get the challenge of pitching in the PCL for Omaha.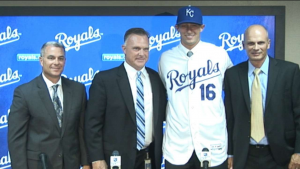 A.J. Puckett – The Royals had very limited resources during the draft this season, having no first round pick and the second lowest amount of money allocated to them. That meant the Royals had to stay close to the vest and draft within slot. With that strategy they went with a successful college pitcher who ran up one of the highest scoreless inning streaks in years. Once in the organization the Royals were conservative with him, limiting him to 77 or fewer pitches in all but one outing, and no more than five innings in any. That included a five inning no-hit outing where he threw just 56 pitches.
His stuff is similar to that of a few other pitchers in the organization, working in the 91-93 mph range with the fastball that shows good control on most nights. His ability to mix and match eye levels with control to both sides of the plate is what helped him excel in college and during his good outings in Low-A ball. Pairing that with a change up that is an above average pitch from the same slot and arm speed with fade which allows the pair of pitches to work well off of each other. The pitches that drag behind currently are the curve and slider, with the Royals draft crew of Lonnie Goldberg and company preferring the slider at the time of the draft. This should prove to be interesting as the development staff generally prefers to work with the curveball. One of those pitches will need to come forward for Puckett to reach his mid-rotation ceiling.
Overall the athleticism is solid, the control is there and the mentality is top notch. Now he just needs to find a breaking ball that will get him to where the Royals drafted him. Expect him to join Scott Blewett in Wilmington.
Nicky Lopez – For the most part the Royals acquire their potential shortstop talent in Latin America or via Latin American talent from other organizations (Yuniesky Betancourt, Alcides Escobar). Not to say that they don't draft shortstops, but for the most part they haven't been able to pop one that is good enough to stick at the position and hit enough to move up the organizational ladder without moving off the position. That might change with 2016's fifth round pick Nicky Lopez. After being drafted out of Creighton (a home run graveyard) Lopez shined in the Appy League where he showed a competent plate approach and a little bit of pop, hitting six home runs in 62 games while reaching base at a .393 clip. Showing off a natural athleticism, Lopez was outstanding on the defensive end while also stealing 24 bags in 28 tries. I like his chances to make it further down the road than the college shortstop draftees the Royals have picked in the past. Expect him to head to Lexington or even Wilmington this season where, if the offense shines enough, he could get a quick boost to the next level.
Alfredo Escalera – A rough April put Escalera behind the eight ball on his 2016 season, but he rebounded with a strong May and June to earn a promotion to Double-A. With solid average tools across the board Escalera has a limited ceiling, but a solidly high floor that could possibly turn into a right-handed David DeJesus type career. He will enter his age 22 season at Double-A where he needs to improve his plate discipline still and provide a bit more pop in the bat. In his career to date he has shown a solid ability to hit good fastballs while adapting to a league a second time through.
Kevin McCarthy – A somewhat surprising addition to the roster last season late was McCarthy, a right-handed reliever that they took in the 16th round of the 2013 draft. The stuff with McCarthy doesn't light up the gun like relievers in the past from the Royals org which is the reason I left him in the second tier, but prior to this season he's been adept at pounding the strikezone with his sinking fastball (low to mid 90's) and slider (mid to upper 80's). Neither pitch is all that dynamic, working more as a groundball type reliever with both compared to the usual swing and miss guy the Royals generally employ from the bullpen. There is a good chance he pitches in KC at some point when considering injuries unless others pass him by prior.
Bubba Starling – What happened? After an uplifting season between High-A, Double-A and the fall league in 2015, things fell apart in '16 for Starling. The timing at the plate was off from the start of the season in his swing and it continued for the full season. The front foot appeared to be out of whack and the pitch recognition also appeared to take a step back. At this point the dream of being a solid average player seems to have passed, while the hopes of a Drew Stubbs like career may be dimming as well.
Miguel Almonte – Like Starling, 2016 was a total disaster for Miguel Almonte as he showed little ability to control his uptick on the fastball. The righties' raw stuff is as good as any in the org with a fastball that regularly tips the scales around 98, a change up that is still one of the better ones in the organization, and a breaking ball has come forward to the point of it being an average pitch. The problems around Almonte are an inconsistent delivery, a flat plane that is easier to square up for hitters, and poor control. There are a ton of tools to work with here, but to this point the development crew has yet to get through to Almonte.