The funeral was Tuesday. The images and information filtering back from the Dominican told the saddest story imaginable. A young man, not even in the prime of his life, taken far too soon. The last several days have been one of reflection for me when it comes to Yordano Ventura. Much has been written – here and elsewhere around the web – as tribute.  I hope you will indulge one more.
For most of us, our introduction to Yordano Ventura was delivered via triple digits in the 2012 Futures Game at The K. In a game highlighted by 22 runs combined, Yordano opened the game with a clean half-inning where he threw just 11 pitches. Three of those tickled the radar gun at 100 mph.
That was enough for me. I was all-in on Yordano at that point.
It's not difficult to explain. Once George Brett retired in 1993, it felt as though the Royals lacked an identity. That's probably because they weren't very good, obviously. But even in those lean years they never had that one player who, while not necessarily a superstar, made people sit up and take notice. Sure, there were good players here and there, but I'm talking about a guy who, when your heard his name, you immediately thought of one particular thing he did well.
Yordano Ventura? 100 mph!
Really, it was that simple. It defined him. From his Twitter hashtag of #LetsThrowFire to the photoshopped images of him actually throwing balls of fire, to the tattoo on his forearm of flames coming off a baseball…the heat, the smoke, the cheese that Yordano threw was his calling card.
The fastball was just part of his legend. Generously listed at six foot tall and 185 pounds, it was amazing that Yordano could muster that much velocity from such a wiry frame. Humans generally shouldn't be able to launch a round object that fast. A guy with Yordano's build? Forget about it.
Yet there he was, routinely hitting triple digits on the stadium radar gun. Watching games on television, seeing those flames come out of the score bug was part of the routine in Yordano starts. The arm-side run on the fastball was a thing to behold.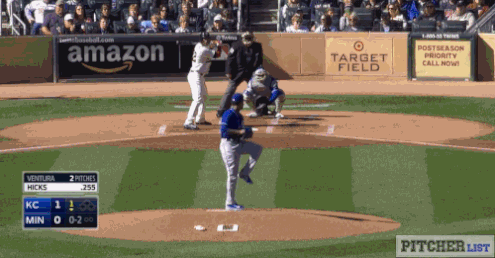 The recoil is what always amazed. It was as if he was propelling his fastball out of a mini-sized howitzer. How he planted that front foot, whipped his arm downward, and then spun back up was unreal. As noted in many of the tributes, there were definite similarities between Yordano's pitching motion and Pedro Martinez. Both swung their back leg forward and across the front of their body after release. Except, in typical Yordano fashion, his recoil was definitely more exaggerated. Still…100 mph! How could he do that while what looked like stopping his forward momentum almost the moment after the ball left his hand?
Scouts and commentators weren't especially enamored with his recoil, I would imagine. Like many of you, I spent the last couple of days rewatching parts of Game Six of the 2014 World Series – the game that was his coming out party and the pinnacle of a career that was too short. Harold Reynolds (I know, bear with me for a moment), when discussing Yordano's post-release mechanics, said that it put him at a disadvantage in that he couldn't properly field his position.
Yeah. About that.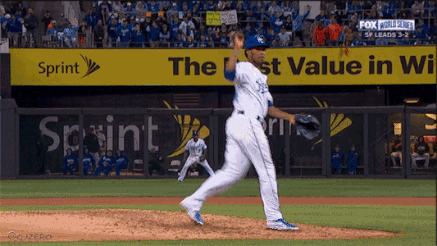 That's Yordano snaring a comebacker from Hunter Pence in Game Six. And that's vintage Yordano. The recoil, the catch, and above all, the flair.
I bet the flair pissed off the opposition and infuriated their fans. Check that. I know it pissed them off. Personally, I loved it. It spoke to who he was and where he had come from. It all happens in a flash. It was instinctual. It was celebratory. It was awesome.
When I would go on radio shows in the region, so often the hosts would complain about Yordano and his emotion on the mound. "He has to learn to tone it down!" they'd argue. I'd disagree. Asking Yordano to shelve his emotions would be like detaching that golden right arm from his body. The flair was what made his starts must-see. It was an enthusiasm that was his hallmark. There were times it appeared he attempted to tone it down on the mound. In my memory, those starts were pedestrian and sub-par.
Yet those emotions could get him into trouble from time to time. I cringed when he tangled with Mike Trout. When he threw at Brett Lawrie. When he plunked Manny Machado. His immaturity was a character flaw, one that got him into fights and earned him suspensions. It got to the point where it was impossible to defend and where it seemed like the smallest thing could ignite a situation. It's not fun to discuss, but like it or not, it was part of Yordano. He wasn't perfect, and that's fine. To anoint him a flame throwing saint wouldn't do his memory justice. You have to accept and acknowledge the flaws. They were part of what made Yordano.
But that doesn't mean they have to be front of mind when you reflect on Yordano. There are so many positive, fun memories. The great starts, the smile, the showing up unannounced to a softball game, the intensity, the celebrations in 2015 with the Tres Dominicanos. How about that time he opened a beer bottle with his teeth? Legend.
And then there was the potential. God, the potential. The unfulfilled potential. That's part of what makes this so difficult. We will always be left to wonder what could have been. In just about every single article leading up to 2017, when discussing the Royals rotation there was guaranteed to be some variation of "If Ventura keeps his emotions together and matures." He clearly had the stuff. He had the passion, the fire (literally!), and the desire to improve. After a rocky outing, Dayton Moore's phone would light up with inquires as to Yordano's availability, because the potential was always there.
We've all mentioned specific Yordano starts in the last couple of days, but that late July start in 2015 was certainly one that could define his career. You remember it. After a rocky first half, he had been sent down to Triple-A, but was recalled within a day after Jason Vargas tore his UCL. Making a start in his regular turn in the rotation, he dazzled against Houston, throwing seven innings of one run ball. It seems strange to say, but I truly believe Yordano was at a crossroads in that start. The struggles were threatening to derail a promising career. He needed to make a statement.
And in typical Yordano fashion, he made one.
And now he's gone. His funeral was on Tuesday. I feel for Yordano's family, his teammates, the scouts and coaches and player development guys and the front office. I feel for his country. Baseball is special in the Dominican, as evidenced by the turnout of his countrymen, especially those who, like Yordano, are blessed with the extraordinary talent to play this game. And finally, I feel for us. The Royals have undergone an amazing metamorphosis in the last couple of years and Yordano was family. We were enthralled by his highs and frustrated by his lows, but we remained tantalized by his personality, and his smile, and his competitiveness. He was in our lives all too briefly. But we're damn glad for the time we had with him.
Thank you for the passion, the energy, and the joy. Thank you for the fun.
Farewell, Yordano.