"Defense, speed, going first to third, that's all still there. But we play a lot of games on the road, too. We're going to need to score more runs. I'm looking forward to more home runs. It's going to be a fun year."
— Dayton Moore
As the Royals formally announced the Brandon Moss signing on Wednesday, General Manager Dayton Moore spoke to the evolution of the offense. As noted around these parts yesterday, the makeup of the 2017 lineup looks to be quite different from the singles train that was powered by steam.
The 2017 Royals lineup could bring some serious thunder.
(At this point, it seems prudent to tell you to bookmark this post and lob a link at me in August or September when the Royals set some sort of record for a span of games without a home run.)
With the addition of Moss and Jorge Soler, the Royals have brought in to the fold a pair of bonafide power bats. They may not end up on the home run leader boards at the end of the year, but they certainly figure to bring more jolt to an offense that has historically been more of a damp firecracker.
Last year, the league average HR/FB rate was 9.5 percent. The Royals had four batters on the above average side of that line. Leading the way was Eric Hosmer. The dude has power. Seriously. He can crush the baseball. Last summer, 14.1 percent of his fly balls left the yard. Believe it or not, that was just a tick below David Ortiz who finished at with a 14.2 percent HR/FB rate. Impressive, right? The problem is, Hosmer puts far to many batted balls on the ground.
At this point, it should be noted that HR/FB rate isn't a good stat to predict future performance. In other words, it's notoriously finicky. Sticking with Hosmer as an example, his 14.1% HR/FB rate was the highest of his career, by a mile. He owns a career 8.9% HR/FB rate. In 2014, it was at 5.0% HR/FB. Still, it's a decent way to explain what happened last year. That's why it's in this discussion.
Other Royal batters in 2016 who had a HR/FB rate above league average were the departed Kendrys Morales (13.4% HR/FB), Salvador Perez (10.8% HR/FB), and Alex Gordon (9.9% HR/FB).
Newcomer Moss posted a whopping 17.2% HR/FB rate. That's certainly an outlier for him, but it should be noted that his career HR/FB rate stands at nearly 13 percent. Since 2012, he's posted a double-digit percentage every season. As mentioned above, it's not a predictive stat, but with that kind of production, it would be something of an upset if it dropped below 10 percent. Part of the reason it's OK to be bullish on the power Moss will provide is the guy consistently puts the ball in the air. You can't hit the ball over the fence if it stays on the ground, right? From Baseball Savant, you can see that Moss routinely gets 25-30 degrees of launch on a lot of his fly balls.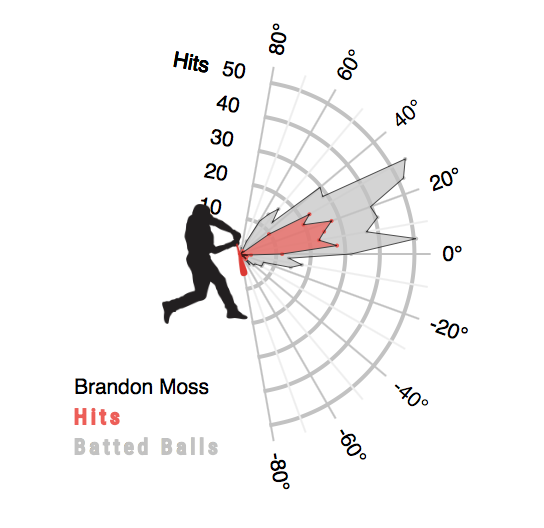 As noted yesterday, fellow new Royal Jorge Soler has seen limited action across his three seasons, so the small sample size caveat applies. Over his 765 career plate appearances he owns an 11.5% HR/FB rate. Again, that's no guarantee his above league average rate can continue. It's just fodder for conversation. His launch angles aren't as impressive as Moss, but they're still promising.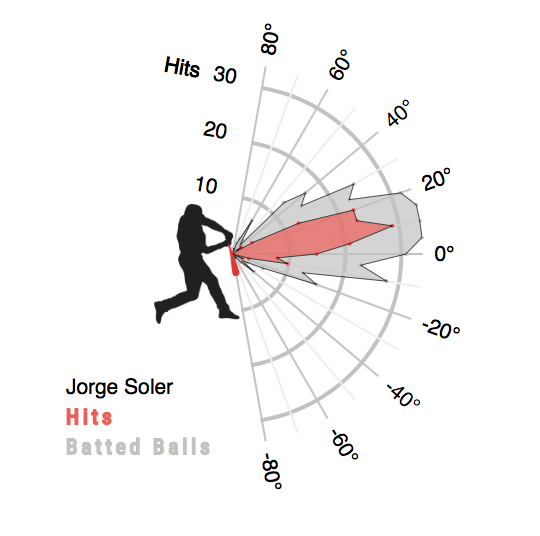 According to Statcast, the average fly ball hit by Moss last season travelled 335 feet. That was a higher average distance than anyone on the Royals other than Morales, who powered his fly balls at an average of 343 feet. Forget about all the talk about the Royals desire to rotate the designated hitter and how Moss actually has the ability to play in the field, it's easy to see that he's in Kansas City as a replacement of the power they lost when Morales signed north of the border.
Soler, who seems like the power wild card in the new-look Royals lineup, averaged 332 feet on his fly balls.
So when you factor in the return of Mike Moustakas (a 9.7% HR/FB rate the last three years along with 336 feet on average of fly balls last year) and the reliability of Alex Gordon (7.9% HR/FB rate in his career and 328 feet of average distance last year), it's easy to see that the lineup could hit more home runs than they have in the past. It's not the Bash Brothers or the '27 Yankees. It's still the Royals. They still play half their games at The K. When we speak of home runs and power, we need to speak in relative terms. Yet, as the game has evolved over the just last couple of years to a more home run friendly environment, it's heartening to see the Royals and their brain trust recognizes the trends and is doing something to stay in the game.
Now if someone could only get Hosmer to generate some loft.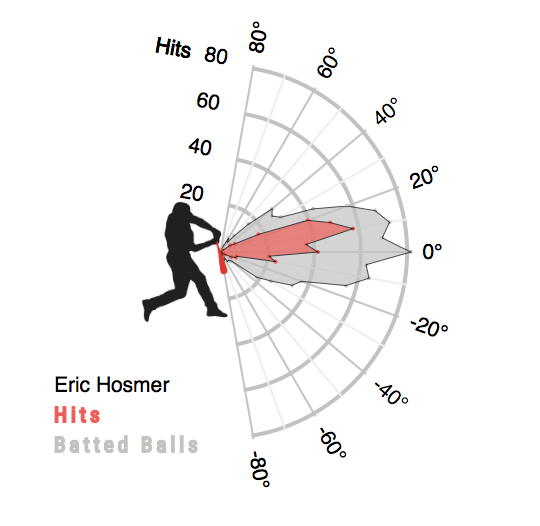 For a guy with the power potential of Hosmer, it's criminal he's hitting so many balls on the ground. Hopefully he can find inspiration from the new guys. Or something. But if the general manager is looking forward to more home runs, it would be nice if Hosmer would deliver.