Last week our esteemed Mr. Lesky pointed out that the three players most important to a successful 2017 Kansas City Royals campaign might be Joakim Soria, Jorge Soler and Nate Karns. I think he is right.
In particular, should Karns step forward as an every fifth day solid starter (or more) it not only makes the rotation that much better, but it keeps Matt Strahm available for duty in the late innings. As discussed on this site as well, the long term value is for Strahm to become a starter, but the 2017 bullpen is thin even if Joakim Soria rebounds and Strahm is there all year.  Karns pitching well also pushes Jason Vargas into the number five slot.  There was some debate last season as to what a number five starter should be and, while Vargas is a rather large question mark himself, he could very well be a very good 'number five' starter.
All of the above good fortune would keep Chris Young out of the starting rotation and, to many, makes him largely irrelevant to the team's chances for the coming year. I would offer that Young could still play a rather crucial role for this team and do so without once taking the mound to start a game.
There exists the very real chance that at age thirty-seven, Chris Young might just be plain done. Still, I would offer that while Young was not really as good in 2015 as it appeared (he benefited from a career low .209 BABIP), he was probably not as bad as he appeared in 2016 (when his BABIP was a career high .318).
In an odd twist, Young's average fastball velocity was the highest it had been in six seasons and his strikeout rate was a career-high 9.54 per nine innings.  Yet, Young was bedeviled by the long ball, allowing almost three home runs per nine innings and seeing one in every five of his fly balls leave the yard.  While Young's strikeouts soared, his walk rate increased to its highest mark since his days long ago in San Diego.
Over the past four seasons, Young had gradually been using his fastball less and slider more (and all but ditched his changeup), but in 2016 Chris dramatically decreased his fastball usage, despite the increase in velocity,  and threw the slider over half the time.  By August and September of last year, Young was throwing his slider nearly 60% of the time.  Based on the slugging percentage against shown below, I think you have an inkling why he did so: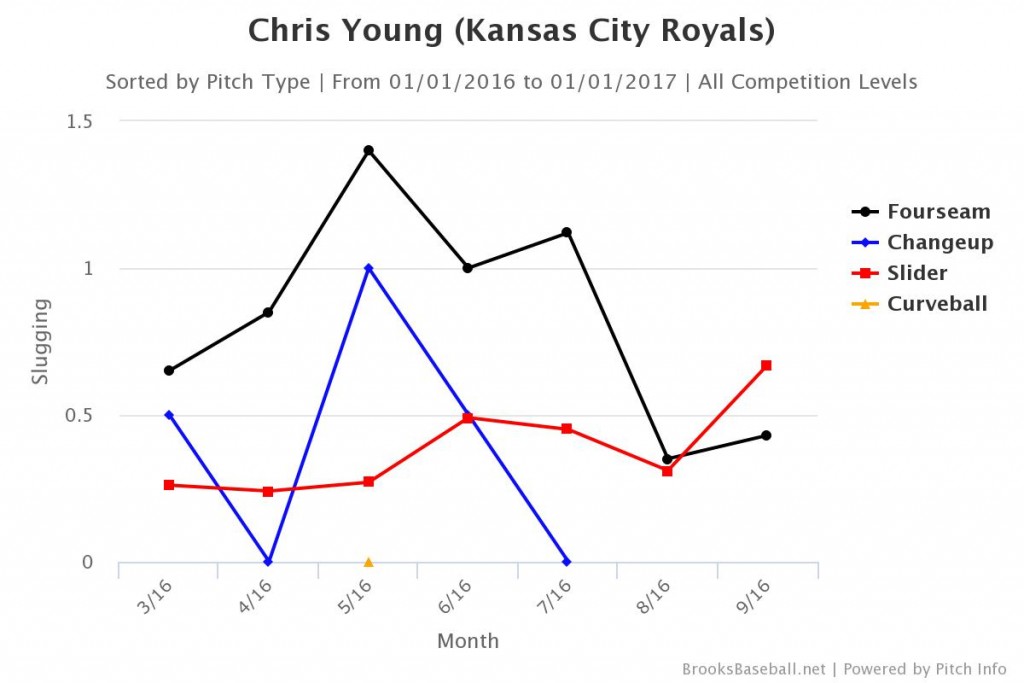 Fly balls turning into home runs often can be, in some part at least, attributed to just plain bad luck.  That, and bad pitching.  As I said earlier, there exists the real possibility that Chris Young is on the road to being done.  However, my friends, knock the walk rate down a tick – he's never had low walk rates and never will, but something less than four would be swell – and see the home run rate return closer to his career average…  Well then, you have a useful arm again.
Now, you might say 'so what?' With a rotation of Duffy, Kennedy, Hammels, Karns and Vargas coupled with Strahm, a hopefully effective Soria and Kelvin Herrera at the back end of the pen, why do we really care if Chris Young is effective or not?
To begin with, those five starters I just named are not going to each start 32 games in 2017. While the Royals might well look to the coming crop of young arms to fill (insert snarky Kyle Zimmer comment here) the 10 or even 20 starts the original five don't make, they would certainly be delighted if Chris Young were capable of stepping in to offer five innings or so every fifth day for a month.  Again, it keeps Strahm in the pen where he will likely be very necessary this season.
Beyond that, however, I see the real value of even a moderately effective Chris Young toiling in those often awful games where the starter cannot make it past the fourth inning.  Last season, Kansas City starters failed to record more than 12 outs twenty-six times.  Not surprisingly, they lost 20 of those games.  With or without hope in those games, somebody has to pitch those innings and it can't always be the back-up catcher.
Even adding another arm or two like Luke Hochevar and/or Joe Blanton and/or Peter Moylan and/or the usual non-roster veteran surprise, the Royals' pen quickly goes from dominant (Herrera) to just decent (everyone else).  Those of you who must have everything statistically validated won't like this next statement, but a dominant reliever being overused becomes decent.  A decent reliever being overused becomes decidedly below average.
Chris Young's value to this team in 2017, in my opinion, is simply to absorb those innings that probably don't really matter.  If he is capable enough to come into games twenty times a year and east up three or four innings of trash and saving Ned Yost from having to burn the innings of Brian Flynn and whomever else makes up that 'middle innings' crew, then Chris Young will be playing an important role.
There is no glamour in this role and, should he do it well, most of us probably won't even notice.  What we will notice, however, is a back of the bullpen that is ready to go when the game is on-line and not short-handed because one of them had to throw an inning in a blow-out loss the night before.